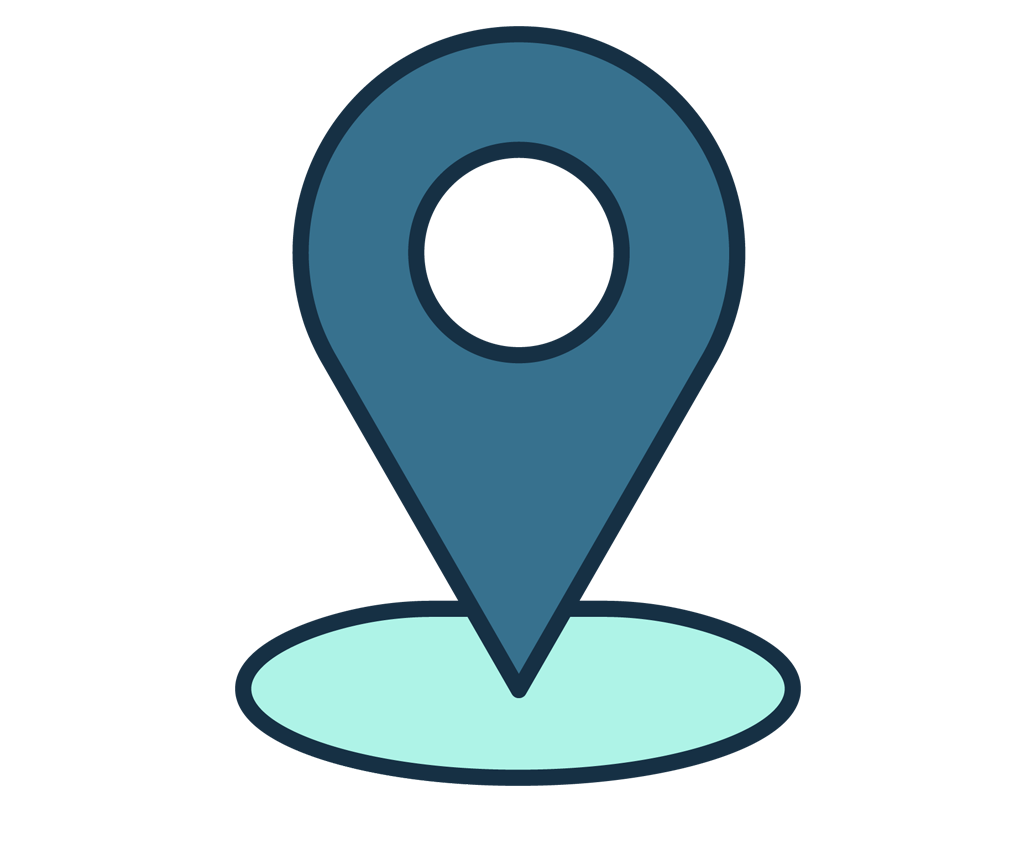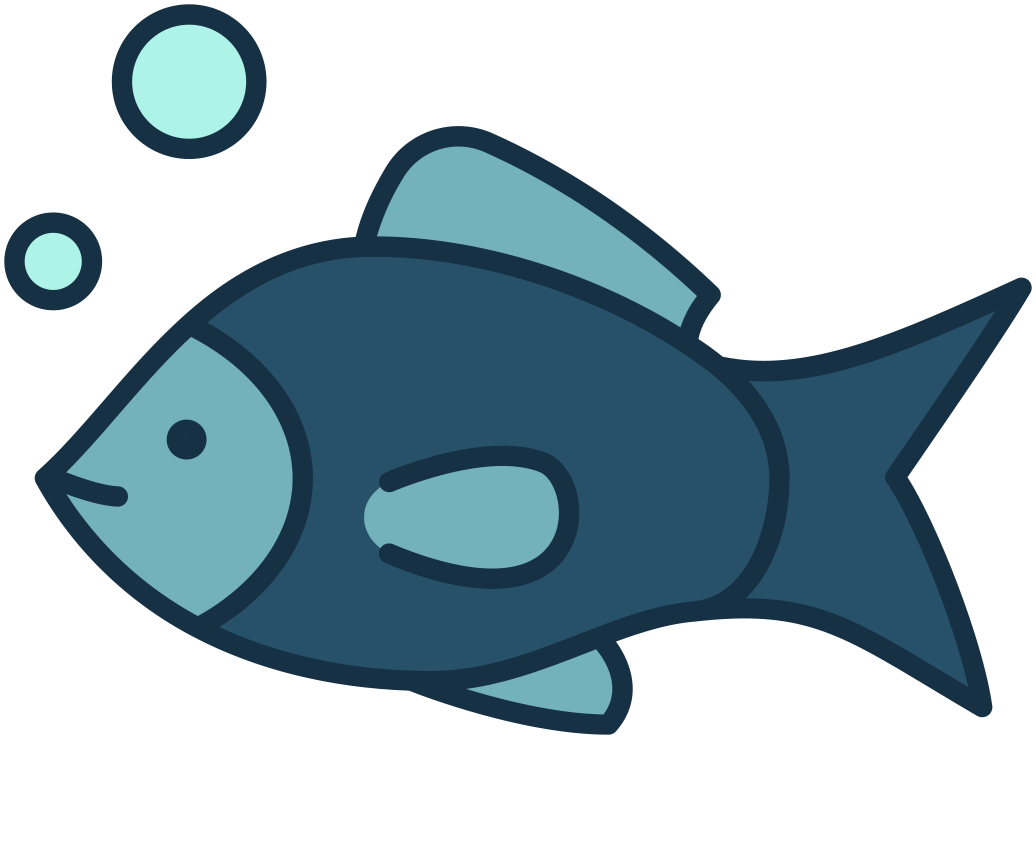 Season
September through mid July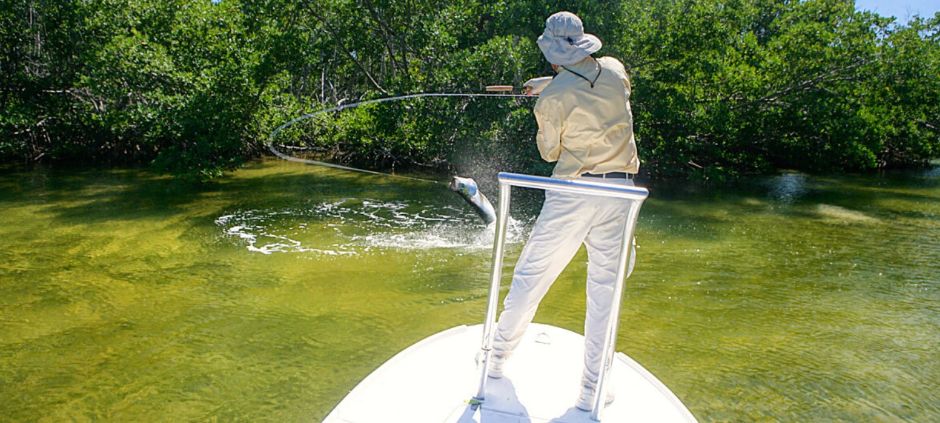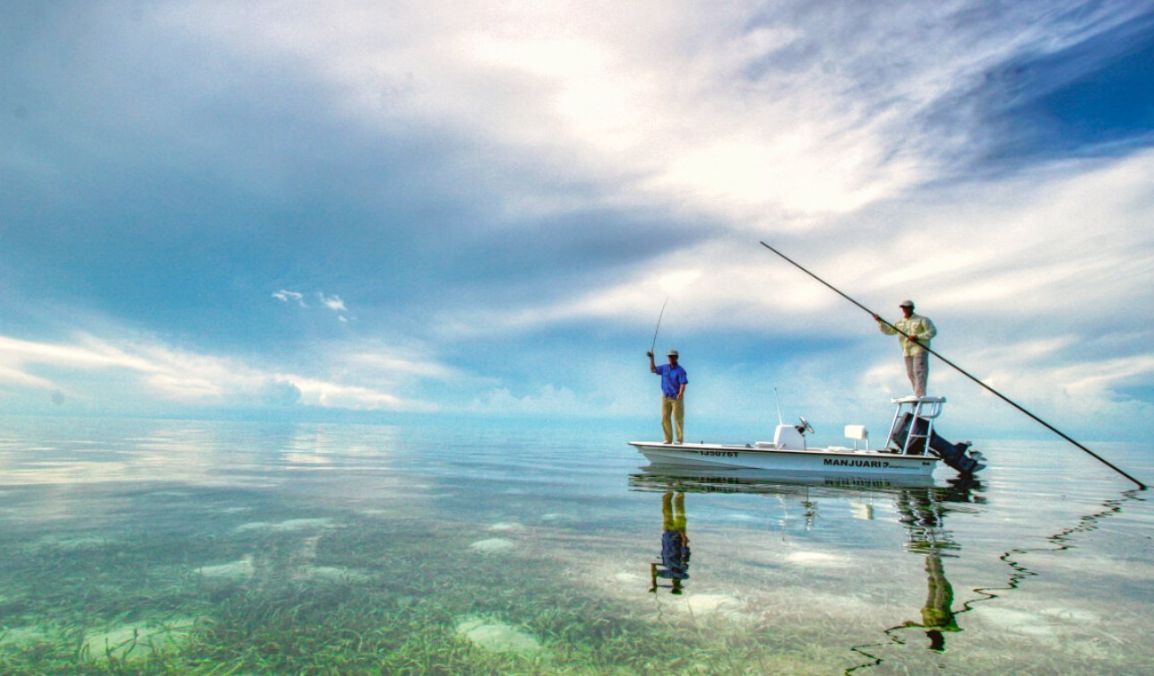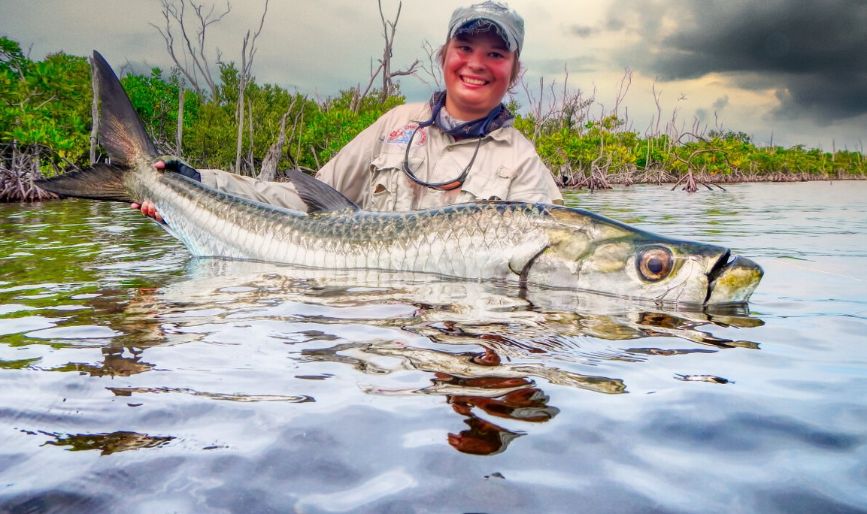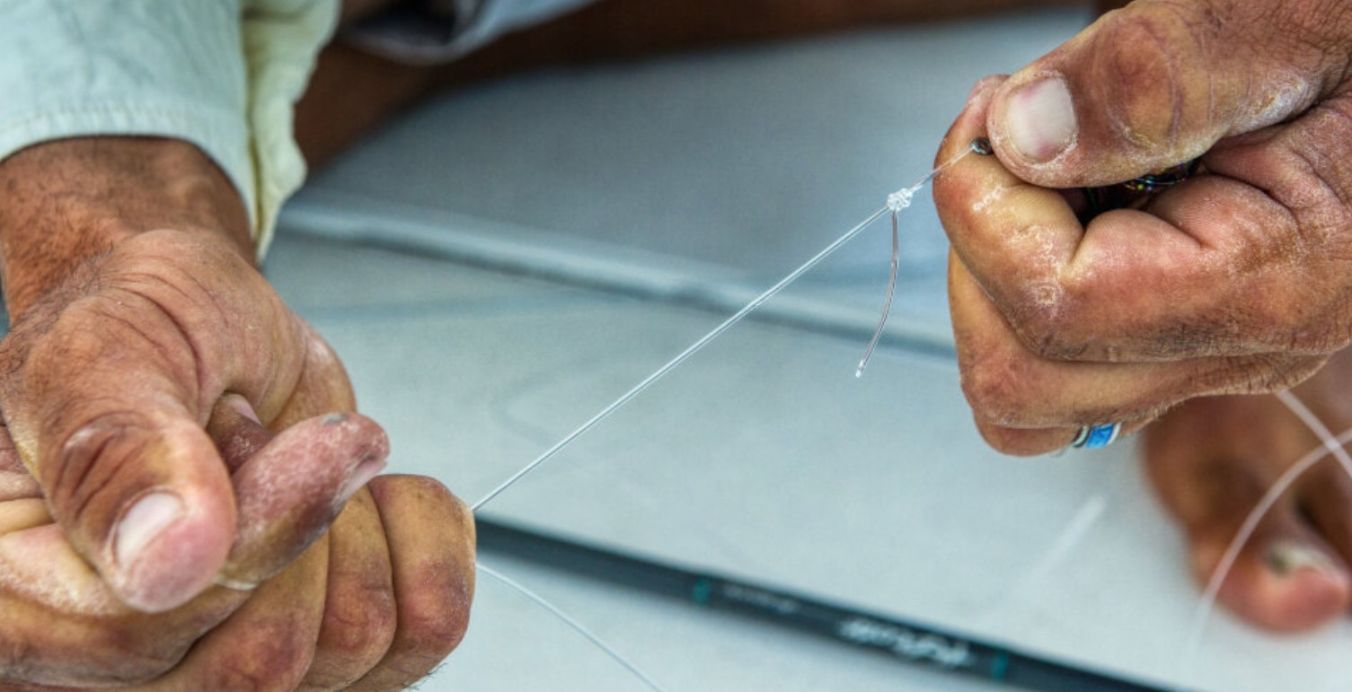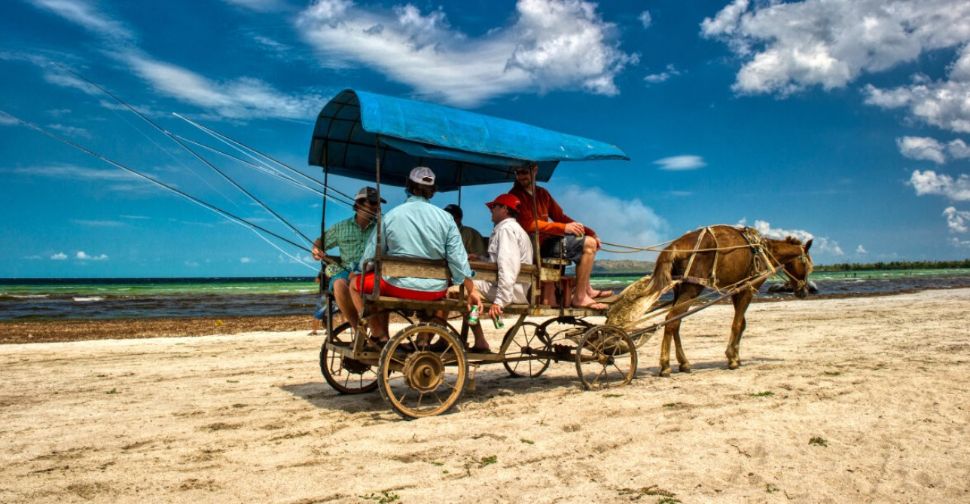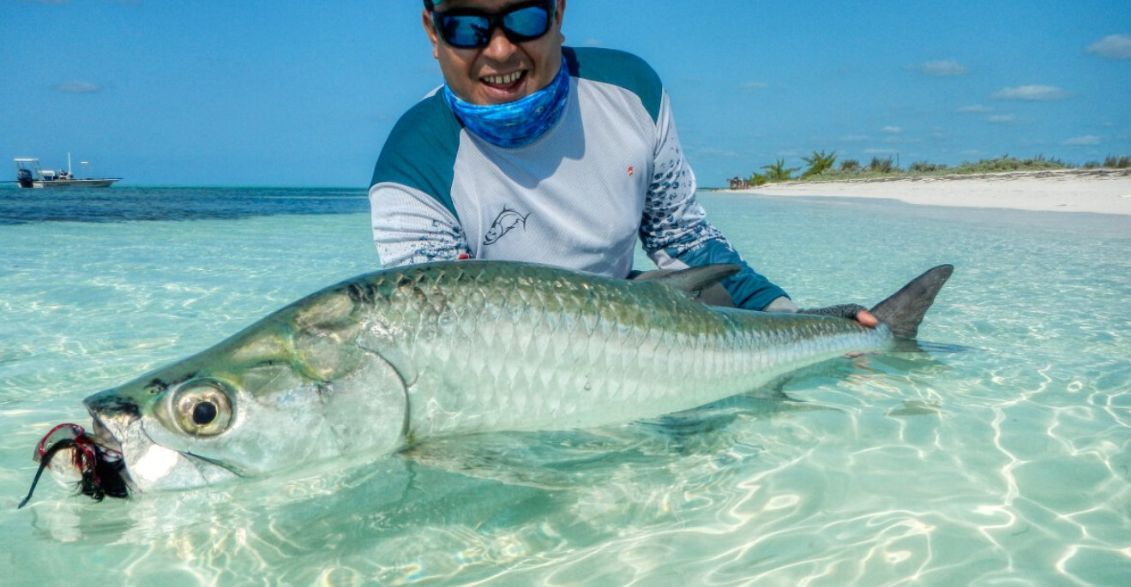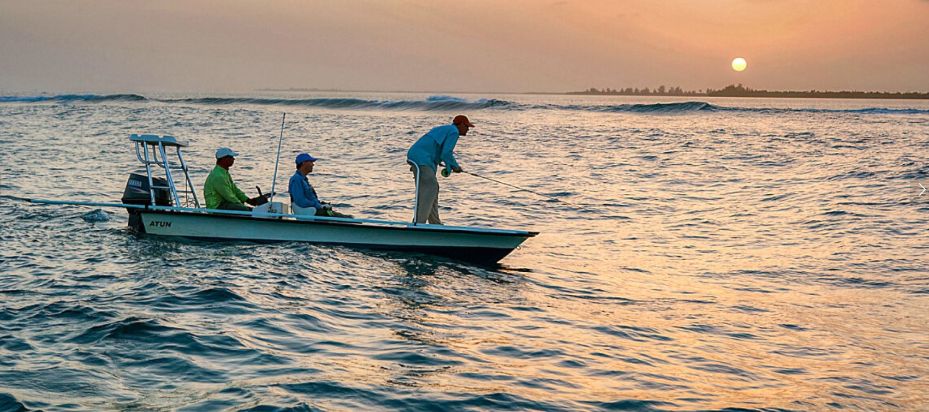 Zapata, Cuba
Just 9,300 people live in the 4,322-sq-km Ciénaga de Zapata, the most sparsely populated area in Cuba. The area's wealth lies in its vast forests and everglades that cover 1,670 sq km, and more than 165 migratory and autochthonous species, like the Cuban crocodile. In 2000, UNESCO - the United Nations Educational, Scientific and Cultural Organization, declared Zapata Peninsula a biosphere reserve. All the water surrounding this National Park area will be in your backyard the entire week you are aboard the Georgiana fishing. The preserve is one of the best bird-watching locales in the world shared with the Cuban Crocodile, 900 species of sundry plants and creepy reptiles.

Learn more about
Zapata, Cuba
Click through to get details on the water, seasons, guest accomodations, and rates.
Following breakfast is around 7:00 a.m., anglers leave the mothership (Georgiana) in their skiffs before 8:00 am. Anglers return to the Georgiana for lunch and a relaxation. You may opt to take lunch with you and remain on the flats to fish the entire day. Lunch aboard the Georgiana is fresh, simple, with fruit and juice always available. Meals include chicken and pork, and of course a variety of freshly caught seafood to your taste.

The San Lazaro flats are very large, and extend inland over miles of shallow water until reaching the mangrove border of the Cienaga Swamp. In these shallow waters anglers will fish out of single skiffs in search for Bonefish and Permit. In deeper water anglers double up and seek out tarpon and other species. During the week, anglers will fish 4 days from single skiffs, and two days in a double. San Lazaro flats have been divided into 10 separate fishing zones and guides are careful to rotate through each to avoid heavy pressure in just a few spots.

While the 100 foot Georgiana is typically assigned to these waters other yachts in the fleet may be used. We have included a brief descriptions of the fleet below in case the Georgiana is assigned elsewhere during the time you plan to fish Cuba. Each of the vessels are superb and offer the same class of hospitality.

The Georgiana has 6 cabins with well appointed bathrooms and showers. The Georgiana is anchored in the deeper water adjoining the western edge of the San Lazaro Flats. Anglers will fish different zones each day always hunting a variety of trophy fish species.

Skiffs

We use Dolphin Super skiffs at all our Avalon flats fishing destinations. The last one acquired was a new Dolphin 16 foot Super Skiff Pro. The original Dolphin Super Skiff has been a favorite of Florida bonefish guides for thirty years! It was the first skiff designed specifically for poling shallow flats that also had the ability to handle long runs in open bays through heavy chop and still provide a smooth ride for the guide and clients. The hull is designed with enough deep V to slice through the waves, turn and handle beautifully yet with a draft of only 8 inches, it's a skiff the guides can pole on the shallowest bonefish flats.

Dolphin's Super Skiff has been the choice of the finest lodges in the Caribbean for many years and has earned its reputation as the safest, quietest, stealthiest, best handling flats skiff made.

Constructed from a very light fiberglass mold, these skiffs are ideal for the miles and miles of shallow water flats that anglers will find here. Drawing less than 6 inches of water, the skiffs are powered by very reliable 40 HP Yamaha engines.
Low Season: August 1, 2020 – February 20, 2021

Mid-Season: February 20, 2020 – March 27, 2021

High Season: March 27, 2020 – July 3, 2021
Avalon I

The 110-foot live aboard yacht has exceptional cruising capabilities . There are 10 rooms; 2 convertible queen size cabins featuring side by side beds and 8 deluxe state-rooms each with single side by side beds. Each room is equipped with its own private bathroom, toilet, shower and individual climate controls and safe. The yacht has an air conditioned lounge featuring a large screen TV and DVD system. The lounge is equipped with a complete digital and photo editing computer for use during your stay onboard. The shaded upper sun deck and cushioned chairs and couches are ready for afternoon siestas and cups of morning coffee. Avalon I is also equipped with a jacuzzi, a perfect place to enjoy a mojito after a long day of fishing with friends. The food onboard is a wonderful selection of Cuban cuisine, grilled fresh seafood and vegetables along with many international delights. The chef is well versed in many different styles and will amaze you during your stay aboard. In addition, there is a full bar with a selection of Cuban beers and rum, international wines and a variety of spirits. The attentive crew will be there to take care of our every need and make sure you have an awesome time.

Avalon II

Avalon II is a fairly new state-of-the-art yacht, larger than its sister ship Avalon I with 10 deluxe state rooms. The vessel is air conditioned with 10 private bathrooms. Each room includes electrical plugs (220 and 100 volts) storage drawers, panoramic windows for breathtaking views of the Caribbean beaches. This live-aboard is intimate, comfortable and stylishly designed to provide each guest with maximum comfort and safety. Its overall capacity is 20 passengers and 9 crew members. There is a spacious and comfortable combination lounge, dining room and bar area on the boat deck complete with a hot tub (jacuzzi) deck chairs, stereo, shaded wet bar and grill. This vessel has everything a live aboard is expected to have and more. The big salon is located on the main deck and is a cozy space where everyone can gather to enjoy the TV/media system. On the upper deck you will find the galley along with a restaurant-like dinning room. The boat features a sizable lower prep deck with plenty of space to rig your rods and get ready for a day of fishing.

2 Balcony Suite (Cabin 11 and 12) Located on the main deck, each cabin comes with 2 large single beds side by side that can be made into a king bed, private bathroom and sliding glass doors to private balcony.

2 Deluxe Cabins (Cabin 1 and 2) Located on the lower deck; each cabin comes with 2 twin beds side by side, private bathroom. These two cabins are larger than other deluxe cabins but there is no porthole or window.

2 Deluxe Cabins (Cabin 3 and 4) Located on the lower deck, each cain comes with two twin beds, private bathroom and portholes.

6 Deluxe Cabins (Cabin 5 - 10) Located on the lower deck, each cabin comes with two twin beds that can be converted into a king bed, private bathroom and portholes.


Avalon III is the most spectacular cruising yacht in the Avalon fleet. The 160 foot luxury motor yacht is equipped with 15 staterooms including 4 suites with a balcony. All cabins have private bathrooms and 2 beds (double or witn(, air-conditioned with individual thermostats. The boat has an overall capacity of 30 passengers and 12 crew members. There is significant space onboard among its 3 panoramic decks with a hot tub and full time crew at your service. The Yacht boasts a large air-conditioned lounge, large open-air areas, top open bar, huge dive deck and camera tables, laundry service, daily housekeeping, audio/video entertainment, indoor saloon, hot showers, 220 v in bar and restaurant, USB in bar, restaurant and rooms, snacks al day, fine cuisine. .

Avalon IV (NT)

This luxury yacht is the newest in the Avalon fleet. This amazing 180 foot vessel is permanently moored in the Jardines de la Reina (JDR) and features 20 staterooms, a spacious lounge, a modern dining room and sun deck. Each room has its own air conditioned thermostat ample storage space and convertible double beds. Avalon IV is the perfect base of operations for your week of fly fishing, diving, eco adventuring and views of the pristine waters of the JDR. The helm deck includes four suites with balconies, jacuzzi, sun deck with incredible views. The upper deck includes 8 double rooms with private bathrooms and well as an awesome dinning area and rear patio. The main deck includes another 8 double rooms, a comfortable lounge area with large couches and areas to relax. The main deck features a massive rear deck and platform to keep all of your gear organized and access easy. This is an incredibly powerful vessel for your personal enjoyment.

Perola

The Perola ia a beautiful yacht, recently refurbished and perfect for a group of six anglers. There are five very comfortable air-conditioned cabins below deck, most having their own private bath with good showers and plenty of hot water. Anglers will appreciate the large amount of storage space available in each room. This impressive yacht has highly polished hardwood floors and teak paneling. Circular stairways take you downstairs to the cabins or upstairs to the dining area on the top open-air deck. The top deck is covered and remains in the shade but open to the sea breeze. Several comfortable rope hammocks are available for afternoon naps in the breeze. A full sized air-conditioned salon on the main deck can be utilized for a living and dining area in harsh weather. Fly tiers will like the full size salon table with its plush couches and adult beverage after a long day on the flats. Cuisine on board the Perola is exceptional. Fresh fish of the day is prepared for most meals. Lobster and conch are abundant and can be had on a daily basis from the surrounding waters. Salads and fresh vegetables and a variety of fruits are always available. In addition, excellent pork and chicken entrees are served with fresh sashimi for appetizers and outstanding frozen Daiquiris. Traditional Cuban flan topped off with aged Havana Club Rum is one of the many unique and delicious deserts served.

Georgiana

This luxury 100 foot yacht is exceptional boasting comfortable cabins, private bathroom used for weekly trips inside the Marine Park of Zapata Peninsula. Cuisine on the Georiana is gourmet but simple. Fresh fish of the day is prepared for most meals, salads with fresh vegetables and a variety of fruits. In addition, excellent pork and chicken entrees are served during your stay with fresh sashimi and Italian style pizza for appetizers along with frozen Daiquiris, Cuba Libre and Mojitos to make your afternoons and nights an enjoyable culinary experience. Zapata area will be your base for the week aboard this vessel allowing plenty of time and best day schedule to fish the tides. There is no reason to leave the flats during the week. Your fishing options are based on the species of fish you are targeting. The guides will focus on zones and skiff rotation. This will insure you the best access for areas of the area's fishing zones. For low water flats yo will be fishing from flat bottom single skiff to access the best areas for bonefish and permit. With the dolphin double skiff you can fish the best waters for tarpon and travel into deeper water further away from the Georgiana.


To reach Cienaga de Zapata anglers will shuttled overland from Havana by car for nearly 3-hours to a channel that punches through the mangrove everglades to access open water. Boarding flats skiffs, guests will navigate through the channel where it meets the ocean to board the Georgiana. Daily excursions from the mothership will take you to a different fishing location every day depending on the species of fish you are hunting.
Price reflect use of Georgiana and may vary based on the assigned vessel at the time of your travel. Prices are for full boat in exclusivity with 4 skiffs / guides + 1 additional skiff in case of full groups and subject to change before booking. Prices are in USD and subject to change prior to booking. Ask for a quote. Week starting Saturday and ending the following Saturday

RATES SEASON 2020 – 2021

Weeks starting Saturday and ending Saturday.

The cost of the 7 night/5.5 day package at Zapata is $4,100 to $6,270 USD per person (depending on time of year and size of group), based on double occupancy lodging and a combination of shared and single fishing days. Zapata typically books out only for the full boat, for groups of anglers.

Full Charter

Price includes 6 skiff – 2 double skiff / 4 single skiff, 8 persons, full charter in exclusivity. 4 single rooms, 2 double rooms.

Low Season: August 1, 2020 – February 20, 2021 $34,500 Full Boat Price

Mid-Season: February 20, 2020 – March 27, 2021 $42,000 Full Boat Price

High Season: March 27, 2020 – July 3, 2021 $46,000 Full Boat Price

Prices are in USD and subject to change prior to booking. Ask for a quote.

Most of our guests add an additional week to fish other trophy fish locations in Cuba.

Full program includes:

Reception at Havana Airport

All transfers inside Cuba as per program below

7 nights Live Aboard (4 single cabins, 2 double cabins)

6 full days fishing, 3 days single flat bottom skiff / 3 days double skiff.

Full program does not include:

VIP services at Havana Airport

Extra beverages and food

Tips and Cuban Visa

Fishing Gear

$100.00 Mandatory Conservation Fee

All Inclusive Open Bar $200.00 per person

Optional supplements (which must be confirmed and paid 60 days before the arrival to Cuba):
- Fishing equipment rental: $280 per rod per week, includes rod, reel and lines.
- Diving equipment rental: $250 for full set of diving gear per week.