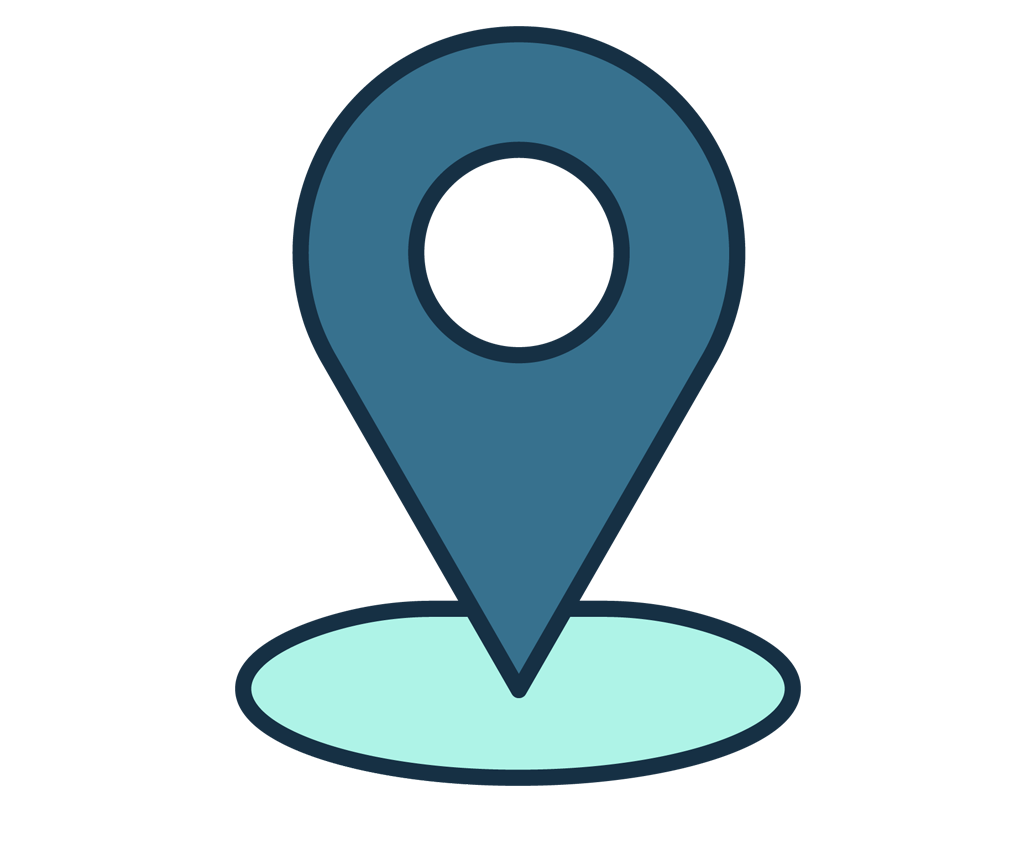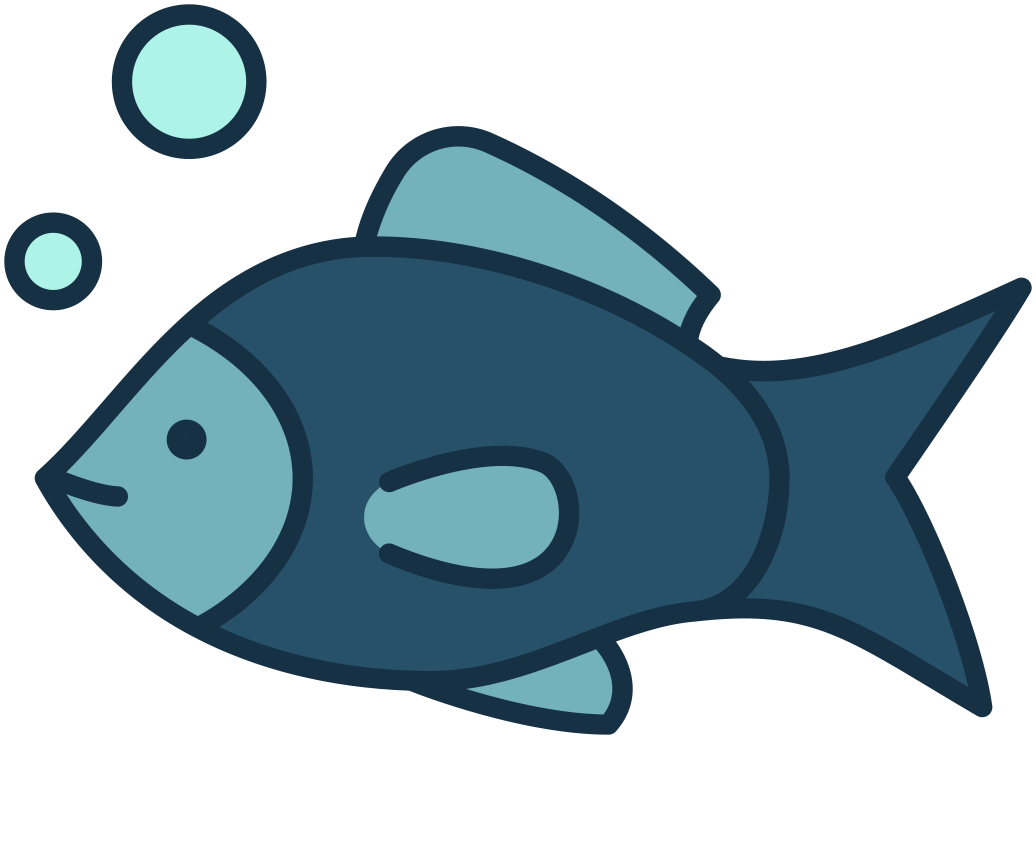 Season
Mid-July to Mid-September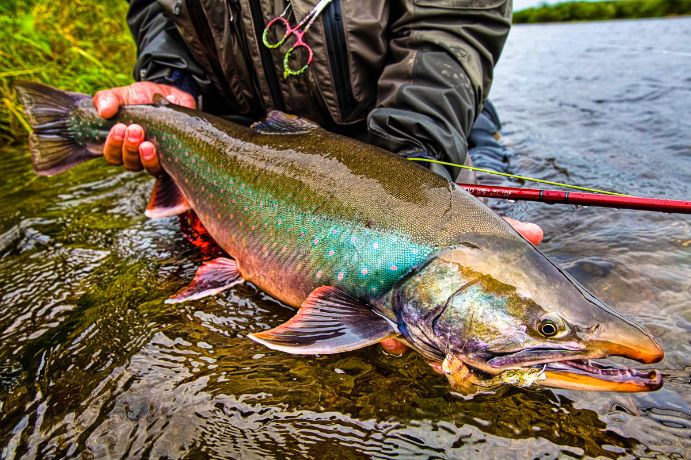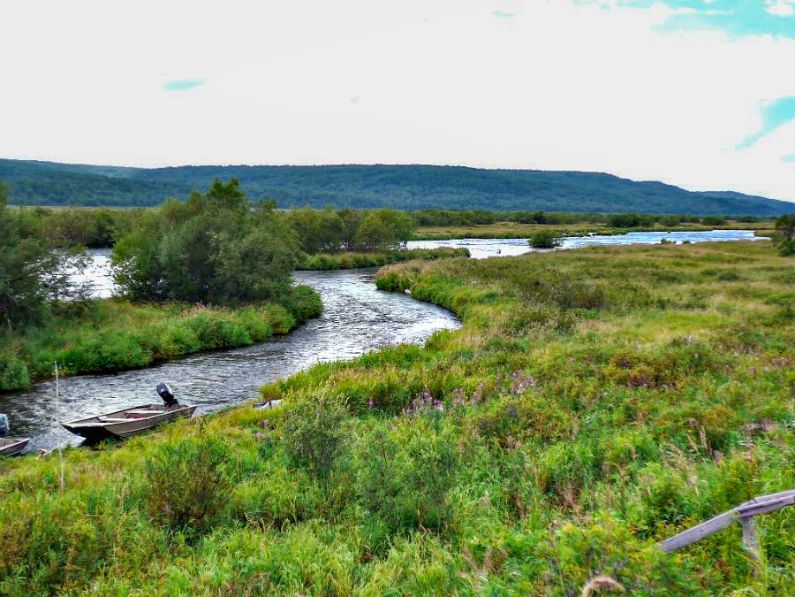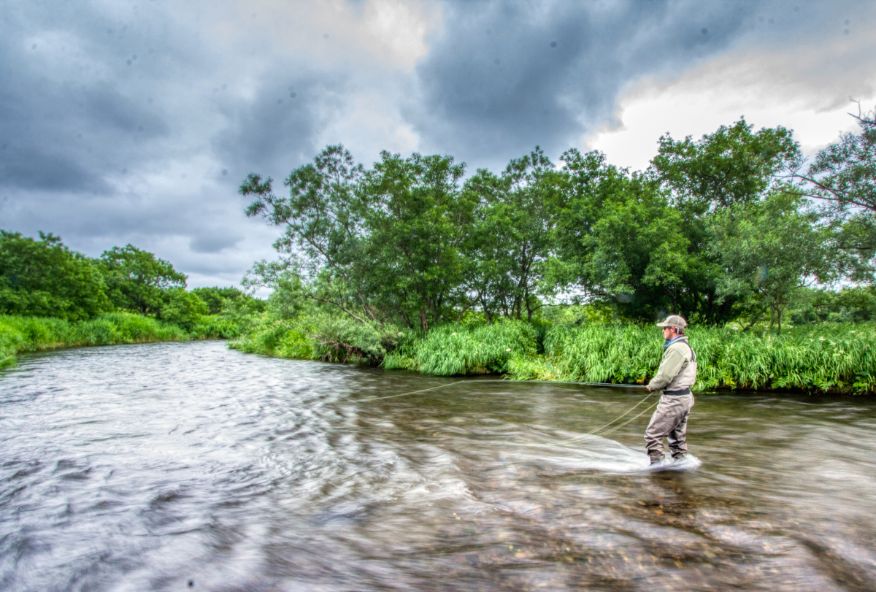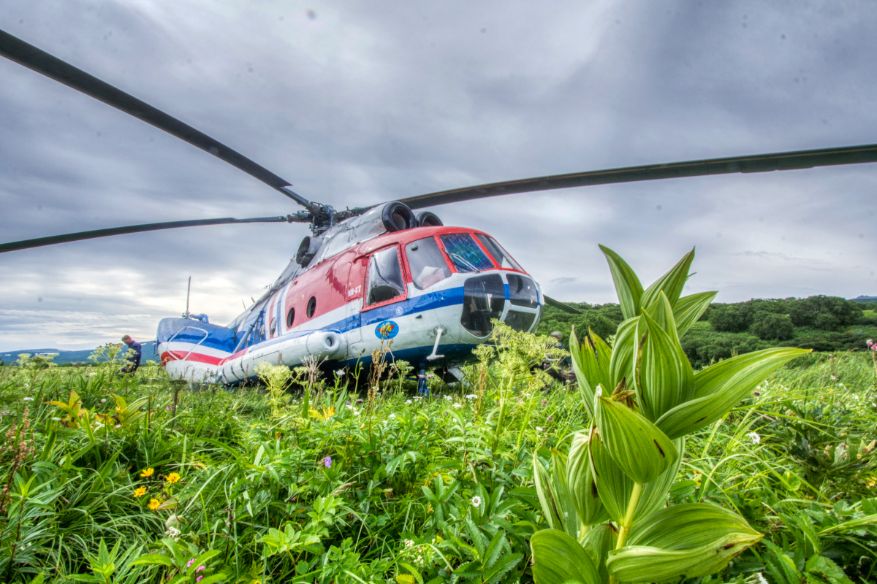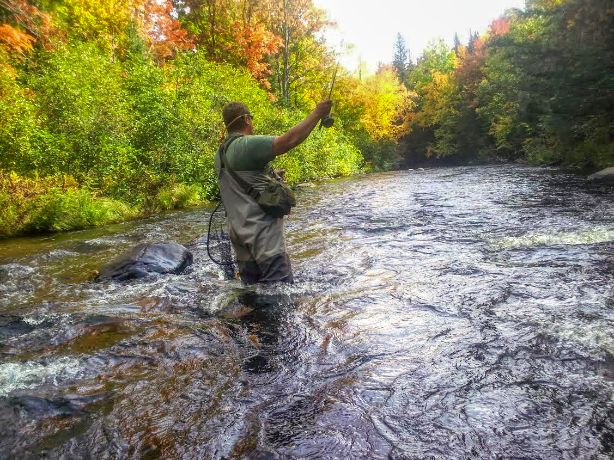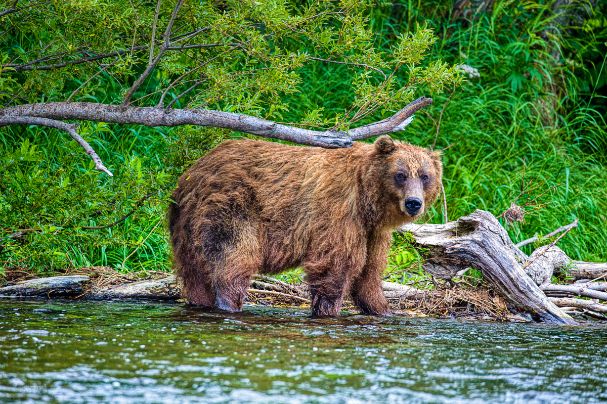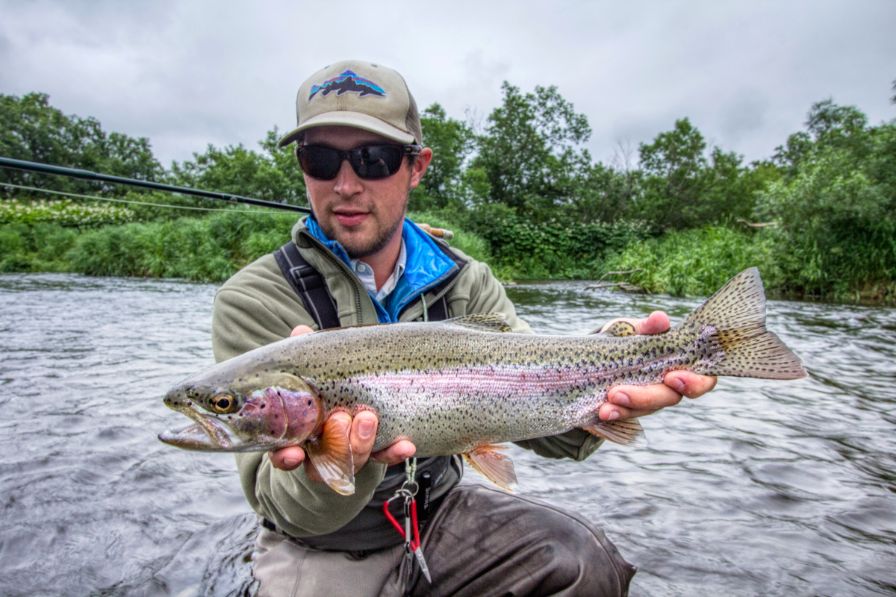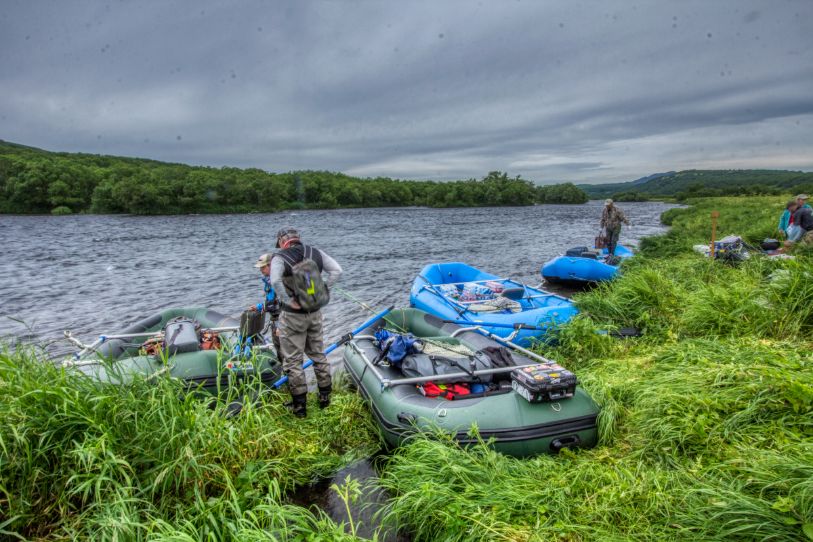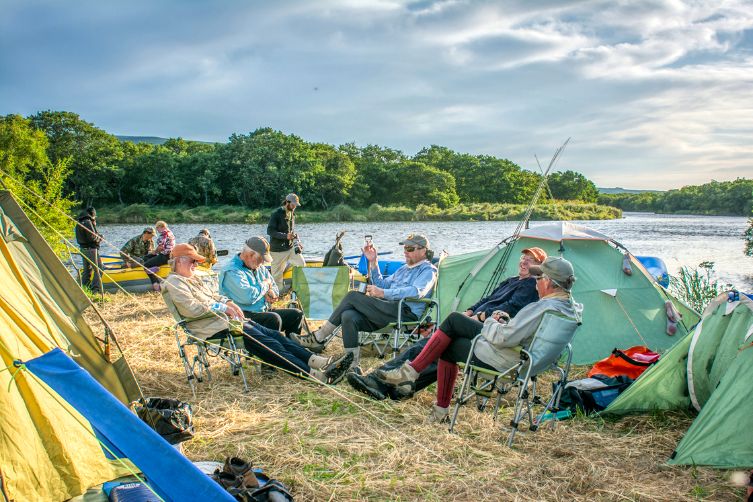 Savan River Lodge Float Trip, Kamchatka Russia
Kamchatka! Need we say more? Every serious angler has heard and wants to experience this wonderland of time turned back. Endless rivers, many which are only fished a few weeks a year and many that are still waiting to be explored!

The Savan River is without a doubt one of the most spectacular rivers in Kamchatka. Float and fish at a new camp each night on the upper Savan if you chose or stay at Base Camp and explore the lower river each day in jet boats.

Depending on the fishing, some groups may chose to camp on the floating section of the river the entire week. Others may chose to use the inflatable jet-boats to continue accessing the water below the Lodge, motoring back up to the comforts of the Base Camp each evening refreshed by a hot shower. Flexibility is built into this adventure.

Fish this legendary river in runs that are filled with large fly eating rainbows, big char and runs of salmon! This river is a short one hour helicopter ride from Petropavlovsk, which is a four hour flight from Anchorage. The Kamchatka Peninsula is located in the most Southeastern parts of the Russian continent. The area has relatively mild winters and is filled with brown bear, otter, bighorn sheep, caribou, moose and large rainbow trout!

Located over 12 time zones away from Moscow, the Kamchatka Peninsula offers a safe and welcome environment for westerners. This volcano and river-filled region has always been regarded as a land of wonder. The peninsula has more landmass than California, yet only one passable road into the interior. The west coast and all of the northern regions remain roadless and totally inaccessible except by helicopter.

Wild On The Fly staff has been to Kamchatka many times and knows the best outfitters for your trip. We promise this will qualify as the best trout fishing experience imaginable and the adventure and beauty will exceed your expectations three times over! You can confidently choose the Savan River for your Kamchatka experience.
Learn more about
Savan River Lodge Float Trip, Kamchatka Russia
Click through to get details on the water, seasons, guest accomodations, and rates.
The Savan River system has proven in a short period of time that it is a major contender among Kamchatka's great trout rivers, with trout averaging 22-26 inches and several fish up to 30 inches hooked each season.

At the Savan Base Camp, inflatable Jet Boats are used to access the lower rivers beats, allowing you to cover an amazing amount of excellent water below the Camp. Wading is relatively easy to moderate for most anglers, but slightly more technical than the upper river. The lower river is bigger water, like in most rivers, and can be deeper and faster in some spots.

Guides tend to fish the softer water, as this is where the fish hide, but you still need to wade over to them, on occasion. There are many stretches of braided water, making the lower Savan feel much smaller than it actually is a lot of the time. Vast rolling mountains and volcanoes flank the broad valley as the river courses its way through the wild terrain.

The upper river is floated and a new camp is set up by the staff each night. You will fish easily waded areas and braids where big bows live, and on some days camp only a few kilometers below your last camp.

The entire float is no more than 20 kilometers so it is easy to cover and you can take your time. The fishing is 90% wading and in water knee deep. The fish here eat mice, streamers and dry flies! This camping trip is for you if you like to see new sections of river and do not mind camping.

A huge part of the diet of the Savan river rainbow trout is mice. This is some of the most exciting trout fishing you will ever experience. Fishing with a mouse fly, you get the visual aspect of the surface strike, like in dry fly fishing, and the tight line grab of swinging, giving you the best of both worlds.

When conditions change or the mouse bite dies a little, you can cast streamers, swinging across the current, to produce an aggressive take. As a spring creek system, there can also be ideal conditions for aquatic insect hatches.

The Russian guides come from varied backgrounds, usually associated with biology, wildlife management, hunting, trapping or commercial fishing.

Fly fishing is a relatively new sport to Russia, so guides come equipped with varying levels of pure fly fishing knowledge. Some are exceptional, having been guides for 10 or more years. Others have been brought on board for their skills as woodsmen and watermen, whose technical abilities are still evolving, but who are in rhythm with the lives and habitat of rainbow trout. The fishing program uses a guide rotation system, so each group of two anglers spends 3 days with each guide.
Though dry fly opportunities aren't common-place, they do happen throughout the season. The season at Savan River begins in the middle of July, and runs through August. A variety of salmon runs enter the river throughout the season, including king, chum, sockeye, and silver salmon.

JULY is the warmest month of the year in Kamchatka and typically has the most reliable weather, with daytime temperatures between 60 and 80 degrees. Rain and 50 degree days, however, can happen any time of the year. The Savan is a spring fed system, and as such it remains crystal clear regardless of the weather. Heavy rains can bring the river up, but it will remain clear.
Base Camp

Savan River Base Camp is a wilderness outpost set up exactly like a stationery "lodge". The Lodge is spacious and warm and all guests share a double occupancy room, each with their own comfortable bed and plenty of space for gear. Comforter and pillow are provided, but you must bring your own sleeping bag and towel.

There is a large cozy dining and relaxing room, with couches to enjoy some relaxation time out of the mosquitoes. A shower with instant hot water and a flush toilet and a sink for brushing teeth round out the luxuries of the Base Camp lodge. For convenience of communication on the river, and for a safety line to the outside world, the Base Camp is outfitted with first aid kits, GPS, handheld radios and a satellite telephone.

This is the most hard-core trout fishing trip most people will ever sign up for, but the Base Camp is one of the few programs in Kamchatka that you do not necessarily need dry bag luggage. All of your gear will be in the safety and shelter of the Lodge and never loaded in the boat like most other program. Comfortable light weight roller duffles are perfect here.

A cook and camp assistant are ever present at Base Camp, preparing hearty meals based on local Russian fare. Anglers are responsible only for opening a beer at the end of a long day of fishing, and the guys will even do that for you, if you ask nicely. The food at the Camp is very tasty and plentiful, with the cook having all the benefits of a full service, permanent kitchen. Russian meals are typically a combination of fresh-made soups and salads, fresh-caught fish, and your basic Russian meat and potatoes and pasta meals, such as stroganoff, stew, etc.

The cook will fill you up with a hearty breakfast at Base Camp and send you to the boats with a

packed lunch to eat on the water. Dinner will be getting prepared when you return from a long day of fishing and be ready as soon as you have time to clean up and relax over a refrigerated beer. Beer and Vodka can be pre-ordered and provided at the Base Camp, while other or special libations need to be brought from the United States or purchased at Duty Free in Anchorage.

Savan Float Trip

Kamchatka Wilderness Float Trips are the most rustic, adventurous trips on the peninsula... maybe the world. That being said, we've controlled all the factors that are controllable by outfitting the expeditions with hi-tech 4-season mountaineering tents and specialized cooking and camp equipment such as that in use on professional river trips in the Rockies and Andes. For convenience of communication on the river, and for a safety line to the outside world, each expedition is further outfitted with first aid kits, GPS, handheld radios and a satellite telephone.

This is the most hard-core trout fishing trip most people will ever sign up for, but there are no objective whitewater hazards. The most uncomfortable situations encountered on these trips is rain, so it is imperative that all your luggage be made of completely waterproof material.

Each morning the three fishing boats head down stream and spread out to avoid "double fishing" any one section. Meanwhile the cook and camp assistant break down the camp and float on ahead of the fishing boats. Toward evening the forward boat selects a camp site and begins erecting camp. Anglers are responsible for setting up their tent and sleeping arrangements (two people per tent). All camp equipment – except your sleeping bag - is provided as part of the trip.

Staff does all the cooking, cleaning, etc., while you fish until dinner or crack a cold beer by the fire. The food is typically very tasty and plentiful, a combination of fresh-made soups and salads, fresh-caught fish, and other simple Russian staples such as stroganoff, stew, etc. Lunch will be packed by the guides, or served shore-side by the camp staff each day. Beer and Vodka can be pre-ordered and provided on the floats, while other or special libations need to be brought from the United States or purchased at Duty Free in Anchorage.
Friday: Travel from home to Anchorage

The day before departure to Kamchatka, you'll need to arrive in Anchorage, AK and overnight.

Saturday: Depart Anchorage on Yakutia Air

Departure on Yakutia Air is early in the morning. Check in usually opens around 5:30 a.m. and it is advised you arrive then, two hours before flight time. Other passengers on this flight often consist of volcanologists, rafters, hunters, miners and others who travel with a lot of oversized equipment. The check-in procedure can take some time. Better to be there as early as possible. The flight lasts about 4.5 hours, and crosses the International Dateline. You arrive to Kamchatka on Sunday morning.

Sunday Morning: Arrival to Petropavlovsk, transfer to camp

Arrival is at 9:00 a.m. After passing through customs and immigration, fishermen collect luggage and are greeted by the Savan ground staff. Once everyone is through customs, you will be transported along with your luggage to Martha's guesthouse, where she will ask for your passports to make copies to fill out the paperwork that will be required for departure from Russia at the end of your trip.

The first few hours in Kamchatka are always an exercise in patience. Understand that this is Russia, and communication from the helicopter companies is often lackluster at best. Keep in mind that the outfitters want you to get into camp as much as you do, and they are often at the whim of the helicopter companies. The helicopter companies don't get paid unless they fly, so their priority, too, is to get you into camp... safely.

Mornings in Petropavlovsk are frequently foggy, and the helicopters cannot fly until the fog clears. If the weather is clear in the morning, you will head straight to the heliport. If not, you will have the option to relax at Martha's guest house, or walk to the nearby Old Castle Restaurant, which has very good food (and local draught beer, Kamchatksi #1).

As soon as the fog lifts and the pilots give weather clearance, everyone will board the van for the 30 minute drive to the heliport on the outskirts of Yelisovo. Once there, you will load your bags onto the Mi8 helicopter and lift off for Base Camp. The helicopter flight from Yelisovo lasts for about 50 minutes, and is often one of many highlights from the trip. Sometimes head sets are provided, but this is Russia and you never know so it is recommended that you bring some earplugs for the noise of the rotors. The flight will take you over countless rivers and streams, and past several volcanoes.

Upon arrival at Base Camp, guests disembark the helicopter and unload all of their gear. Be sure to collect all of your bags and keep an eye on them, as the helicopter will be quickly reloaded with the equipment, gear, food, and the other groups' luggage heading to the main Savan float. You will then, along with the guides and staff, move into your room at the Base Camp Lodge. If floating and camping you will reload the helicopter for a short flight upriver to the first camp on the Savan float.

Sunday: Returning home

After a leisurely breakfast in the morning, guests have time to dry clothes and waders, re-pack their bags, and prepare for the trip home. The helicopter will arrive sometime between 11:00 am and 4:00 pm (depending on weather clearance), and will transfer you back to Petropavlovsk in time to catch the 8 p.m. flight back to Anchorage.

If you return to Yelisovo early in the day, staff will meet you again and transfer you to Martha's guest house to wait. There is a very good restaurant (Old Castle Restaurant) a 15 minute walk from Martha's. If there is time, the bus can also take the group to a nearby store for souvenir shopping. Martha will get everyone the departure paperwork at this time, which you will need to present along with your passport and visa at immigrations before boarding the flight home.

The flight lasts about 4.5 hours. Although you depart Russia on Saturday evening, you also cross the dateline again, thereby arriving in Alaska at 5:55 a.m...on Saturday morning!. Customs and immigrations in Anchorage is very quick and easy, and you'll have the whole day to connect back home, or to do other fishing in Alaska.
Savan Base Camp & Float Week-Long Fishing Package - $6,850 per person

Included: All ground and air transportation once in Kamchatka and all food, accommodation and guides once in the camp.

Not Included: Airfare and travel expenses from your home to Kamchatka, Russian visitor's visa, fishing gear, flies, fishing license, medical evacuation insurance (required), guide and staff gratuities and alcohol.

Prices are in USD and subject to change prior to booking.