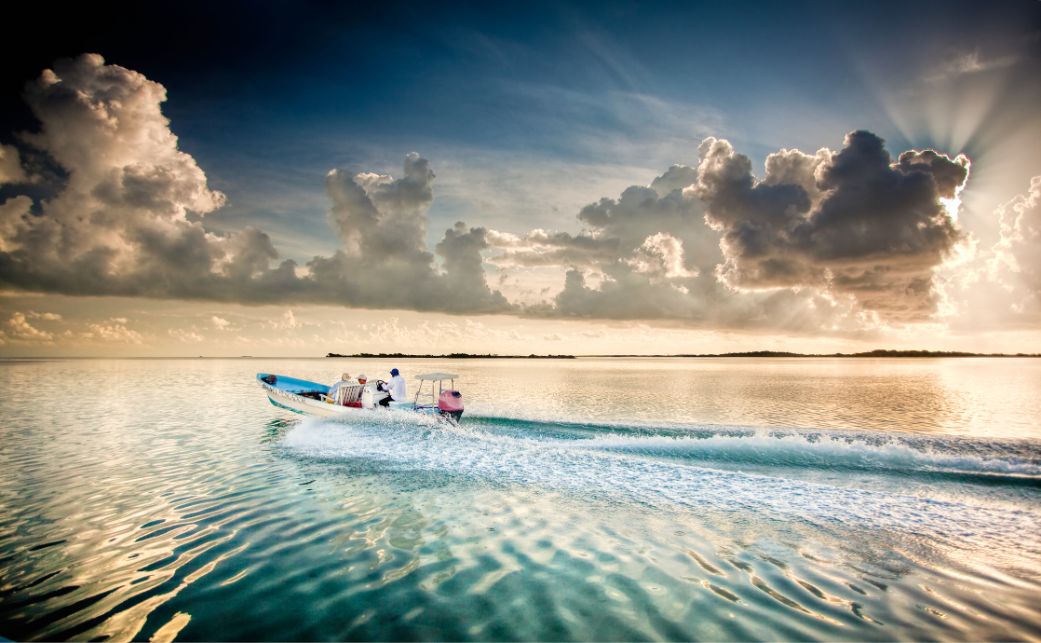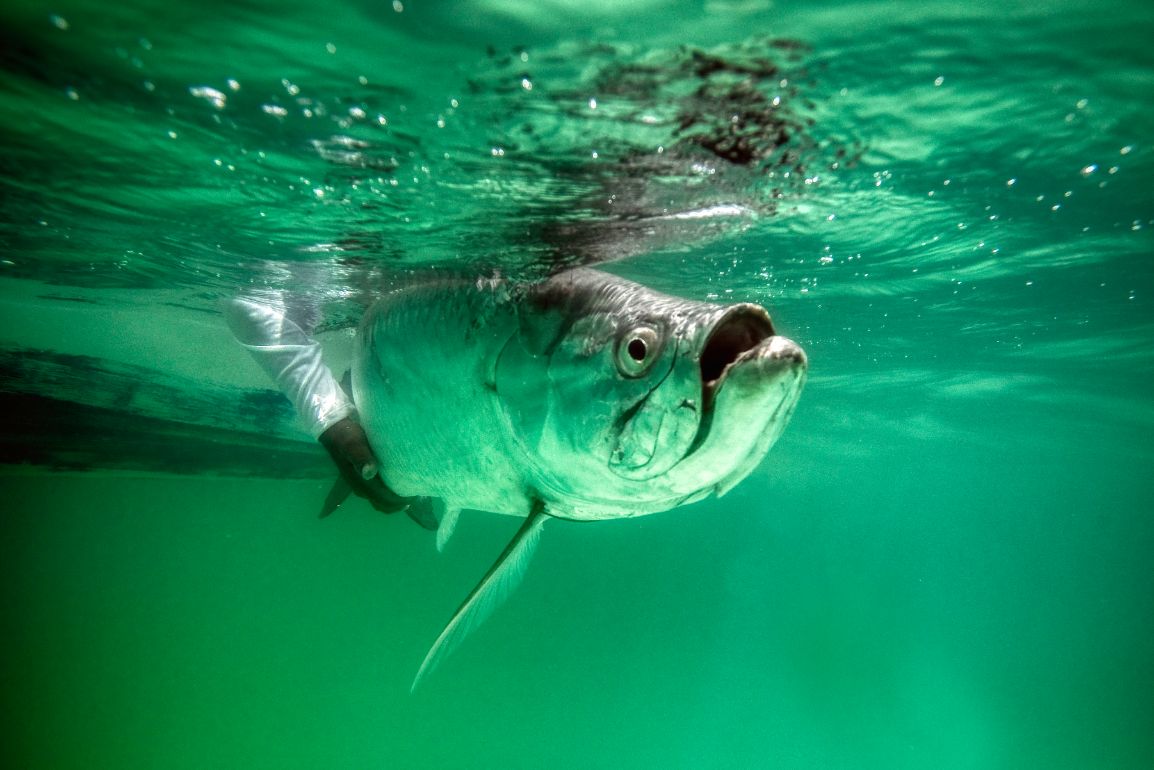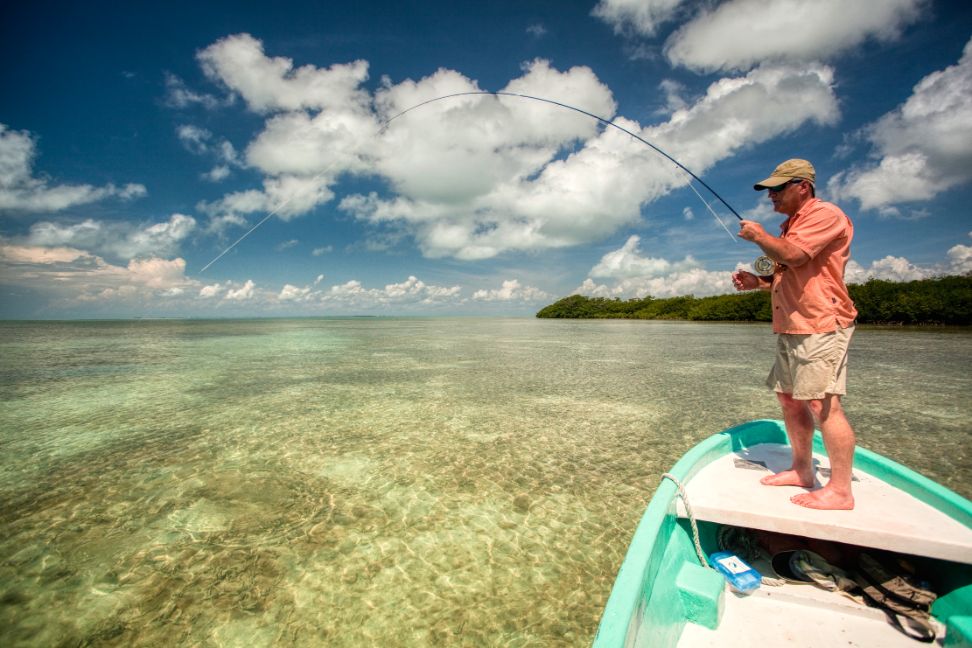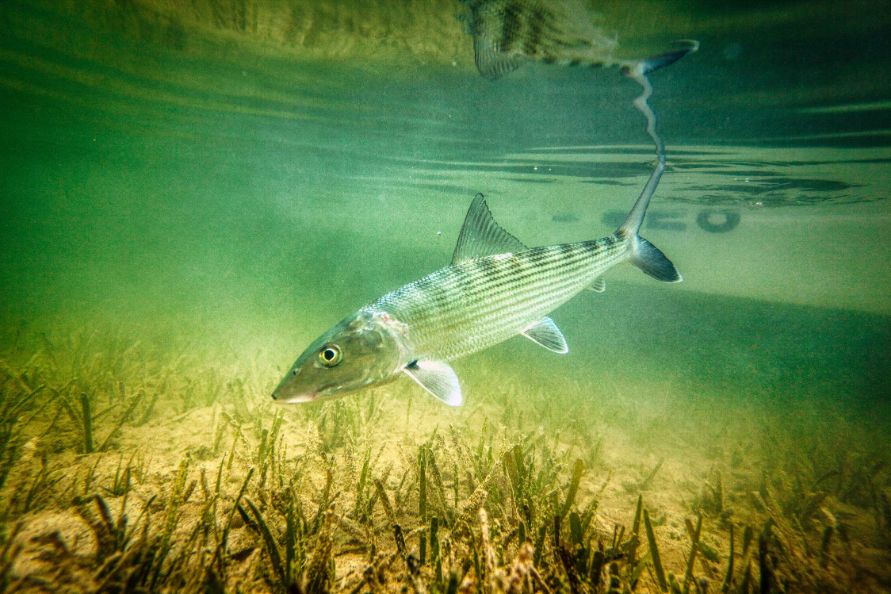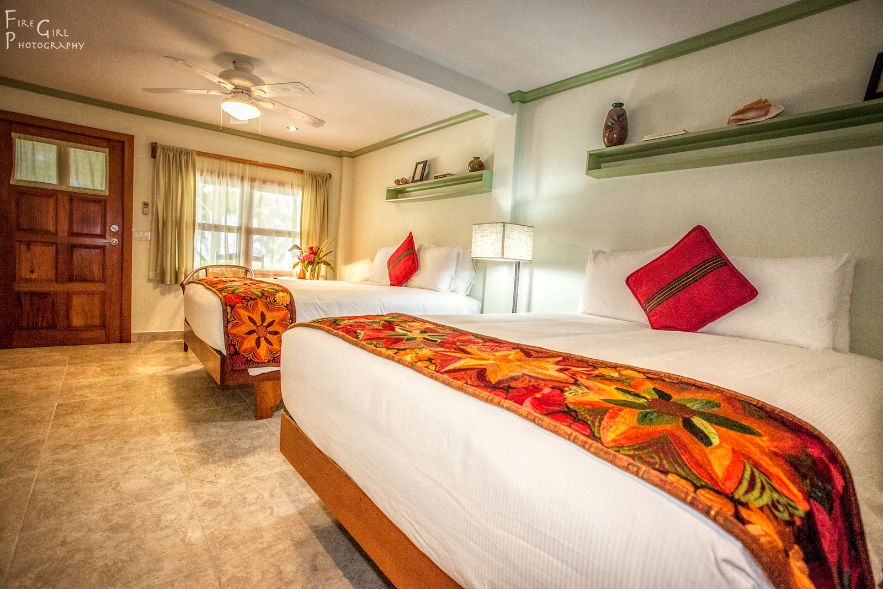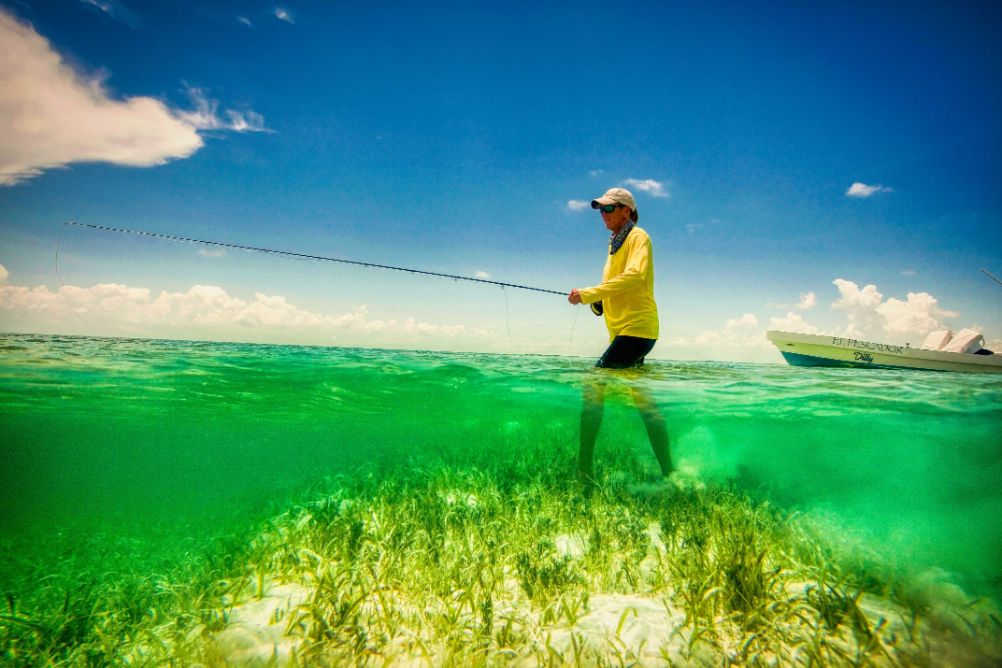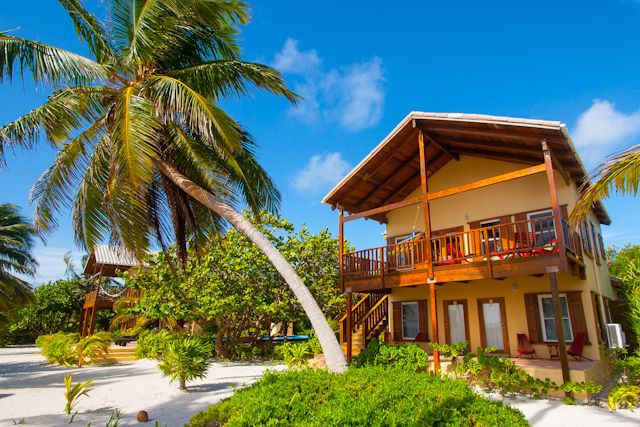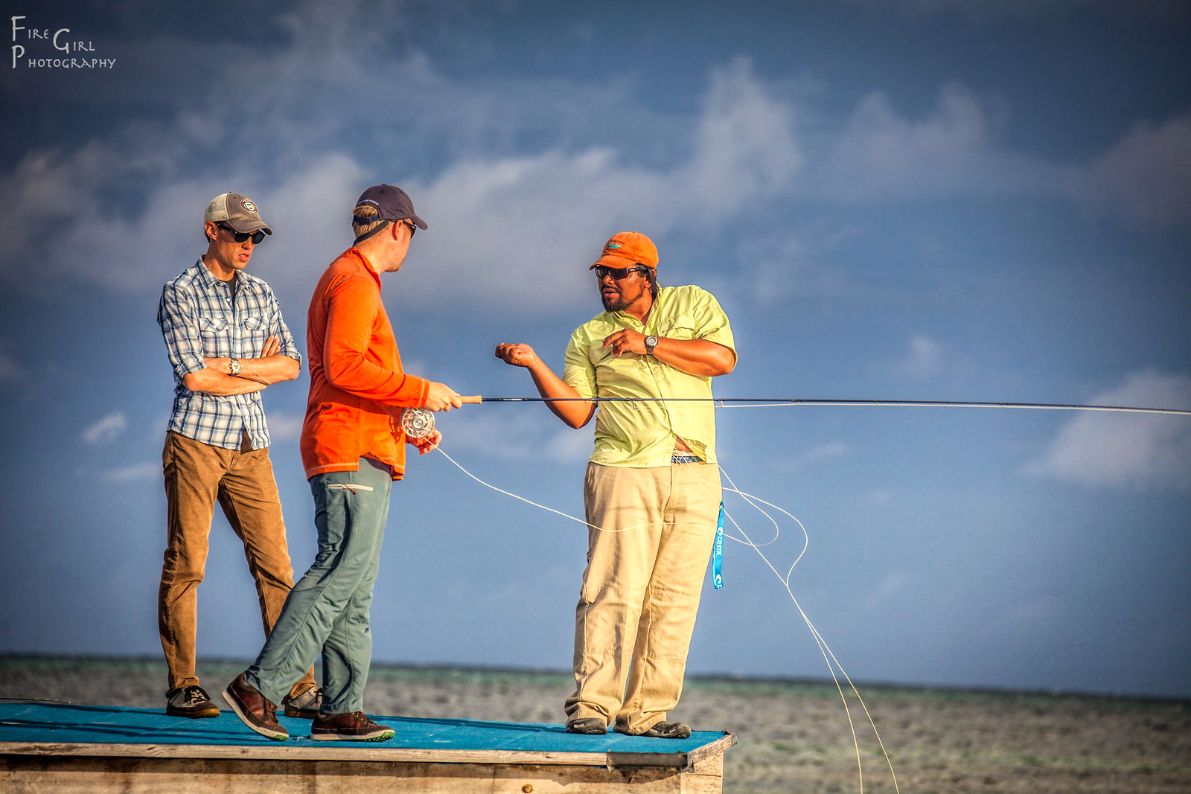 El Pescador Lodge, Belize
El Pescador Belize Lodge and Villas on Ambergris Caye is a recipient of numerous awards and known as a world class fly fishing resort. The lodge is a top choice for anglers, eco-adventurers and families looking for the best of Belize. It has been owned and operated by the same family for more than twenty years. The Lodge is a Trip Advisor travelers choice and Orvis endorsed lodge.
In addition to great fishing, Belize lies on the Caribbean coast of Central America with 17,000 square miles of dense tropical jungle to explore, mountain ranges with peaks over 3,500 feet and 266 square miles of off shore cays surrounded by coral reefs. Fabulous diving is found everywhere on the Belize Barrier Reef that stretches the entire length of the coast, some 175 miles. In addition, three atolls provide another 180 miles of living reef.
Looking out from the beach, you can see the waves roll over this incredible section of the Belize Barrier Reef.  With over 40 Ambergris Caye dive sites, scuba divers will have an abundance of different sites to explore.  Snorkeling is fantastic with three Marine Reserves , Hol Chan, Shark-Ray Alley just minutes to the south and Bacalar Chico just to our north.
THE SNORKELING
Some of the best snorkeling in the world is just minutes away from our resort on the world's second longest barrier reef just off our Ambergris Caye location near San Pedro, Belize.
THE DIVING
When diving along the main barrier reef at Ambergris Caye, you will experience the vast canyons formed by large, living corals rising from a sandy bottom. These canyons are found just outside the reef at depths of 50 - 100 feet.
Learn more about
El Pescador Lodge, Belize
Click through to get details on the water, seasons, guest accomodations, and rates.
Saltwater Flats Fishing

At El Pescador you can achieve the anglers' ultimate dream - a Grand Slam of bonefish, tarpon and permit. Belize's shallow water contains the only classic tarpon flats outside South Florida. Our flats are world renowned for offering the opportunity to sight cast to tarpon 12 months a year.

Bonefish: The bonefish grounds are only minutes from the lodge. Fish from the boat or wade-able flats available all around us. The bonefish run from 2 - 5 lbs, are plentiful, and eager to take a fly.

Permit: Permit are found on the bonefish flats, and on many of the tarpon flats as well. Our permit are found in large schools and range from 4 - 30 lbs, with the majority running about 8 - 10 lbs.

Tarpon: The El Pescador fishery has year round resident tarpon over 100 lbs. In late summer we have the added bonus of a large migratory population of big fish.
An amazing location to fish all year.

Belize has a neo-tropical climate, our temperature varies less than 10 degrees F year round. So rather than seasons, we have micro-climate changes, where Belize is subject to the occasional cold front in the winter months. The Wind is part of our tropical environment; some days are windy, some are not. Belize is semi-arid and get less than 25 inches of rain annually.

Our fish reside here 12 months of the year, plus the addition of a major tarpon migration in late summer. Any day of the year you can be assured that the fishery is diverse and abundant.

Months tend to blend into one another. If our "best" month is a 10, then our "worst" month is an 8 1/2 or a 9. Again, it's the vagary of a passing front that has more impact than the time of year. These fronts possess two common characteristics: they are unpredictable and they tend to be short-lived.

So practice your casting and come visit us and one of the world's premier saltwater destinations.

January: On calm days you should see as many as 50-75 tarpon, 20-90 pound range. Generally, bone and tarpon fishing are good; reef fishing good to excellent on calm days.

February: Fish are plentiful on the flats if the wind isn't too strong. Tarpon in the 20-90 pound range. Bones, Permit, and tarpon fishing are good, but weather-dependent. Reef fishing is excellent.

March: Plenty of 20-90 pound tarpon on the calmer days. Plenty of bonefish. Tarpon in lagoons. Reef fishing good to excellent. Permit schooled up in good numbers.

April: Lots of tarpon, 40-100 pounds, and they are more aggressive. Migrating tarpon start coming onto the reefs. It's a good month for permit too. Usually large schools of small permit, and plenty of bones. Reef fishing excellent.

May: Generally our hottest month, with calm-to-light breezes. It's not uncommon to see huge schools of 200-300 bones. Tarpon on both flats and the reef. Reef fishing is good to excellent.

June: Bone fishing is excellent as it always is from April through October. Tarpon on both the flats and reef. Reef fishing good to excellent.

July, August, and September: Usually calm and warm. Great fishing. Lots of bones, lots of tarpon to well over 100 pounds. We consider this the best tarpon season of the year. The most and the largest tarpon have been caught in August and September. We also find some of the largest permit of the year during tarpon migration.

October: Lots of tarpon, large and aggressive. Bones are larger and more aggressive too. Big schools of jack crevelle are also on the flats now and it is a good month for the larger permit. Reef fishing fair to good. If there is a lot of rainfall on the mainland, snook arrive on the flats in large numbers. The lodge record for the most tarpon landed in a single day was had in October by Dick Smith with 7 tarpon landed and another 5 jumped.

November: There are plenty of 60-100 pound tarpon on the flats. Jack crevalle and bone fishing are also good. Reef fishing good to excellent.

December: If the sun stays out there are plenty of barracuda, bones, and tarpon (40-80 pounds) on the flats. Jacks and ladyfish too. The full moon brings grouper and snappers to the reef to spawn. Reef fishing good to excellent.
Choose the Main Lodge or a Private Villa.

Main Lodge:

The gracious, mahogany colonial lodge is right on the beach, facing the sea, surrounded by fragrant tropical flowering plants and the whisper of shady palms. Recently renovated rooms.

Each of the fourteen main lodge guest rooms lookout to the sea and are just steps away from our swimming pool adjacent to the beach. All rooms have private baths, overhead fans and air-conditioning.

Not only will you find the serenity and relaxation you are looking for, you'll have the convenience of being a few miles north of San Pedro Town and its gift shops, restaurants, bars and night spots. Guests usually travel by golf cart which can be easily rented at our front desk.

Private Villas:

El Pescador's lovely villas are right on the beach and with stunning views of the Belize Barrier Reef across an open expanse of turquoise Caribbean Sea. The villas are two story, 3-bedroom, 3-bath homes, designed in a lock-off configuration, which enables you to rent a 1, 2 or 3 bedroom villa to perfectly match your individual needs, while ensuring your complete privacy.

Exotic and Well Appointed

El Pescador villas have beautiful tile floors and are furnished with lovingly handcrafted furniture of tropical hardwoods, bamboo, or traditional wicker. Interior walls are graced with paintings, crafts, and tapestries by local artists. An exotic array of tropical flowers and greenery are tucked here and there to welcome you to paradise. From the splash of sunshine yellow on the exteriors to the rich wood trim and coral stone floors, each villa exudes casual tropical elegance. You'll cherish every memory created in this special place in the sun. Come join us.

Private Villa Feathers:

Upstairs

Great Room with dramatic cathedral ceilings of fine Belizean hardwoods.

Large open style kitchen with quartz counters, mahogany cabinetry, and appliances including dishwasher, stove-top and oven, and coffee machine.

Breakfast Bar.

Spacious living and dining areas.

Floors of coral stone with agate and crystal inclusions.

1 bedroom is on this level.

Full bath with exquisite ceramic tile and sink.

Mahogany French doors open to wide covered veranda.

Downstairs

Two full bedroom-bathrooms. Each bathroom features granite counters and sinks. One bathroom features a jungle shower.

Floors of coral stone.

Each bedroom has private entrance from the beach, and opens to a covered stone patio facing the sea.

Food and Dining

The chef's menus include delicious standard daily meals as well as vegetarian and vegan options. Please notify your server of any special dietary needs.
El Pescador always provides a seasonal farm-to-table dining experience that reflects the culinary origins of our country. The fish catch is from nearby waters - meats and produce come from family-owned and local farms on mainland Belize.

Breakfast - A la carte menu. Served from 5:30 am – 9 am.

Lunch: A la carte menu. Served from 12noon–2 pm

Dinner: Pre Fixe. Served at 6:45pm. (In addition to the prefixed menu, local grilled fish fillet as well as a vegan option are offered every night. If you would like one of these options, please let the Chef know by 10am.)

*Reservations: If guests are not on a meal plan, please make reservations in the office. We request dinner reservations be made no later than 10 am. No dining reservations are necessary for breakfast or lunch.

Grand Slam Bar

Our Grand Slam bar is a perfect place to relax after a full day of activity! In addition to a full selection of both local and imported beverages, we have a pool table, Foosball table, a fly tying area and other games located in the bar for your enjoyment. Bar opens at 2:00 pm for drinks. Afternoon bar snacks are available from 3.00pm – 5.00pm.
Fly to Belize International Airport (BZE) from the U.S. We make your transfer arrangements from the airport to the Island. It is a short flight from the International Airport to San Pedro Town where you will be greeted by a representative from El Pescador. El Pescador is about 2miles from San Pedro Town Airport.
All Inclusive Package Rates

Our packages start with our all-inclusive standard package. You can add any additional activities to it for a fee. Most people customize a package to include the level and type of activities desirable to them. That's why El Pescador is the perfect place for your dream Belize vacation.

We also offer an all-inclusive fishing package plan for serious anglers as well as an all-inclusive diving package. Additionally, adventure packages are available for those seeking a broader Belize vacation experience.

When you have an idea what activities you would like, contact us. We will help you plan and price your unique vacation at El Pescador.

WHAT'S INCLUDED?
The number of nights lodging specified in your package in a standard room

Roundtrip land, air and sea transfers between Belize International Airport and El Pescador

3 meals per day and hors d'oeuvres

Belizean beverages (including soda, beer and rum) consumed at our bar

9% Hotel tax, 12.5% GST tax

Complimentary use of all amenities (pools, WIFI, gym, paddle boards, kayaks, bikes, etc)

Welcome drink

PACKAGES DO NOT INCLUDE:
Packages do not include Sport fishing licenses available online, gratuities for guides or hotel staff, imported alcoholic beverages, (such as wine and scotch) or items purchased in our gift or tackle shop, fishing license, park fees (if applicable), fishing gear (which may be borrowed based on availability), diving gear (which may be rented) nor gratuities.

RESERVATION POLICY:
A non-refundable deposit of 50% per person is required to hold both space and guides on all packages. No space or guides will be held without receipt of deposit. Full pre-payment is due at El Pescador 90 days prior to arrival.

TRAVEL INSURANCE:
We strongly advise that you purchase travel insurance to cover unexpected cancellation, interruption or delays. Call us for a quote with Global Rescue.