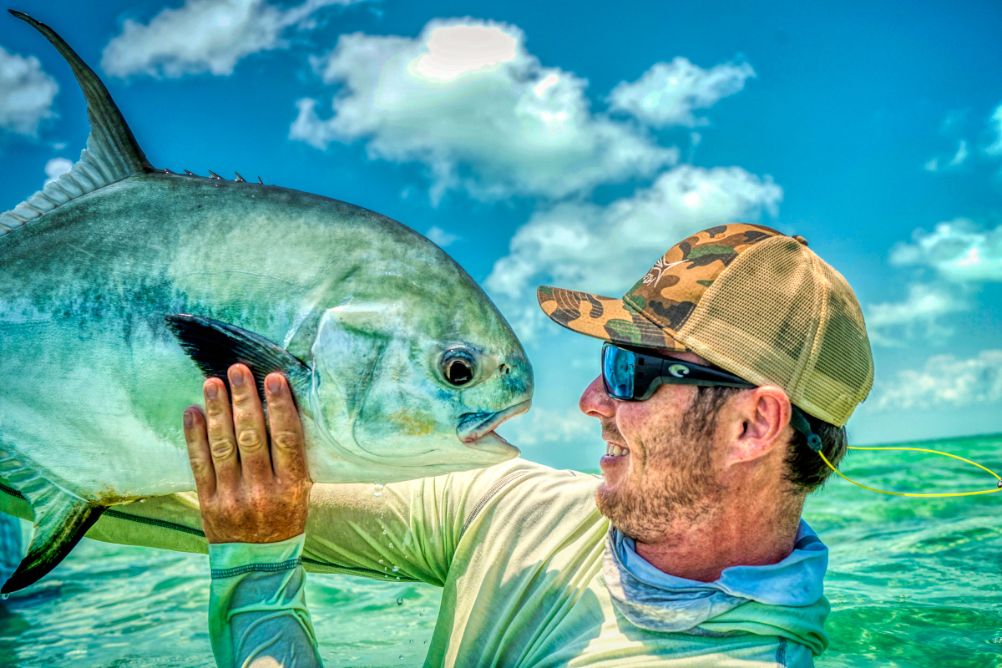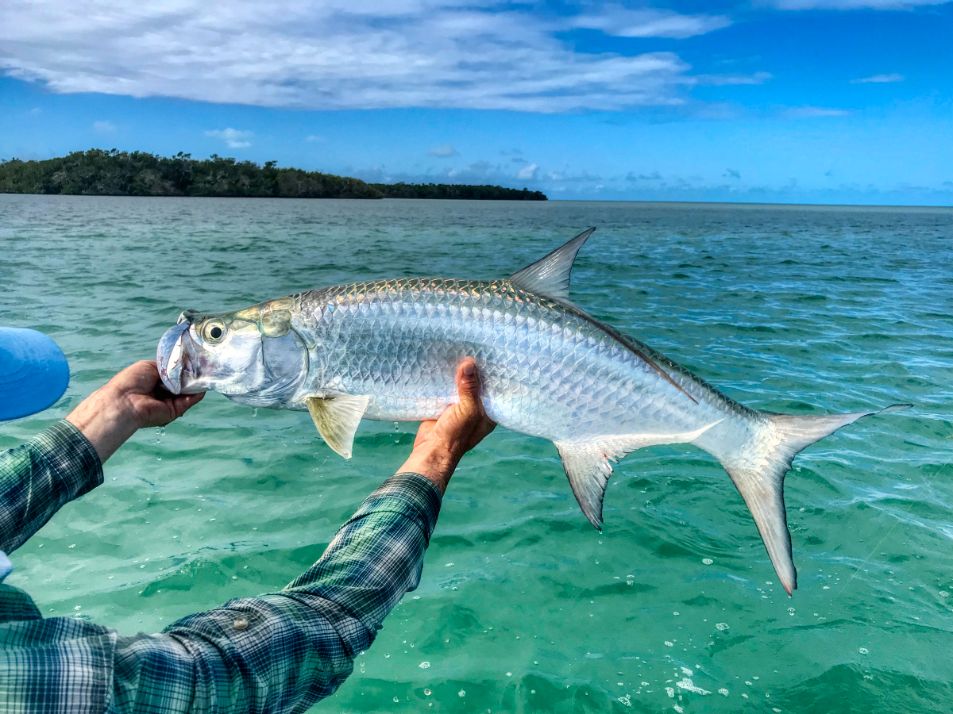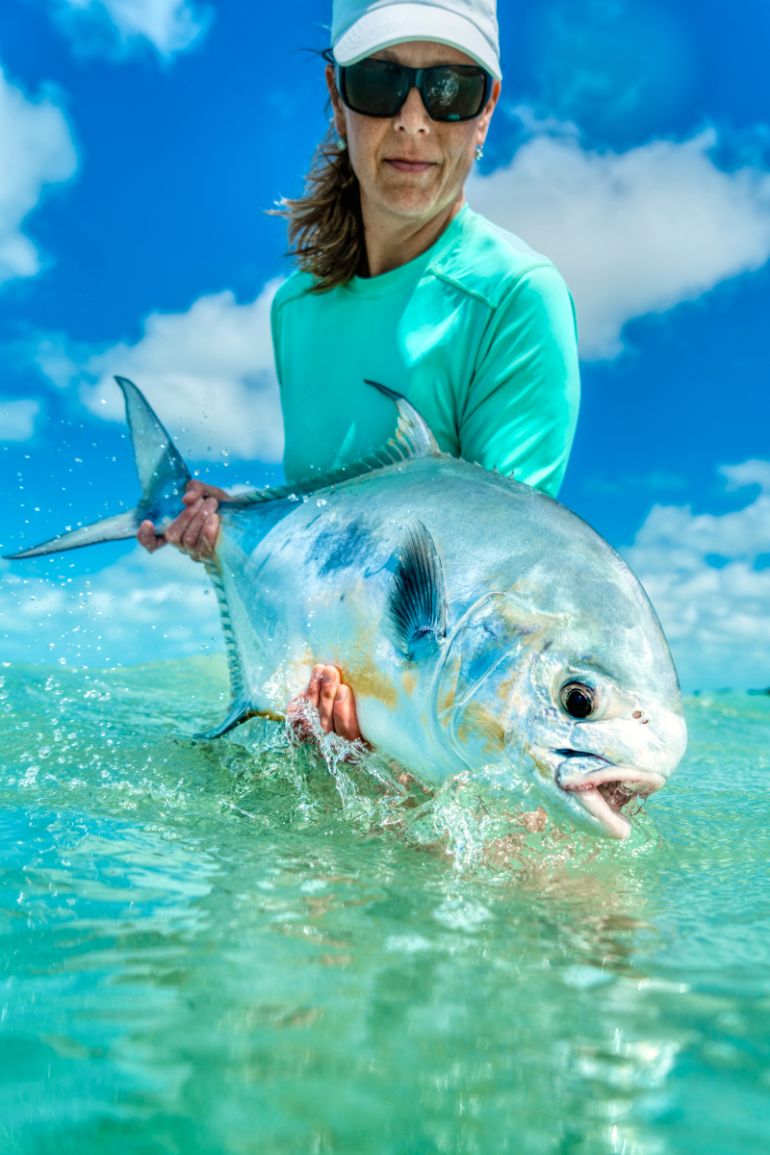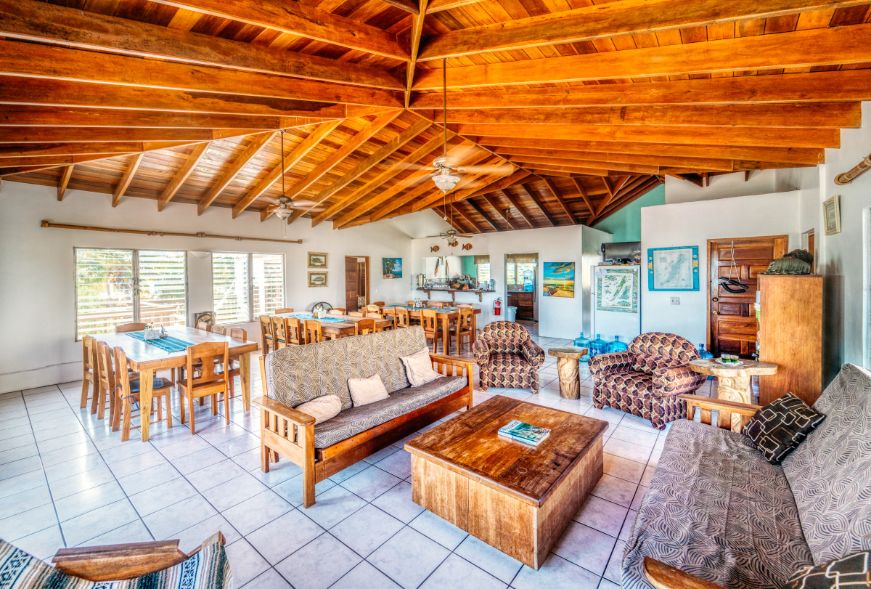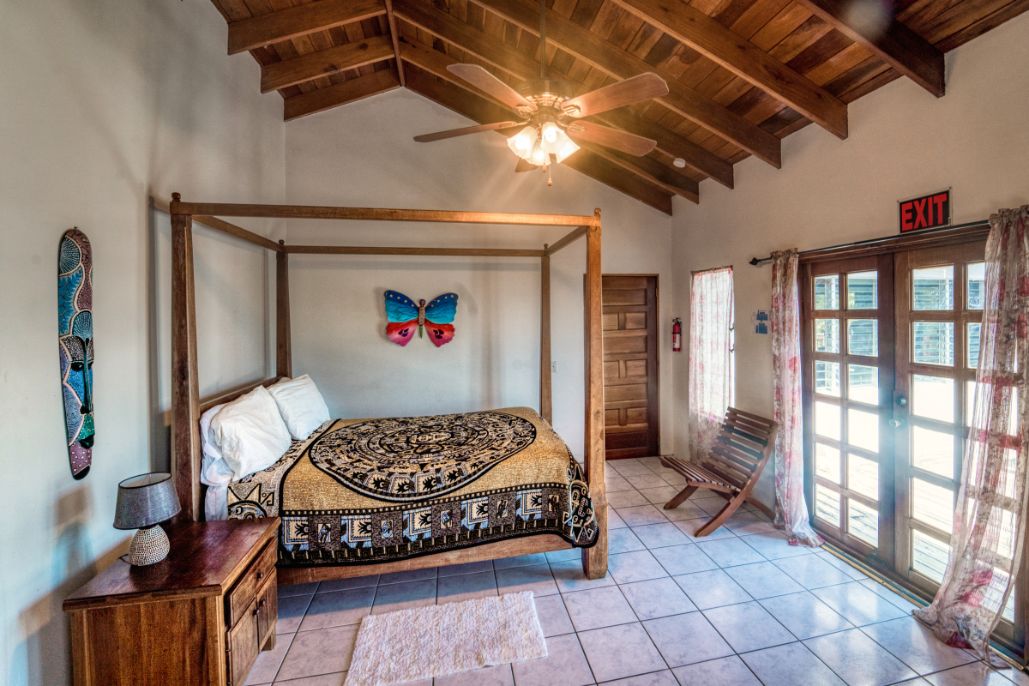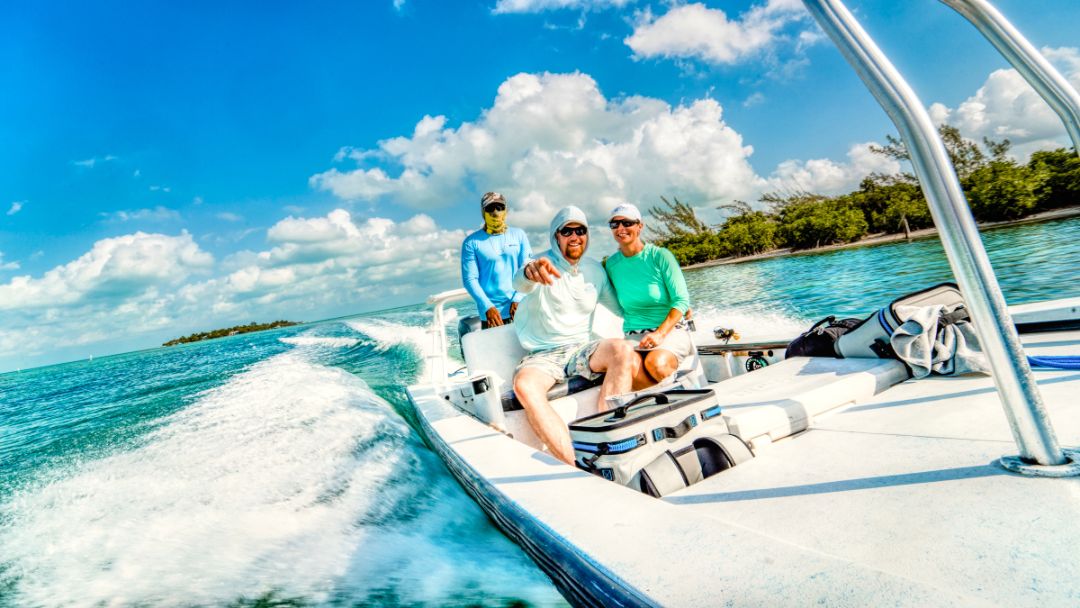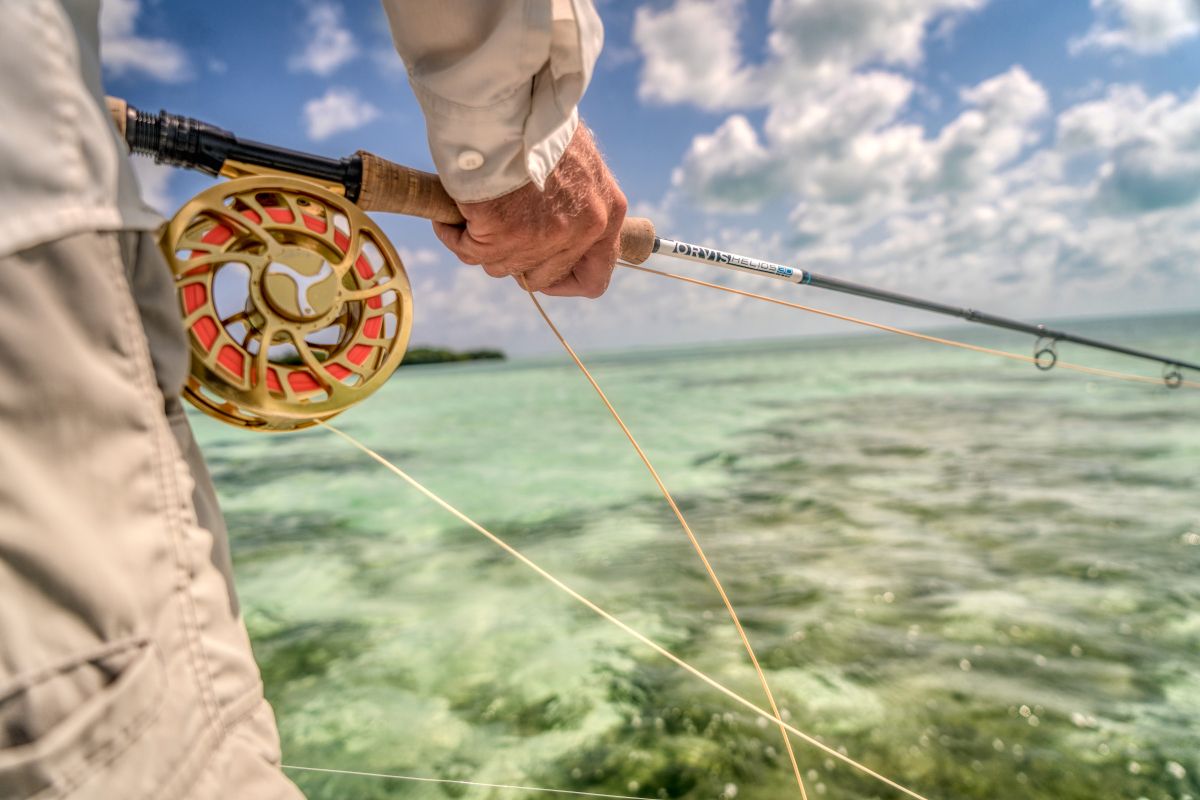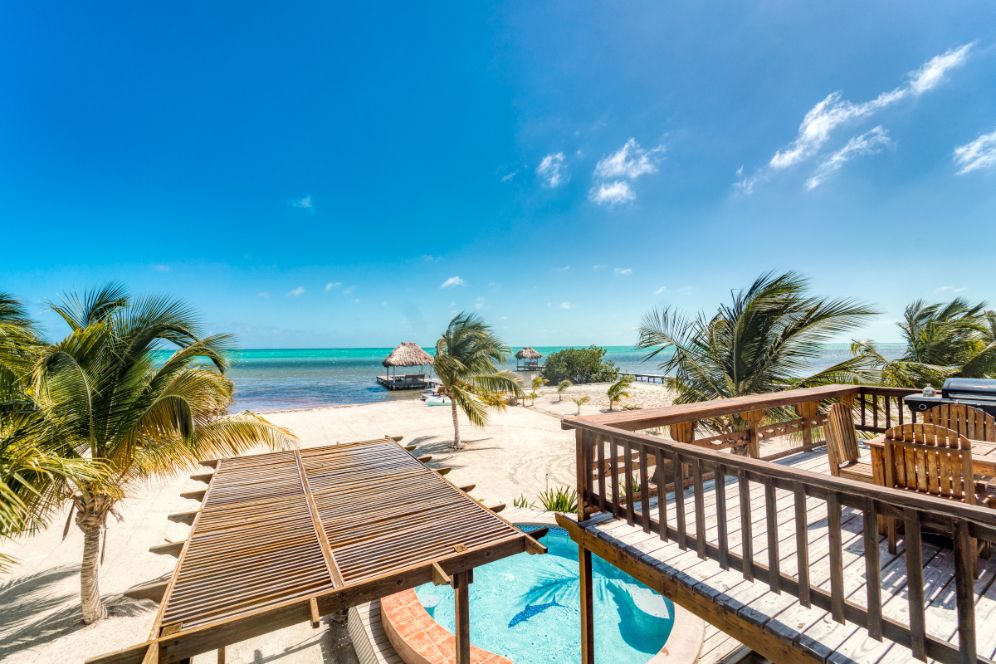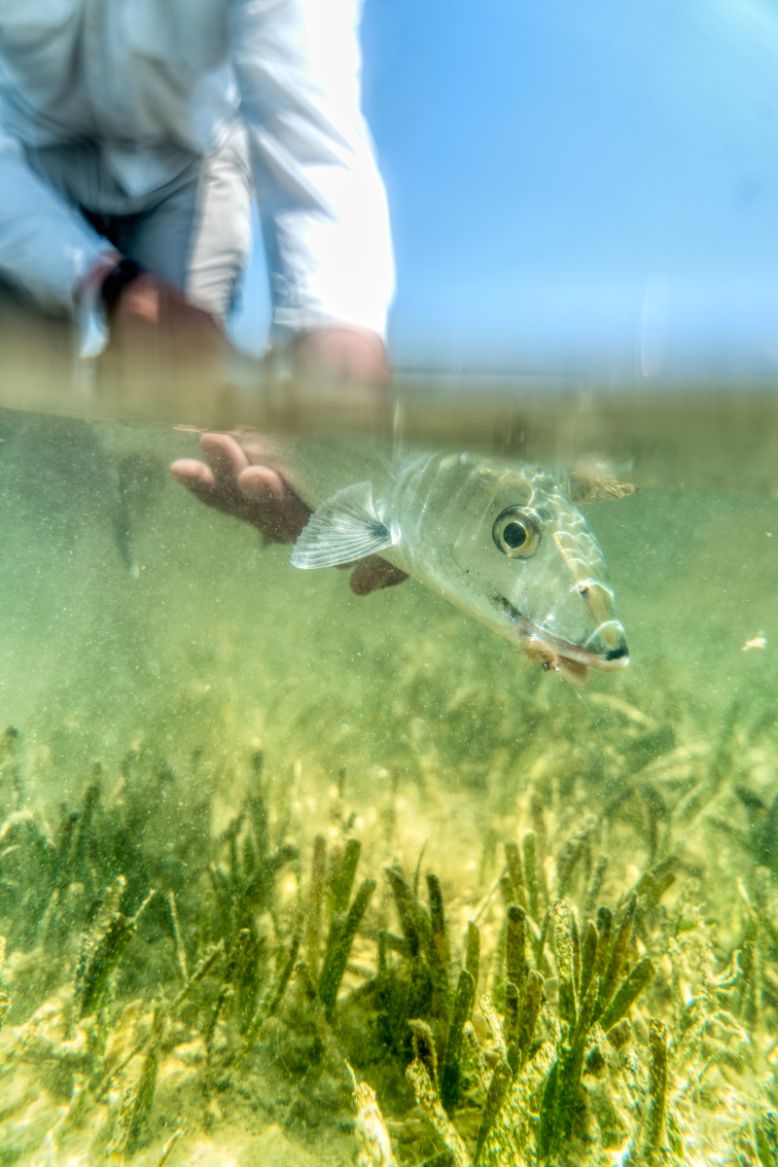 Blue Bonefish Lodge, Belize
The Blue Bonefish Lodge is strategically located on the southern end of Ambergris Caye. Four miles south of San Pedro Town, overlooking the Caribbean Ocean and the Belize Barrier Reef. Just a short ride in a panga and our guides will have you on the bow searching for tails.

When we made the decision to operate and own a Caribbean lodge, we began searching for the perfect location. We wanted a lodge that was far enough south to avoid most of the adverse effects of the relentless winter cold fronts that so often plague south Florida and the Bahamas, but that offered the same sort of amazing sight fishing opportunities that these great fisheries provide.

What we found was paradise, facing the second largest barrier reef in the world and only 4 miles south of San Pedro, Belize. Our 6700 square foot lodge offers the highest level of comfort and amenities needed to entertain the non-fishing members of your family or circle of friends, allowing you to escape to the flats without guilt.

Here on Ambergris Caye, you will discover a new way of life that is very easygoing and stress free. Take time to enjoy a trip to Hol Chan Reef, dance to the music at Fido's, or relax in one of our hammocks. Escape your busy life, dig your feet in the sand, and just enjoy paradise! There are miles and miles of beautiful white flats hosting massive schools of bonefish that often number in the hundreds, year round shots at tarpon and a better chance to land a permit on a fly than you will have almost anywhere else in the world. Getting There Once you arrive into Belize City you can take a quick fifteen minute flight to San Pedro on Tropic Air or Maya Island Air. Another option is an hour and a half boat ride on the San Pedro Express Water Taxi. Once you arrive on the island, our staff will meet you at the airport or dock, and assist in getting you to the lodge.
Learn more about
Blue Bonefish Lodge, Belize
Click through to get details on the water, seasons, guest accomodations, and rates.
The ultimate dream of saltwater fly anglers is the "Grand Slam" of Bonefish, Tarpon and Permit Catching all three of these elusive flats fish in the same day is known as a "Grand Slam". The ultimate goal of the saltwater fly fisher. In many areas, this would be a once in a lifetime event. Here at the Blue Bonefish, we see a guest or two accomplish this great honor almost weekly. In addition to these three glamour species, fly fishermen can try for snook, barracuda, jacks, ladyfish, snapper, cobia, and triggerfish.

Bonefish: The bread and butter of the flats. This is how you prepare for the big leagues. Even though they are the easiest to catch, our bones will still challenge the seasoned angler. Many shots at schools, as well as tailers ensure that nearly everyone can get their fill of bonefish here at Blue Bonefish. If you want a challenge, search out the big singles and doubles ble. Tarpon: Tarpon put on one of most impressive aerial displays of any fish that swims. They are pure muscle and will put your tackle to the test. Belize has all sizes of tarpon, smaller juvenile tarpon that grow up in the mangroves ranging from 5-20lbs, and migratory ocean tarpon that swim the edges of deeper flats can push upwards of 100lbs. Permit: The Holy Grail of saltwater fly fishing. These fish will test your skills, your wit and your will. With great numbers of permit traveling the waters that surround our lodge, you will likely have multiple shots and see multiple schools….in a single day! However, don't think that it will be easy. They are still permit after all.
Fish reside in the area around the lodge 12 months of the year, plus the addition of a major Tarpon migration late in the summer. Any day of the year, you can be assured that the fishery is diverse and abundant. The only variability in the fishing can be caused by the occasional cold front that are unpredictable, and are short lived.

There are two basic seasons in Belize. The rainy season, which is June – November, and the dry season which is December – May. The temperatures are less of a factor – only swinging by about 4 degrees C between summer and winter.

December – February is the best time to NOT be in the north, so almost by definition, it is also one of the best times to come to Belize. We do get the remnants of the cold fronts that move across the U.S. but by the time they arrive in Belize they have lost most of their teeth, usually bringing some clouds and wind, but leaving us with relatively warm temperatures. This is a great time for bonefish and permit, with a good chance to chase resident tarpon on the less windy days.

March – May is the best time for the serious permit fisherman to target large numbers. As the waters in the back country warm and the winds settle down, the larger permit seem to school up and cruise the extensive flats looking for food. Many of these schools host numbers in excess of 50 or even 100 fish. Still great bonefishing. The tarpon fishing gets steadily better through these 3 months.

June – mid August is tarpon migration time. This is when the big tarpon begin showing up consistently in good numbers, with some fish in excess of 100 pounds taken each summer. The often light winds of summer make it easier to find and to cast a fly accurately to the fish, no matter what species you choose to target.

Mid August – Mid October is the heart of the tropical storm season. On the days when the weather cooperates, the fishing can be fantastic for tarpon, bonefish and permit. When the rains are rolling through, however, the sight fishing can be tough. On those days, blind casting some of the finger flats leading to the reef can be deadly for BIG tarpon.
We start with the six private staterooms, each with an in suite bathroom, tile shower and personally controlled air conditioning. Each room has custom made Belizean mahogany furniture, tile floors and are tastefully decorated with local artwork and carvings.

Also, the construction of our new 2800 square foot building next door will be completed December 1st, 2019. It will feature 4 additional rooms, each with its own private balcony that will overlook the Caribbean ocean. Each room is custom designed and decorated with Belizean hardwoods, tile floors and two king size beds.

The expansive living and dining area has 270 degree views of the ocean and the barrier reef and features French doors that open out onto an upstairs deck with a grill, outdoor tables and a breakfast bar that overlooks the beautiful blue Caribbean.

Each of the rooms open out to one of our decks facing the ocean. The downstairs decks wrap around our pool that features a swim up bar and a seating area to relax in and cool off at the end of the day while sipping a cool drink watching the sunset.

The sandy beach area of our 150′ of ocean frontage features multiple social areas. Choose from a relaxing hammock chair under our shaded palapa, a swing seat in our shaded poolside pergola, a beach chair down in the sand or on our waterfront raised deck or a chair at one of our shaded outdoor tables. Take a stroll out to the end of the dock and enjoy the cool breeze while sitting under the large palapa over the water. Make sure that you grab a towel in case you decide to take advantage of the swim platform and ladder located at the end of the pier.

Golf carts, kayaks, stand-up paddle boards and bicycles are available for our guests to borrow to go out and explore the island. Loaner rods are also available for use if needed. The Blue Bonefish Fly Shop is located onsite, if additional equipment is needed.
The first step required in planning your trip to Belize is making sure your passport is valid, then book your commercial flight into Belize City International Airport. Most major airlines fly into Belize City.

Once you arrive into Belize City you can take a quick fifteen minute flight to San Pedro on Tropic Air or Maya Island Air. Another option is an hour and a half boat ride on the San Pedro Express Water Taxi. Once you arrive on the island, our staff will meet you at the airport or dock, and assist in getting you to the lodge.
7 nights / 6 days guided fishing Double Occupancy, 2 Anglers per Boat

Oct - Dec $2995.00

Jan-Feb $3250.00

March-May $3495.00

June-July $2995.00

Aug - Sept CLOSED

7 nights / 5 days guided fishing Double Occupancy, 2 Anglers per Boat

Oct - Dec $2750.00

Jan-Feb $2995.00

March-May $3250.00

June-July $2750.00

Aug - Sept CLOSED

7 nights / 5 days guided fishing Single Occupancy, Private Room/Guide/Boat

Oct - Dec $3995.00

Jan-Feb $4250.00

March-May $4495.00

June-July $3995.00

Aug - Sept CLOSED

Daily Rates / Room Upgrade

Full Day Flats Fishing – $500

1/2 Day Flats Fishing – $450

Snorkel/Beach BBQ Combo – $600

Snorkel – $50 Per Person (Minimum 2 people)

Room Upgrade in our newly built Villa – $400 week per room (Based on Double Occupancy – $200 per person. Upgrade for a single person only available when Single Occupancy package is booked.)

Custom Packages/Couples Packages/ Dive Packages are also available. Call for information

Rates do not Include: Tips, liquor, fishing license, hotel and sales tax, and commercial air travel to and from San Pedro. Minimum tip of $50-100 US per day is recommended for the guides, $100 week for the Lodge Staff

Guests are required to provide their own beer, wine and liquor. Local Rum Punch will be served with dinners. Ask us how we can assist you in purchasing, and have available for your arrival. We wish you the best of travels and invite you to our favorite fly fishing lodge in Belize.

Reservation Policy: A deposit of 50% per person is required to confirm reservations. The balance is due 60 days prior to the scheduled arrival.

Cancellations: Trip cancellation insurance is recommended for your Belize fishing vacation. We can assist you with obtaining a policy if you choose to cover your trip.

Prices are in USD and subject to change prior to booking.