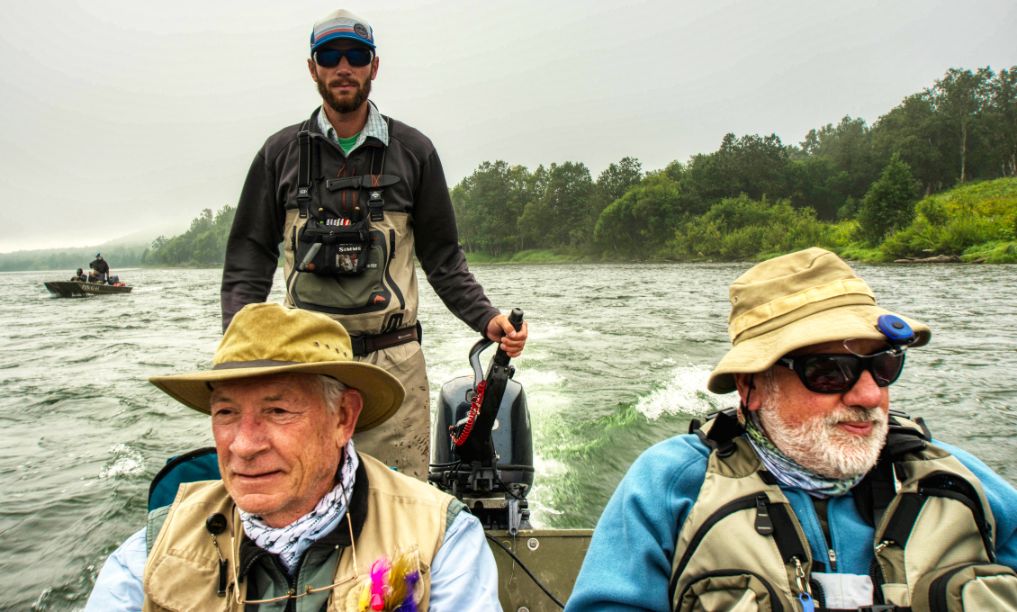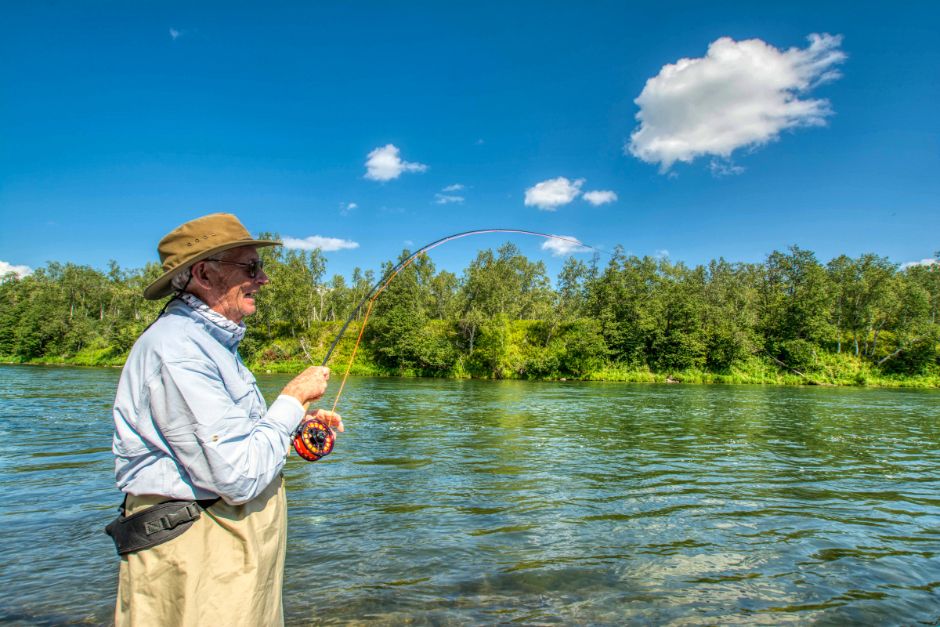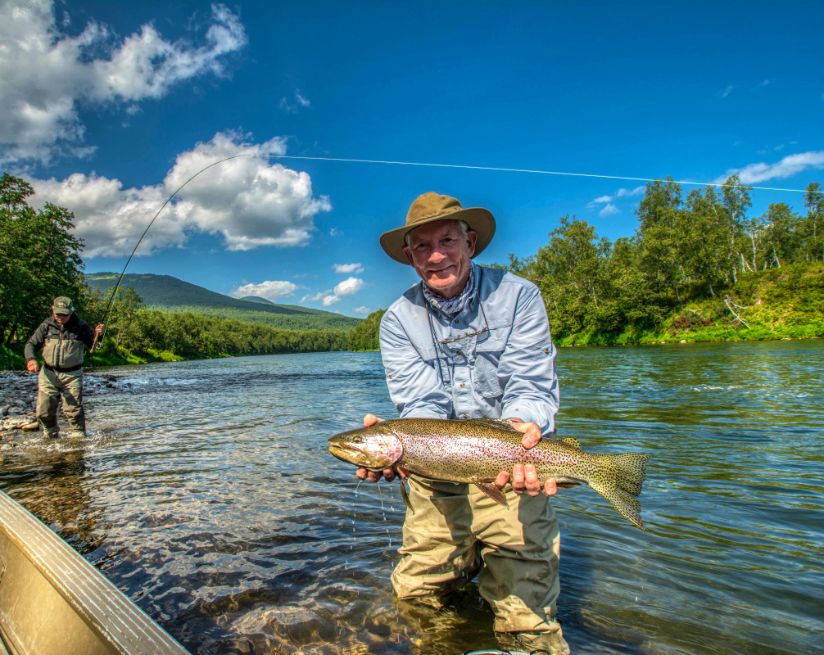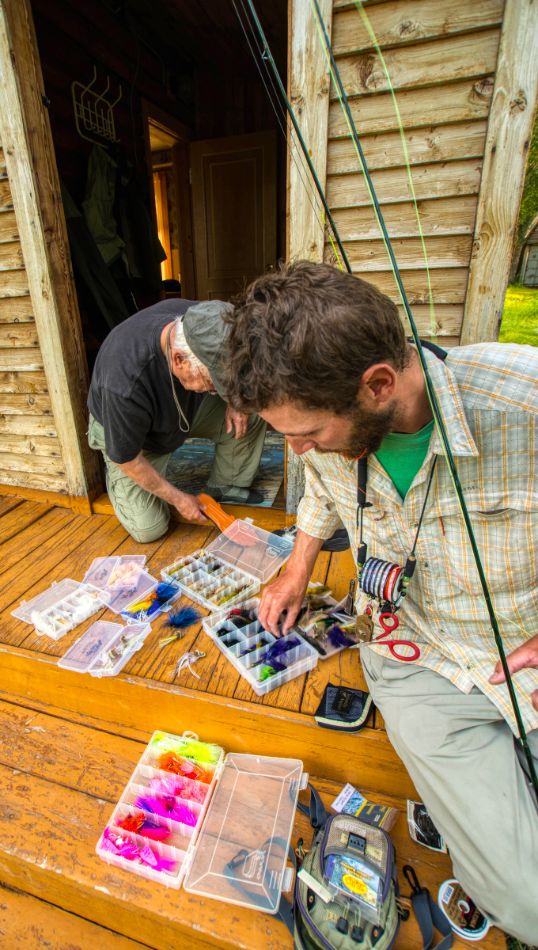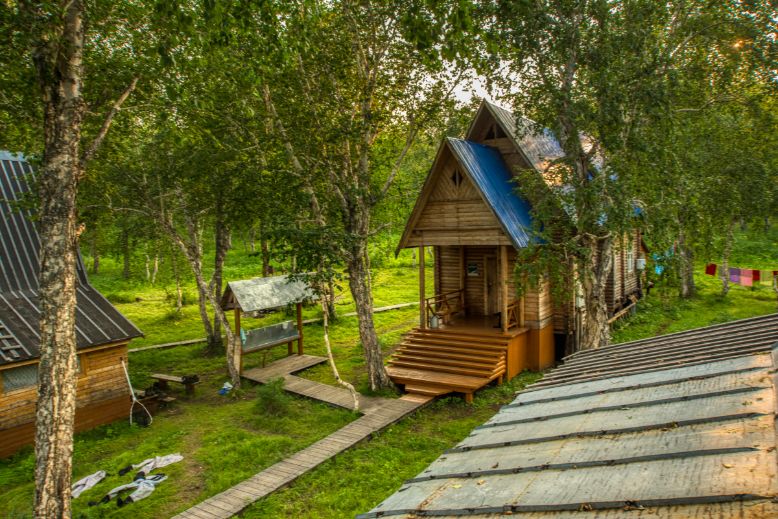 Zendzur Hot Springs Lodge, Kamchatka Russia
Of all of the trout fisheries in the world, Kamchatka is one of the most remote and pristine environments for catching some of the largest Rainbow Trout in existance. These aren't transplants from some other part of the world; they are as indigenous to Kamchatka waters, that empty into the northern Pacific, as are Steelhead and Rainbows are indigenous to the west coast of the USA. Where the Rainbows/Steelhead of the US, particularly those living in Washington, Oregon and California are now a hodgepodge of genes, mixed up by years of hatchery alchemy, the Kamchatka fish remain pure strain Oncorhynchus O. Mykis.

Remoteness has kept Kamchatka a pristine wilderness with pristine freshwater fisheries. Much of Kamchatka's waters have been unexplored, and those that have, have only been fished by a relatively few individuals for the last twenty years.

One of the most productive world class rivers is the Zhupanova that holds arguably the worlds largest and most aggressive Rainbow Trout. Fish often reach lengths of 35 inches and can weigh over 10 lbs. It's good to keep in mind that this is the only place in the world where you can catch a pure strain indigenous Rainbow that can reach that size.

Zendzur Lodge has access to over 30 miles of the Zhupanova. From their doorstep, jet boats can put you on to fish within a few miles from the lodge. The lodge is one of the oldest fishing lodges in Kamchatka and has the finest accommodations, service and food.
Learn more about
Zendzur Hot Springs Lodge, Kamchatka Russia
Click through to get details on the water, seasons, guest accomodations, and rates.
The Rainbows of the Zhupanova River are some of the largest on the planet. Natural selection has resulted in larger fish that can withstand the long brutal winters of the Kamchatka. The larger fish are caught by swinging large streamers across the current. Scatting a mouse pattern in the surface film near a shoreline riparian strip will elicit violent strikes, that will cause your heart to pound.

Each morning you, one other fisherman and your guide will begin exploring the river for big fish. Quality fish are the target on the Zhupanova, not quantity. On a good day an angler can expect to catch 3 to 5 large fish. Better days will bring 6 to 10 fish, hopefully to the net. Large Dolly Varden are usually present in many locations on the river and provide exciting fishing when you are not stalking the larger Rainbows.

Each morning you will be transported from the lodge to search for fish in 14 ft Jet Boats. Because this is a rustic experience, it will be important that you bring all equipment and tackle that you will need for the trip. A "Pre-Trip" brochure will be provided to you before the trip that will include a check list of items to bring.
July

Kamchatka's warmest month whose temperature rarely gets above 80 degrees. Most fishing is by means of swinging streamers or skatting mouse patterns along undercuts. The major hatches of Caddis and Mayflies occur at this time which makes this your best chance to catch a behemoth Rainbow on a dry fly. Sea run Dolly Varden begin to show in the river towards the end of the month and so do the Kundzha Char. Both offer great fishing and provide a fight comparable to Steelhead.

August

Chum and Sockeye Salmon are entering the river. You will continue to fish for Rainbows with mouse and streamer patterns.

September

Temperature falls dramatically and autumn is definitely in the air. Days are sunny but evenings can be frosty. Fish are frantically eating any lifeform that is within eyesight so they can fatten up to survive the difficult long winter months. You will be fishing big leeches, baitfish patterns and the ubiquitous mouse patterns.
Zendzur Lodge is situated on an overlook that provides a magnificent view of the Zhupanova River. Though Kamchatka lodges are considered quite rustic as destination lodges go, the Zendzur has set the bar higher as its comfortable rooms, great customer service, and food make it like no other Kamchatka Lodge.

In the evenings you will return from your days fishing to the on-site mineral hot springs, a great dinner and a chance to compare your adventures of the day with the other lodge's guests. Each room has two beds, a private bathroom with flushing toilets, clean towels and storage for waders, boots and gear.

Cuisine is classic Russian that is comprised of lots of vegetables, legendary soups and chicken, pork or beef. Breakfasts consist of hot cereals, eggs, bacon toast and fresh fruit. Lunches of a variety of meats and cheeses, fruits and in some cases a Dolly Varden cooked by your guide over an open fire along side the river.
International flight schedules to Petropavlovsk periodically change, but currently there is a weekly round trip flight from Anchorage AK to Petropavlovsk via Yakutia Air which leaves Anchorage on Saturday mornings. From the airport you will board a converted Russian military helicopter for a 30 flight to the camp. You will return to Anchorage the following Saturday morning .
Rates are based on double occupancy

Week long package: $6,995 per person

Included: Lodging, guided fishing, ground and air transfers to and from Zendzur Lodge once in Kamchatka, all meals at the lodge.

Not Included: Airfare and travel expenses to Kamchatka hotel accommodations in Petropavlovsk or Anchorage, fishing equipment, tackle and flies. Russian Visa fees, gratuities for guides and staff, trip insurance and Global Rescue Insurance (required).

Two week Option: Zendzur Lodge can easily be combined with the Zhupanova Float Trip for a two week package price.

Prices are in USD and subject to change prior to booking. Ask for a quote.