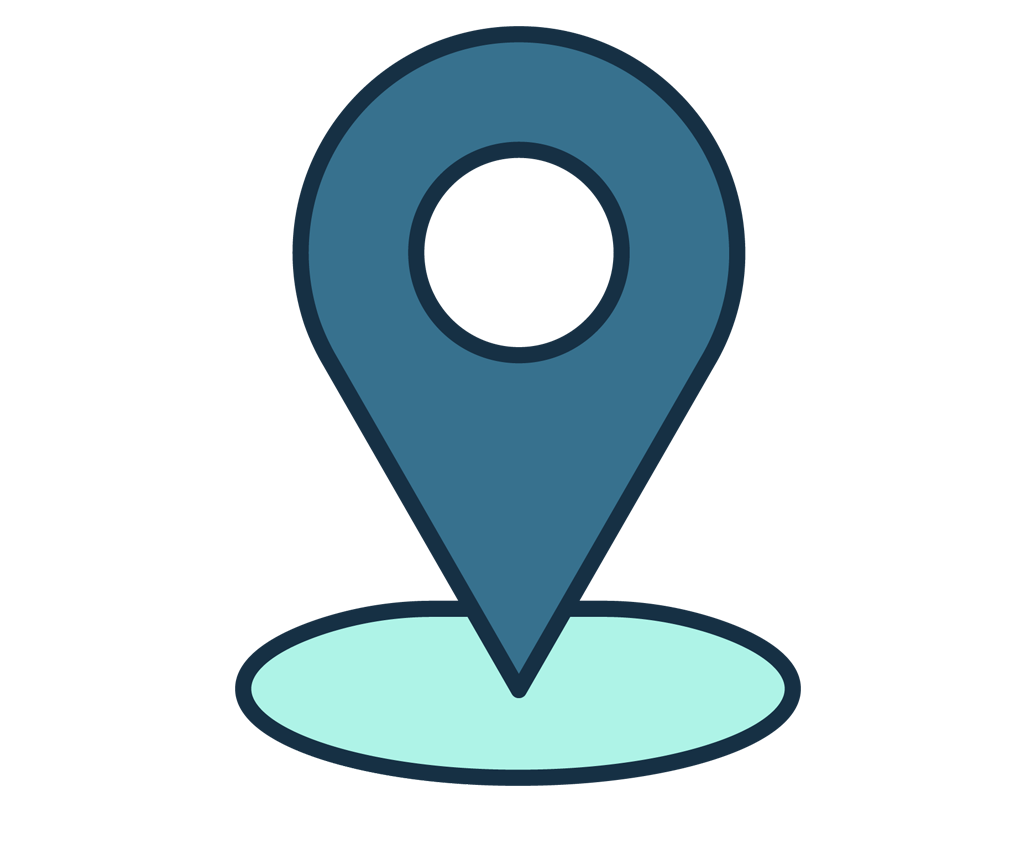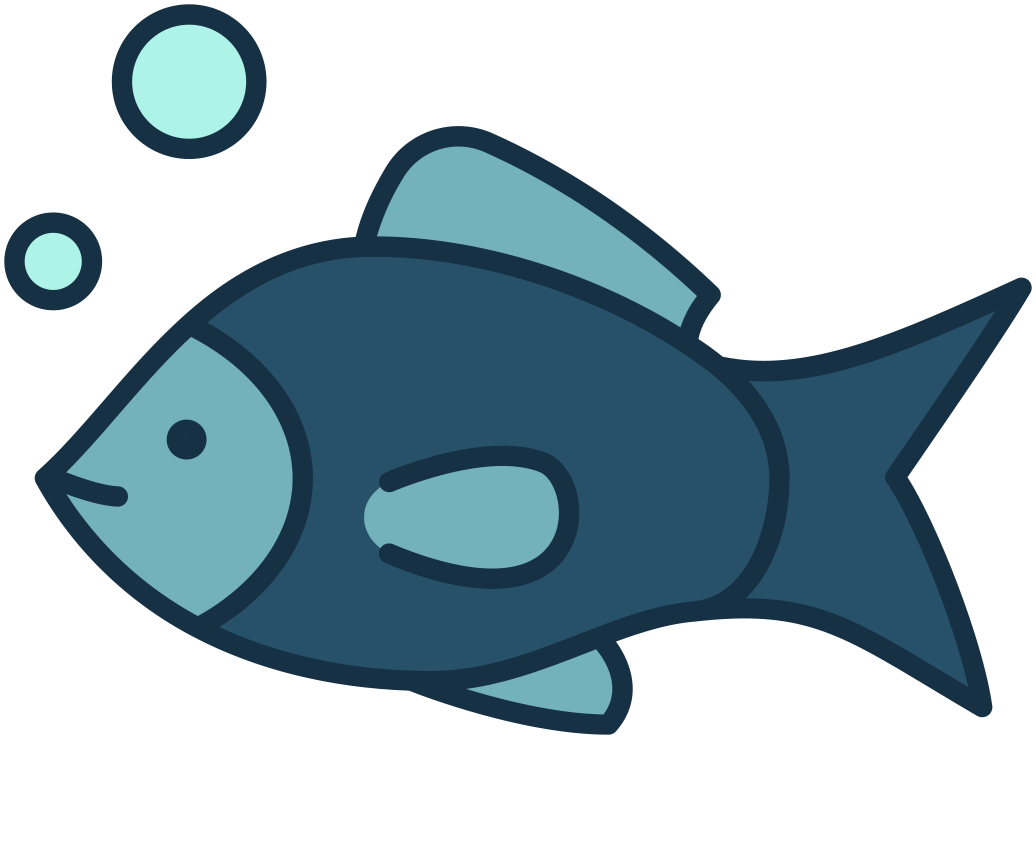 Fishing Style
Drift Boat and Wading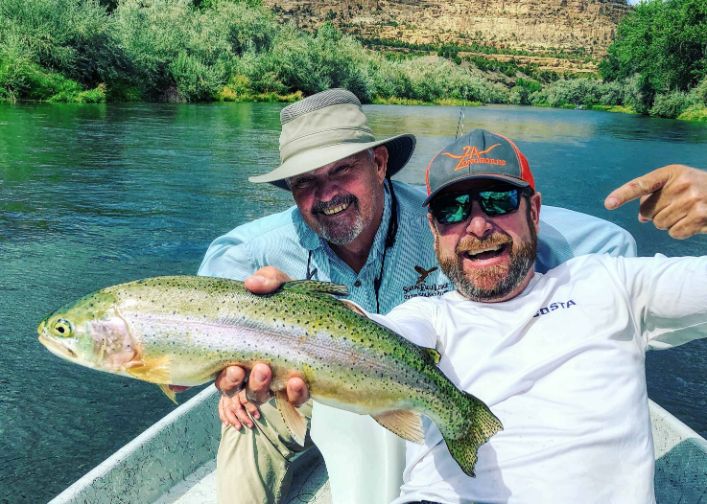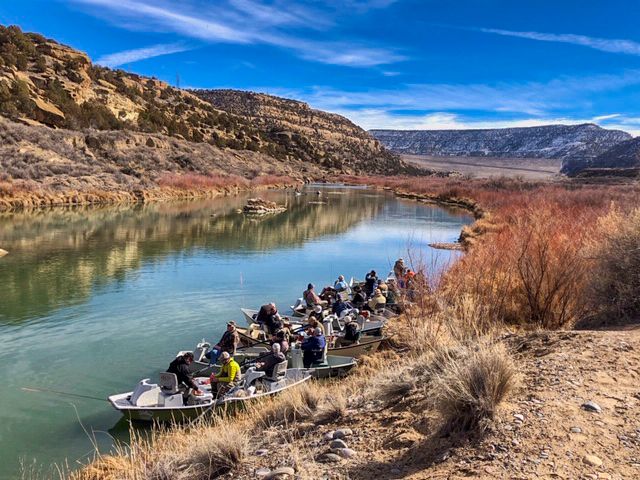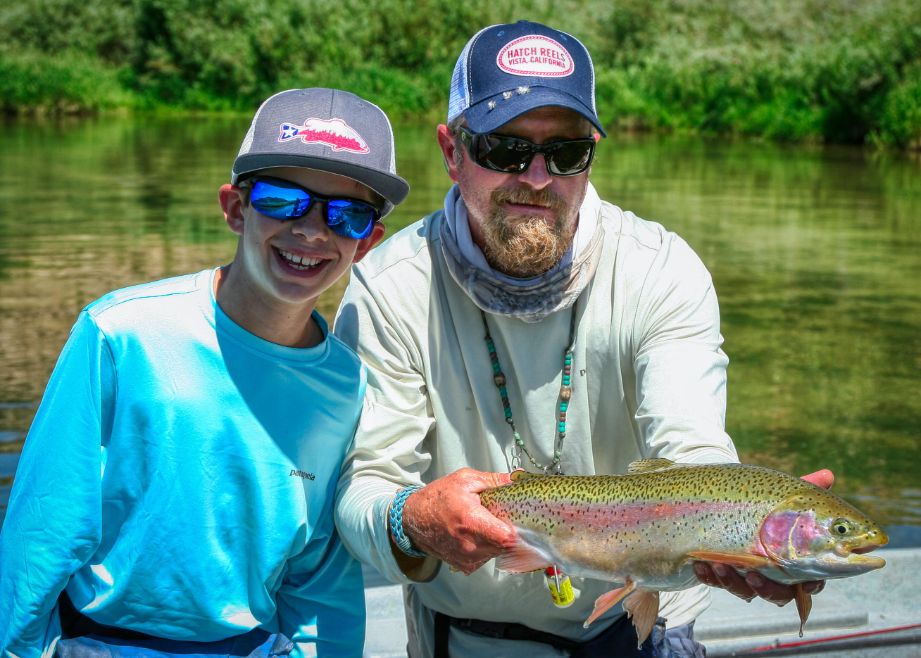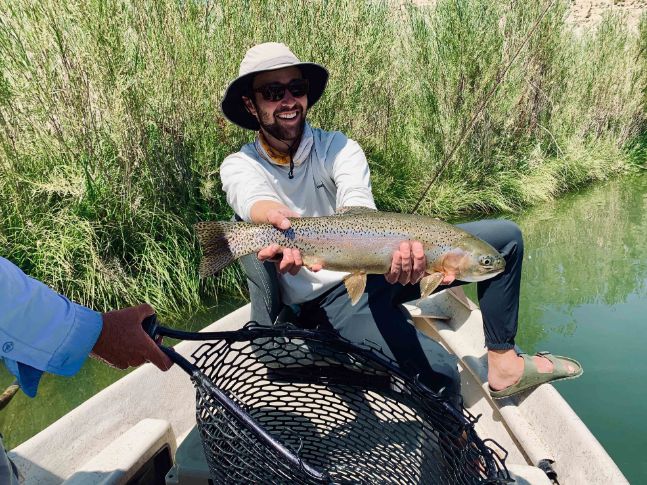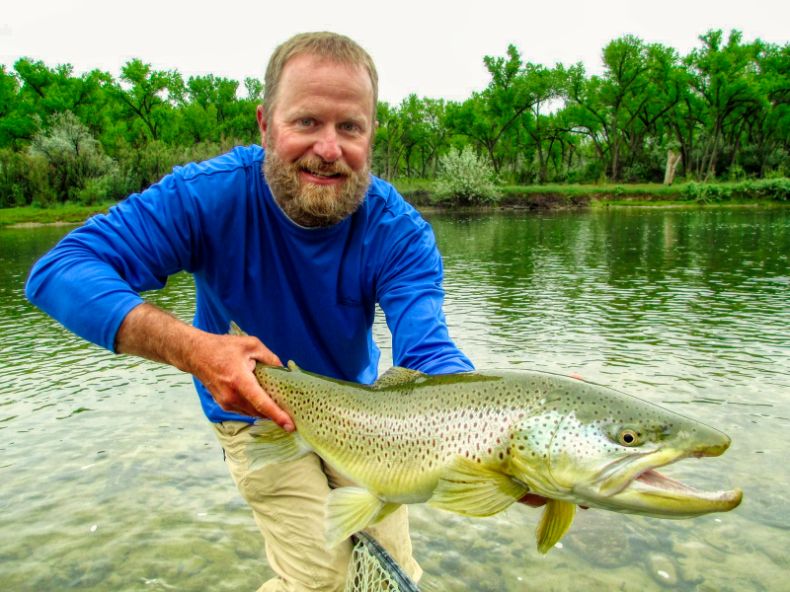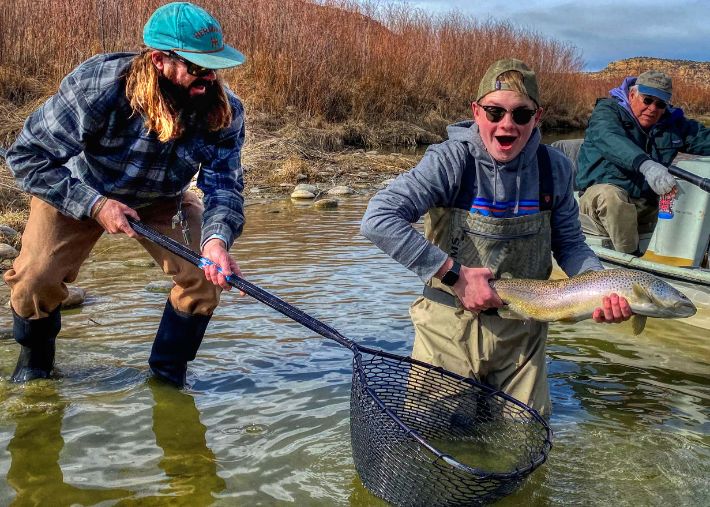 Soaring Eagle Lodge, New Mexico
The Soaring Eagle Lodge is the only fly fishing lodge that sits right on the banks of New Mexico's San Juan River. It has been in operation for 19 years, and has been under the current ownership for the last 15.

It's southwest ambience is punctuated by the sweet smell of the desert air that flows over land that has been home to civilizations that have lived in the area for thousands of years. This northwestern corner of New Mexico has a multicultural history derived from the succession of several native American cultures, Spanish exploration and settlement and the arrival of European Americans in the nineteenth century.

In 1962 Navaho Dam was completed on the San Juan which turned the waterway that fluctuated seasonably in both flow and temperature to one that had cool consistent flows year round; the perfect environment for the proliferation of big Rainbows and Browns. Since then the year round fishery of the San Juan has become legendary and draws fishermen from around the world.
Learn more about
Soaring Eagle Lodge, New Mexico
Click through to get details on the water, seasons, guest accomodations, and rates.
Soaring Eagle Lodge is very proud of their seasoned guide staff. Conditions can change on a dime on the San Juan so a great guide is important to your success. Soaring Eagle's Guides are very patient and are passionate about teaching you the skills that will ensure success on the San Juan, whether you are a beginner or highly experience. Unique to Soaring Eagle Lodge is that among the qualifications that the lodge requires of its guides is that they be college educated and are CPR and First-Aid certified.

While at Soaring Eagle Lodge you will fish either the 7 mile special regulation section (holding 17,000 fish per mile) downstream from Navaho Dam or the lodge's own private 2 mile section that is home to some of the river's largest fish. Your guide will be happy to tailor your experience to your preferred fishing style. You will usually begin your day's fishing at about 8AM and be off the water at 5PM. Your guide will provide a sumptuous shore side lunch for you halfway on your day's journey. After dinner, during the summer months, you can take a short walk to the river and continue fishing until the sun goes down.

Wild On The Fly is known for offering unique destinations, and Soaring Eagle Lodge definitely fills the bill as it is the only lodge on the river that can boast that it owns two miles of river frontage (on both sides), so you can be assured that you will never have to compete for the best fishing lies.

Though drift boats from other lodges occasionally flow through the lodge's private section, they cannot anchor or deposit their clients on the shoreline and must adhere to the San Juan Lodge's special catch and release regulations. Guests of the lodge can of course wade along the shoreline on both sides of the river, to their hearts content.
May 1 through October 31 though lodge is open all year. There is great fishing to be had in the winter months too.
The lodge's accommodations are angler friendly and are set up with the fly fisherman in mind. Each of the eleven guest houses and cabins are equipped with rod racks and wader racks. 8 of the guest house/cabins face the water. All have flat screen satellite TVs, telephones and a full size refrigerator, kitchenette with a microwave, utensils, linens, dishes, lounge chairs and patio furniture. Wi-fi is free.

At the end of the day you can relax in the conference room playing pool, or watching the large flat screen TV that receives 1000 channels. With so many amenities, the lodge is perfect for corporate conferences or group events.

Full service fly shop. Equipment Rentals are available.

Large flat screen HD-TV with 1000 channels

On site restaurant

Conference room with pool table and TV

Free Wi-Fi

The famous "Jake's Restaurant" is on the premises and is where you will dine for your breakfast and dinner and enjoy the amazing skills of our two culinary trained resident chefs. Call ahead if you have special dietary requirements. The knowledgeable staff is dedicated to providing the highest service so that you will come back, again and again.
Soaring Eagle Lodge is located in northwestern New Mexico near the 4 corners area. The closest commercial airline airport is 40 miles away in Durango, Colorado. From Durango take US 550-South to Navaho Dam Rd. Should take about one hour.
HIGH SEASON PACKAGES April 1 – November 30 Includes lodging, meals and guided fishing

Lodging/Meals Per Angler Per Angler

Per Night Double Occupancy Single Occupancy

2-N/1-D PKG $760.00 $1,150.00

3-N/2-D PKG $1,200.00 $1,530.00

4-N/3-D PKG $1,635.00 $2,470.00

5-N/4-D PKG $1,950.00 $3,050.00

6-N/5-D PKG $2,280.00 $3,535.00

OFF SEASON PACKAGES (January, February, March, December) (Includes lodging, meals and guided fishing)

Lodging/Meals Per Angler Per Angler

Per Night Double Occupancy Single Occupancy

2-N/1-D PKG $660.00 $750.00

3-N/2-D PKG $960.00 $1,235.00

4-N/3-D PKG $1,260.00 $1,715.00

5-N/4-D PKG $1,570.00 $2,180.00

6-N/5-D PKG $1,835.00 $2,550.00

HIGH SEASON (April 1 – November 30)

GUIDED FISHING RATES

Trip Type Anglers Full Day

Float/Wade 1 $430.00

Float/Wade 2 $475.00

OFF SEASON (January, February, March & December)

GUIDED FISHING RATES

Trip Type Anglers Full Day

Float/Wade 1 $375.00

Float/Wade 2 $425.00



PRIVATE LAND SUPPLEMENT

ROD FEE – WADE ONLY

HIGH SEASON (April 1 – November 30)

GUIDED FISHING RATES

Half Day Full Day

$79.00 $100.00

OFF SEASON (January, February, March & December)

Half Day Full Day

$40.00 $50.00

Our guides will customize your trip to include floating, wading, or spending a day on our secluded stretch of private land. From beginner to expert, our guides will make your day on the river a memorable one.

Rates for other options are available. If you don't see it listed, please ask.

Packages include lodging, meals and guided fishing

The price per angler for double occupancy applies to triple occupancy

There is a maximum of 3 anglers per cabin

Maximum of 2 anglers per boat for guided float trips

A half day Guided Fishing Trip is 4 hours, any time over 4 hours is billed at the full day rate

Prices are in USD and subject to change prior to booking.

CANCELLATION POLICY:
All reservations are subject to the following:
1. A 50% deposit is required on all lodging only, lodging with meals and complete fishing packages.
2. If the reservation is for guided fishing only or meals only, a 100% deposit is required at the time of booking.
3. In case of a cancellation, the deposit is fully refundable less a $100.00 processing fee, if a written cancellation is received and confirmed prior to 60 days of the arrival date.
4. Cancellations within 60 to 20 days of arrival, the deposit is NON-Refundable.
5. A cancellation inside 20 days prior to arrival, the balance due is to be paid in full.
6. Requests to move a scheduled trip date will be taken into consideration per individual case.
7. If you are concerned with medical, family, personal, unexpected events, including death, that would cause a cancellation, we highly recommend trip insurance. We recommend Global Rescue through Wild on the Fly.