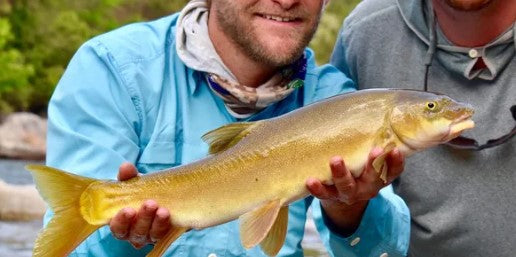 Himalayan Snow Trout
Himalayan snow trout, also known as snow trout or snowtrout, refers to a group of fish species found in the high-altitude rivers and lakes of the Himalayan region, including Bhutan. These fish are highly valued as gamefish by anglers who seek the thrill of fishing in pristine mountain environments.
There are several species of snow trout, each with its own unique characteristics. One of the most notable species is the Schizothorax richardsonii, commonly known as the golden mahseer or Himalayan golden mahseer. It is a large and powerful fish that can grow to impressive sizes, with individuals reaching over 3 feet in length and weighing more than 40 pounds. Golden mahseer are known for their strength and fighting ability, making them a sought-after gamefish.
Snow trout are adapted to survive in cold and fast-flowing mountain rivers and lakes. They have streamlined bodies, allowing them to navigate swiftly through the currents. Their coloration can vary, but they often display beautiful shades of silver, gold, and brown, which can blend with their surroundings.
Anglers typically target snow trout using fly fishing techniques. Flies that imitate aquatic insects, such as nymphs or dry flies, are commonly used. Snow trout are known to be opportunistic feeders, preying on insects, small fish, and crustaceans, so matching the hatch or presenting enticing lures can be effective strategies.
Fishing for snow trout in the Himalayas offers not only the excitement of catching a powerful gamefish but also the chance to enjoy the breathtaking mountain scenery. The clear, pristine waters and the surrounding snow-capped peaks create a remarkable backdrop for a memorable fishing experience.
It's important to note that regulations and restrictions on fishing in Bhutan, including catch limits and permit requirements, may vary. It is advisable to check with local authorities or experienced local anglers for specific information on fishing regulations and conservation practices before planning a snow trout fishing trip in the Himalayan region.