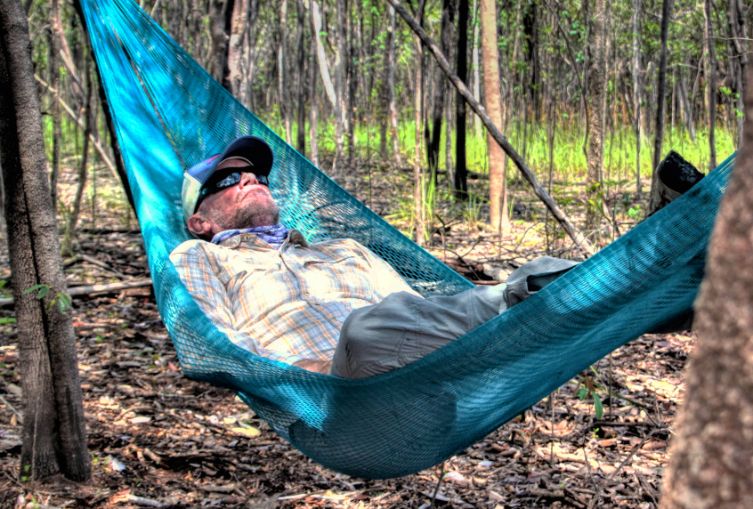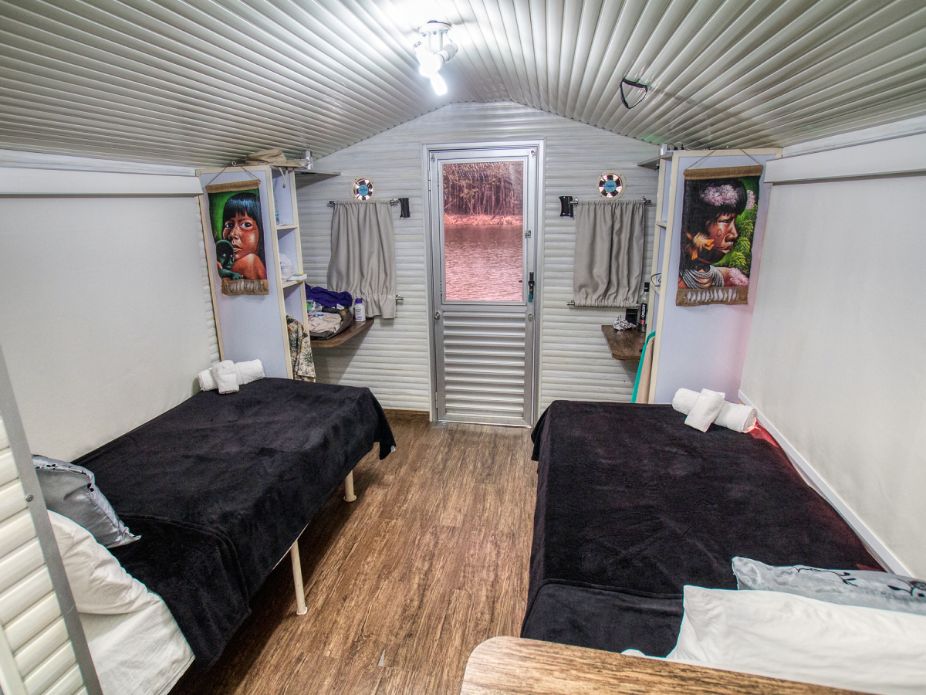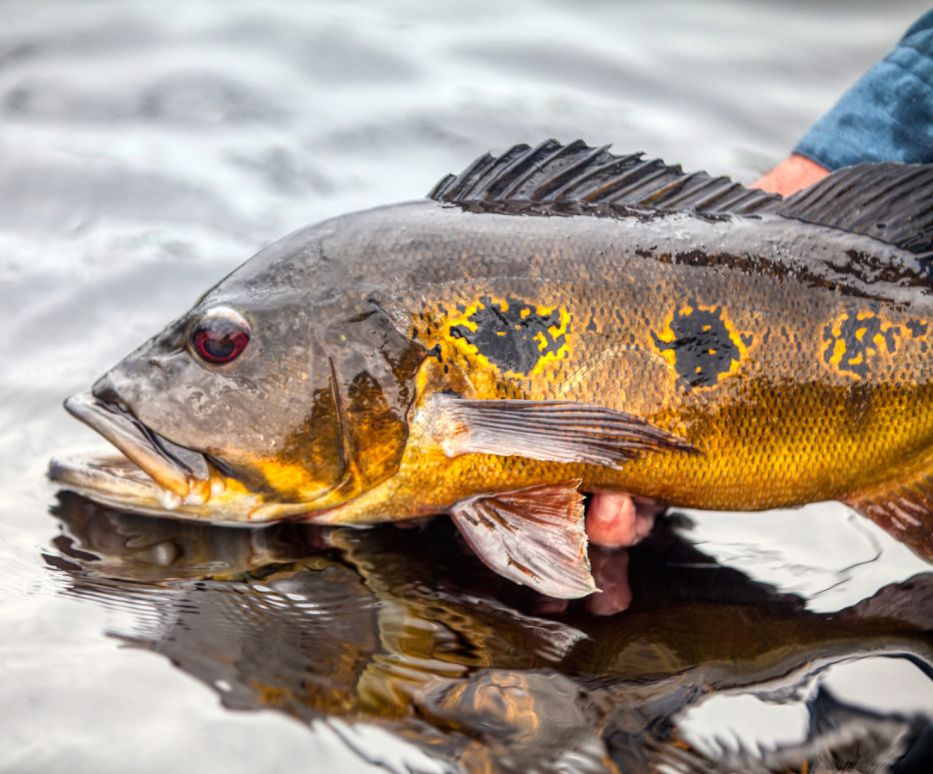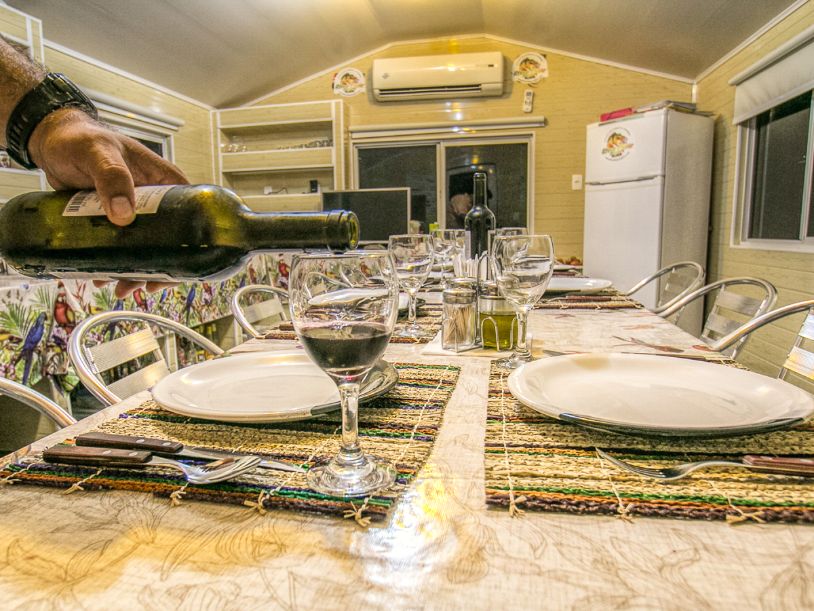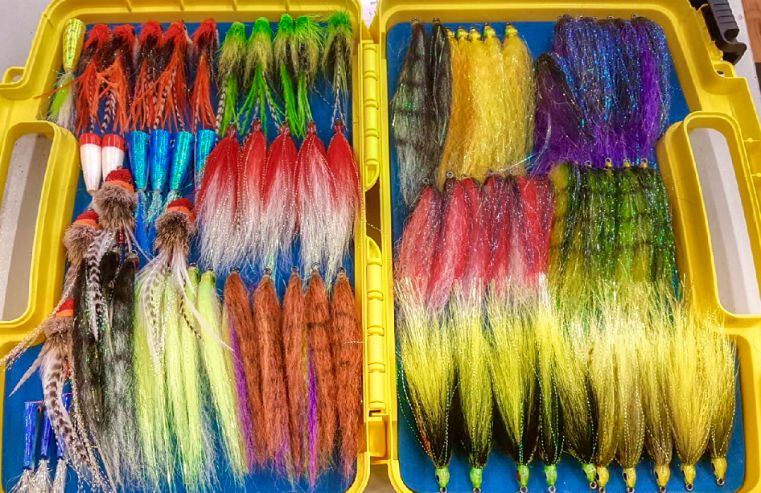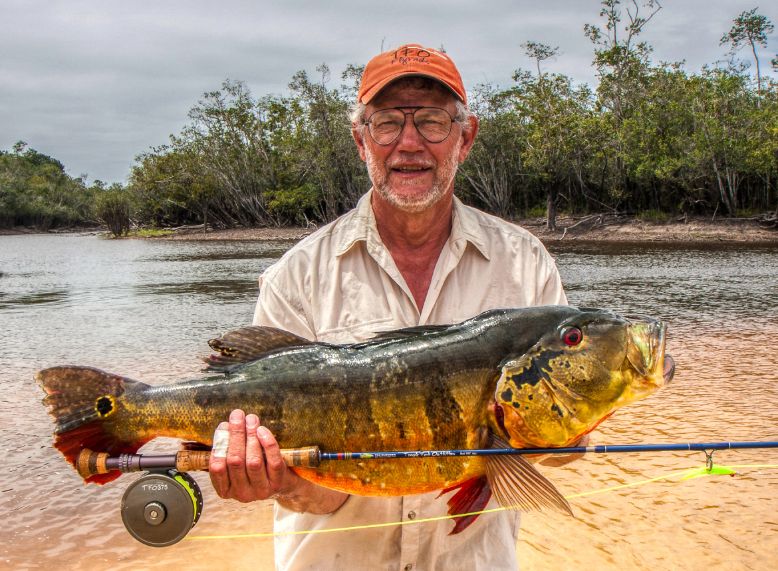 River Plate -Emu Outfitters, Brazil
River Plate opened Brazil's Peacock Bass fishing to the public in 1992 and has been providing the finest Peacock Bass fishing trips available since then. As late as 2000 there were fewer than a handful of operators offering trips for this hard fighting member of the "African Cichlid family of fish. Since then the interest in Peacock Bass fishing has exploded and today there are several fixed lodges operating on the upper Rio Negro watershed and upwards of 30 mother boats handling 24 fishermen or more per day, each plying the Rio Negro out of Barcelos, the hub of the modern day Peacock Bass fishing industry. As these mother boats draw 4 - 8 feet of water, they are relegated primarily to the main Rio Negro Channels within 100 mile radius of Barcelos. This means there can be as many as 100 - 150 bass boats on these waters in a given day during the fishing season. Some of these operators have tried to compensate for the limited mobility of their mother boats by equipping their guides with heavy, large high powered bass boats which allow them to run 30 - 60 minutes from the mother boats to reach their prime fishing areas. This limits fishing time plus the ability to get into select backwater lakes and lagoons.

Learn more about
River Plate -Emu Outfitters, Brazil
Click through to get details on the water, seasons, guest accomodations, and rates.
Peacock Bass fishing is fast becoming the top item on the fly fishing junky's bucket list. Although fishing for this hard fighting fish is usually associated with big top water lures, heavy bait casting rods and reels loaded with 80 lb test braided Kevlar line, Peacocks are the perfect target for the fly fishermen as well. Aggressive, hard fighting and always willing to do battle make for a fly fisherman's dream fish.

Finesse in the presentation of bait is key to an angler's success and no other type of fishing can offer the lifelike presentation a fly fisherman can. The Peacock Bass exhibits power usually found in few salt water fish and has the ability to turn itself "inside out" when you have its head coming your direction to make another powerful run. As members of the predatory African Cichlid family of fish, these fish are structure oriented and once stuck with the hook, they are hell bent to get back into cover. The fisherman's first priority in the first few seconds of the fight is to hang on and then to get the fish into open water where the Peacock has nothing to hang up on and break off. Braided or furloughed leaders in the 25 – 40 lb class are the order of the day along with 9 & 10 wt rods and fly reels with smooth, strong drags. The majority of Peacock you will catch on the fly rod will be in the 2 – 8 lb class, but don't let your guard down as fish in the high teens and 20 lb class are not unusual. Fly fishing great Lefty Kreh has stated that Peacock Bass were one of the greatest game fish he had ever enjoyed fishing for! The majority of the rivers you will fish in Brazil's Amazon watershed will be heavily tannin stained & thus most of your fishing will be blind casting to structure and points. A few of the tributaries will be gin colored which allow sight fishing, but these will be the exception rather than the rule while fishing in Brazil's Amazon.
Dry Zone 1, located south of Manaus, usually experiences ideal water conditions from the middle of July through the middle of August each year.

Dry Zone 2, also located south and west of Manaus, usually experiences ideal water conditions between the middle of August and the middle of October.

Dry Zone 3, is located on the south side of the upper Rio Negro upriver from Barcelos and usually begins to experience good water levels in late October thru late December or early January.

Dry Zone 4, located on the northern side of the upper Rio Negro and the tributaries of the Rio Banco, in the southern region of the state of Rohima and usually experiences ideal water levels from January thru early March.
River Plate's New for 2016 luxury camp offers the only single-occupancy cabins with queen-size beds in the peacock bass fishing industry. Perfect for couples or singles, guests enjoy the comfort of a private 270 square foot air conditioned cabin complete with restroom and shower.

After a day of fishing in the remote Amazon Rainforest, enjoy the upscale food, wine and hospitality offered by our onsite chef and staff while relaxing on a hurt-your-eyes-white sandbar. Or take advantage of a massage and a famous Brazilian Caipirinha on the beach. Our upscale camp caters to small private groups with three or four couples or six individuals with unparalleled amenities and service including all rods, reels and lures.

On Site Amenities and Activities include:

Single-occupancy cabins with queen-size beds

270 square foot air conditioned cabin

Restroom and shower

upscale food, offered by our onsite chef and staff

massage and a famous Brazilian Caipirinha on the beach

Rods, reels and lures available
You will arrive in Manaus, Brazil on Friday evening November 10th where they will be met as you exit customs by one of River Plate's staff and transported to the Caesar's Business Center hotel for the night.

You will fly by Caravan charter aircraft, either wheel or float plane, depending upon where the Safari Camp is located, on Saturday November 11, 2017. The Safari we will use will be determined a week or so before your trip depending on water and fishing conditions If we have utilized a float plane to reach camp you will land at the Safari Camp.. If we utilize a wheel plane it will land on a dirt strip and we will utilize an express boat to transport fishermen to the Safari Camp.

You will want to book your flight from Miami to Manaus on a Friday and your return to Miami on Saturday afternoon or Sunday.
DELUXE SAFARI CAMP WITH PRIVATE CABINS
Our deluxe safari camp features 6 private cabins with queen beds for 6 individuals. Alternatively, it can accommodate 3-4 couples if you wish. It includes all tackle, i.e. TFO rods, Shimano Reels and all lures, as well as private hotel rooms in Manaus

Camp Fishing Days Price per angler Special Couples Price

Deluxe Safari 6.5 $5,995. $11,100/couple

Deluxe Safari 4.5 $4,995. $9,100/couple

Included in Trip Price

All necessary charter flights and ground transfers in Brazil

One night private hotel room in Manaus on arrival

Guide operated 21 ft. fully equipped shallow draft bass boat for every two anglers

Fishing licenses

Use of TFO rods, Shimano reels plus all lures and terminal tackle while in camp

All meals at fishing destination, including wine, beer, liquor, bottled water and soft drinks

Daily laundry and maid service at fishing destinations.

The fishing trip of a lifetime!

Not Included

International airfare to Manaus, Brazil

Brazilian Tourist Visa (~$160 plus expediter fees if expediter is used)

Suggested voluntary tips to camp staff ($250) and fishing guides ($250)

Food and beverages in Manaus and private city tours

Special transfers and hotel reservations when not arriving and/or departing on our normal schedule

Airport departure tax (when applicable)

Satellite phone calls ($5/min)

DOUBLE OCCUPANCY SAFARI CAMPS
Camp Fishing Days Price per angler Group

Safari Cabins I 6.5 $5,595.00 8

Safari Cabins II 4.5 $4,250.00 8

Safari Cabins III 6.5 $4,995.00 12

Please ask representative for special deals on booking entire camp

Included in Trip Price

All necessary charter flights and ground transfers in Brazil

One night double occupancy hotel in Manaus on arrival

Guide operated 21 ft. fully equipped shallow draft bass boat for every two anglers

Fishing licenses

Use of TFO rods, Shimano reels plus all lures and terminal tackle while in camp

All meals at fishing destination, including wine, beer, liquor, bottled water and soft drinks

Daily laundry and maid service at fishing destinations.

The fishing trip of a lifetime!

Not Included

International airfare to Manaus, Brazil

Brazilian Tourist Visa ($160 plus expediter fees if expediter is used)

Suggested voluntary tips to camp staff ($250) and fishing guides ($250)

Food and beverages in Manaus and private city tours

Special transfers and hotel reservations when not arriving and/or departing on our normal schedule

Airport departure tax (when applicable)

Satellite phone calls ($5/min)