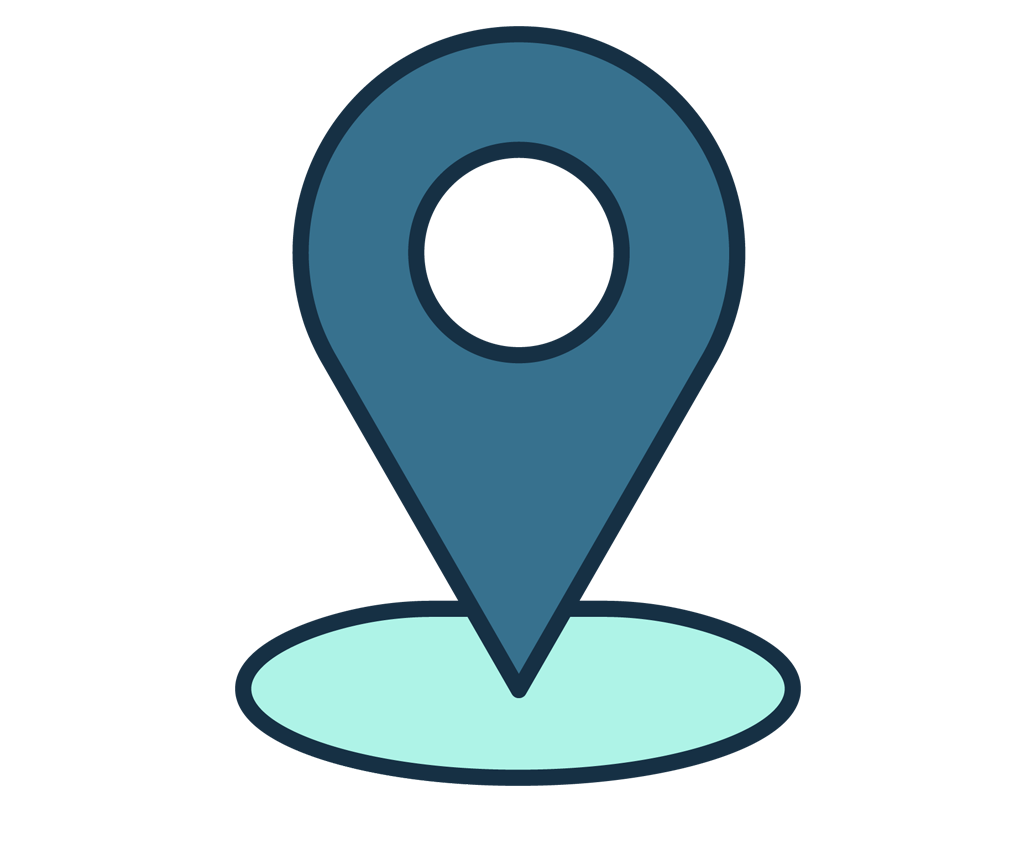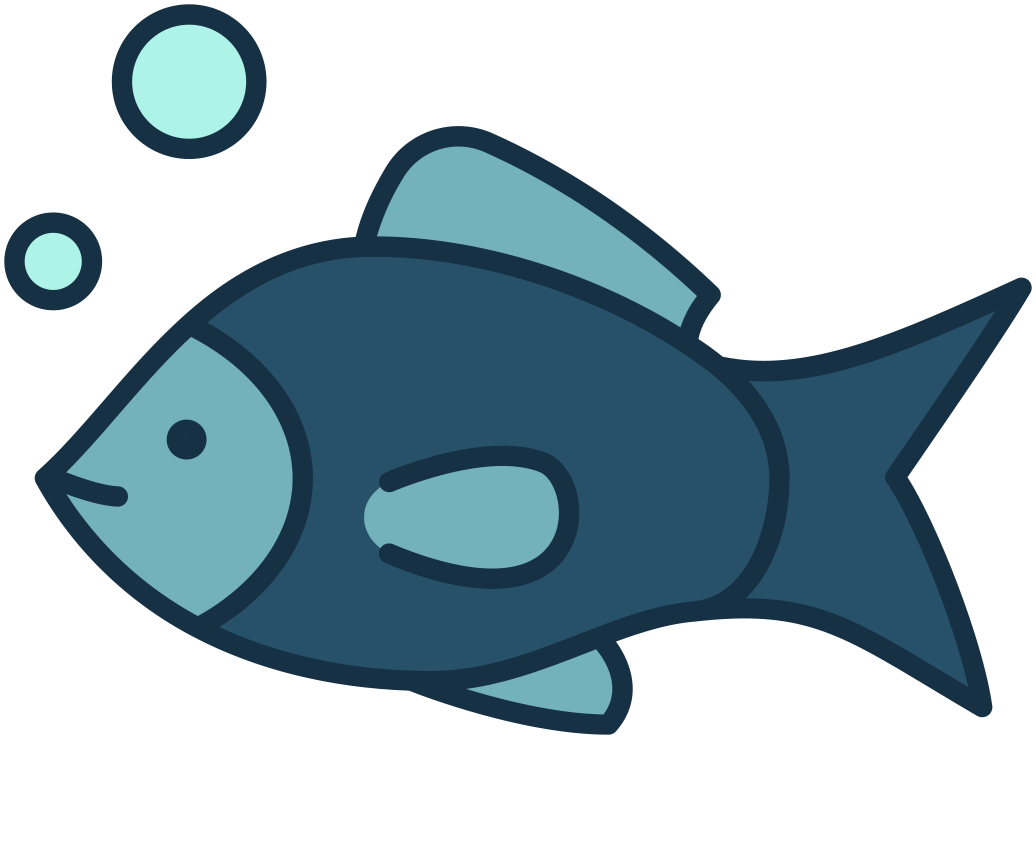 Fishing Style
Wet Wading and Drift Boat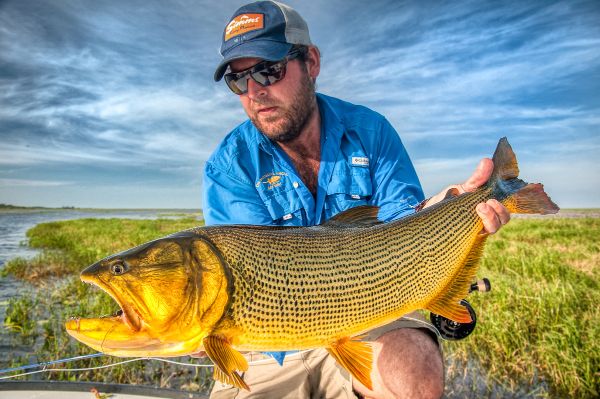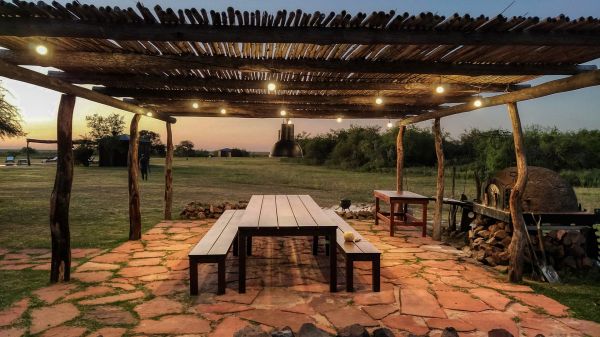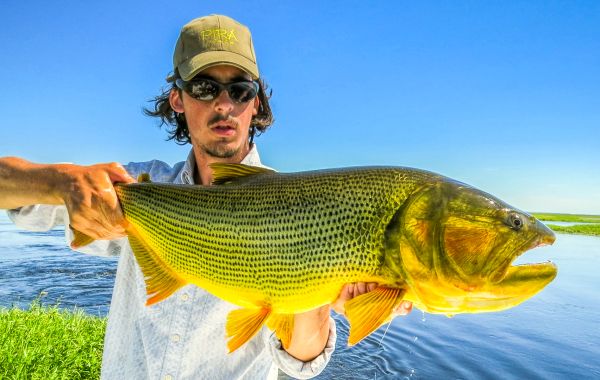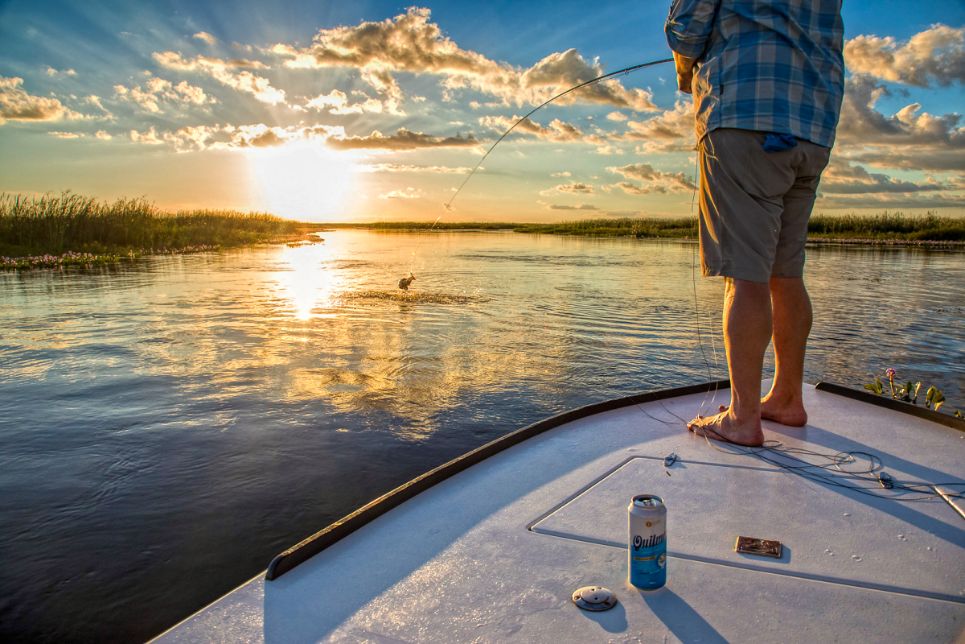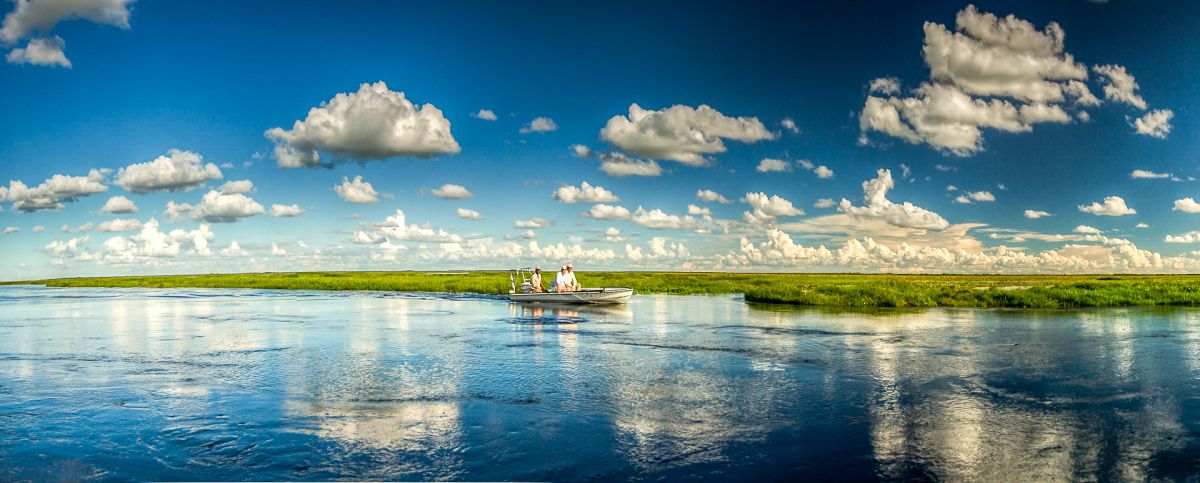 Pira Lodge, Argentina
Esteros del Ibera Reserve, meaning, "Bright Waters", is one of South America's most important freshwater lakes. Ranked the second-largest wetland in the world after the Pantanal in Brazil, it is enormous. The area encompasses more than 3 million acres of flowing, crystal clear creeks, shallows, lakes, swamps and lagoons. And Pira Lodge, in northern Argentina's Corrientes Province, strategically places anglers in the southern tip; a habitat-rich bottleneck where the marsh and Corriente River ecosystem converge. Here, Golden Dorado is king.

Learn more about
Pira Lodge, Argentina
Click through to get details on the water, seasons, guest accomodations, and rates.
Anglers generally leave the lodge early in the morning around 8:00 a.m. or earlier. Guests return to the lodge for a swim in the pool, lunch and drinks at around 12:30 p.m. After Lunch and a siesta boats will typically leave the dock around 4:30 p.m. returning at dusk. Fishing hours will change slightly depending on the time of year. The Ibera Marshland is a vast system of non-polluted crystal-clear creeks, flowing rivers, shallows and lakes.

Dorado exhibit predatory feeding behaviors, mostly attacking minnows, frogs, mice and other creatures that are best represented by larger than average flies and lures. Appropriate tackle is key. The standard Dorado outfit ranges from 6- to 9-weight rods—depending on conditions. You will fish both floating and sinking fly lines. Tropical rated lines are the best. The basin also offers a mix of boat- and wade-fishing opportunities. Wade fishing rarely involves wearing waders. Wet wading is the rule.

Non-fishing activities include horseback riding, bird watching and wildlife watching. The swimming pool is the perfect place for relaxing and sunbathing. Snorkeling and Night expeditions into the Marsh are also exciting options. The Ibera Marshland is almost completely unexplored and uninhabited. It is home to more than 350 species of birds (e.g parrots, southern screamers, kingfishers, ibis, herons), 85 mammal species and 70 reptile species. During your stay you will have the opportunity to see capybara, river otters, Yacare (cayman), howler monkeys and marsh deer.
Built with exquisite Corrientes style and pride, Pirá Lodge enjoys a spectacular panoramic view of the vast wetlands. It accommodates up to 10 guests in five deluxe rooms, each with a private entrance, private bath, two double beds, ceiling fans and air conditioning. A separate building, attached by covered walkways and open-air patios, accommodates the spacious living room, bar, and dining room areas—each with tall doors that open to the wide veranda. Pirá Lodge was designed by award-winning architects to respect traditional regional elegance—offering all of the comforts and luxuries of a contemporary hotel. Relax and enjoy a cocktail at any hour, and cool off in the outdoor swimming pool after a rewarding day of fishing.

A top-notch team of experienced national and international chefs prepare blends of traditional Argentine dishes paired with prime cuts of local meats, freshest fruits and vegetables and served with select wines; Bodega Catena Zapata. Bodega Catena Zapata wine recently received a "number four in the world" icon ranking from Wine Advocate. Beyond traditional asados, salads and sides, the Lodge serves savory appetizers of yacaré meat, savory cheeses, homemade breads such and their classic chipá rolls.
Guests fly into Buenos Aires and typically overnight there having to spend a day touring this wonderful city. The lodge can be accessed from Buenos Aires by: – An overnight 1st class sleeper bus from Buenos Aire to Mercedes, arriving at 7am. Once at Mercedes, a lodge representative will meet you and drive you 1.15 hours to the lodge in a four-wheel drive. This is another comfortable option that also makes the best use of your time. Day rooms in a hotel, an evening meal and transport to the terminal can all be arranged on request. – Charter plane from Buenos Aires to Mercedes airport or to the lodge's landing strip (weather permitting). The drive from Mercedes to the lodge takes 1 hour and 15 min by four-wheel drive.
2023/ 2024 SEASON (Double Occupancy and Shared Guide)

7 nights / 6 days fishing $7,450
6 nights / 5 days fishing $6,850
5 nights / 4 days fishing $5,750
4 nights / 3 days fishing $4,650
3 nights / 2 days fishing $3,550

Single Room & Boat: 60% surcharge
Non-Fisher: $650 per night per person

Included:
Lodging, based on double occupancy; all meals, wines, beer and local and local spirits; professional guide services (2 anglers per guide/boat); loaner fishing equipment (Rods, reels & lines)

Not Included:
Transfer from Mercedes to the Lodge, fishing license ($50 per person), gratuities for guides and house staff, airfare and private charters, laundry service

Payment terms: 50% deposit to guarantee booking with balance due 90 days prior to departure.

Prices are in USD and subject to change prior to booking.