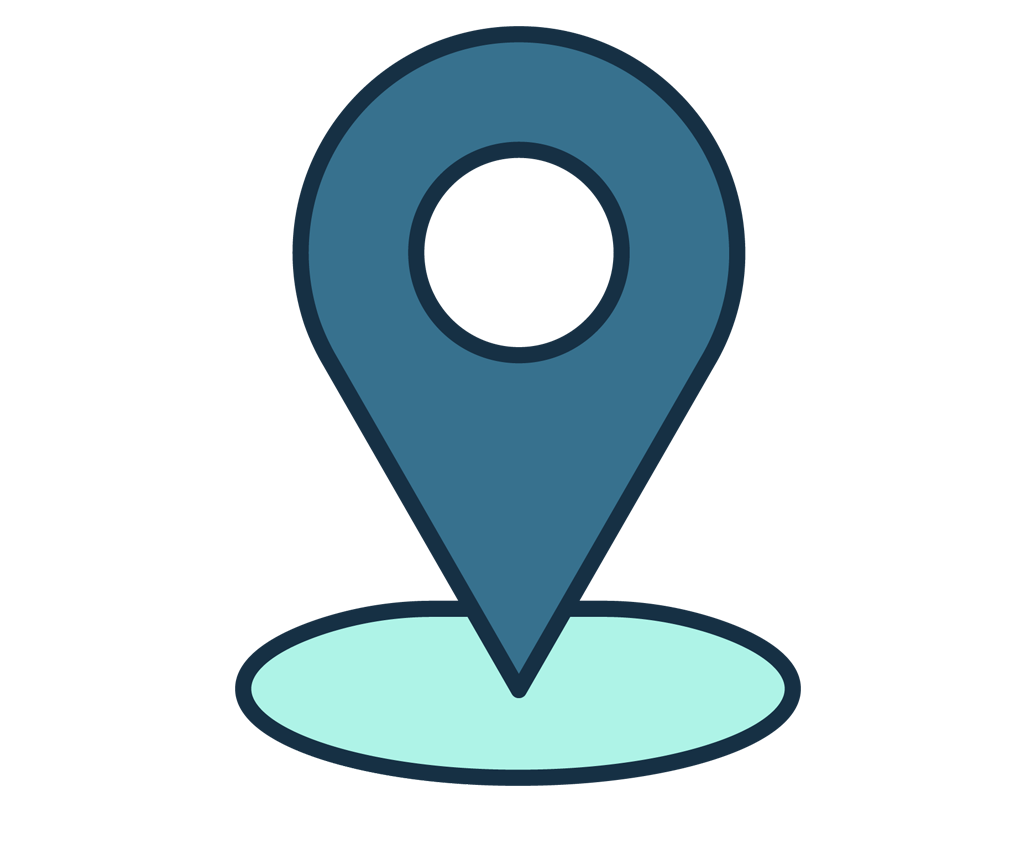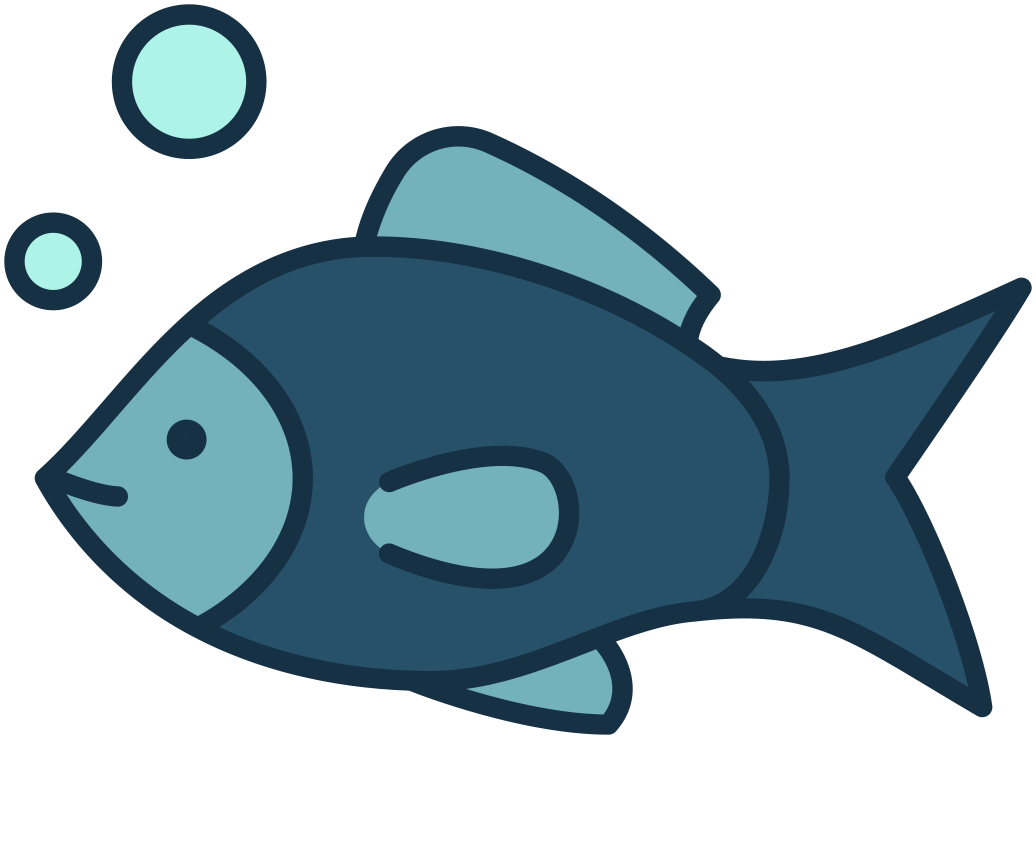 Fishing Style
Wading and Drift Boat
Season
June through November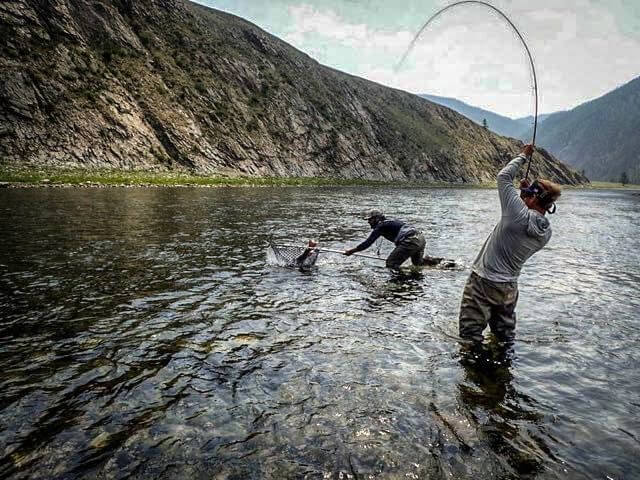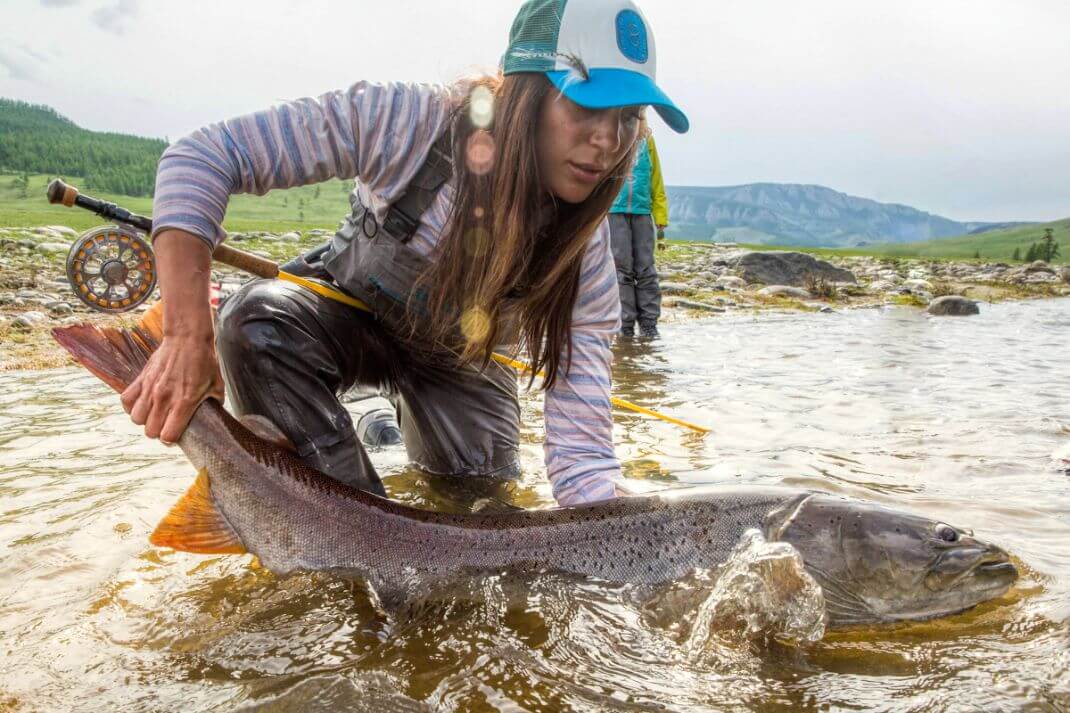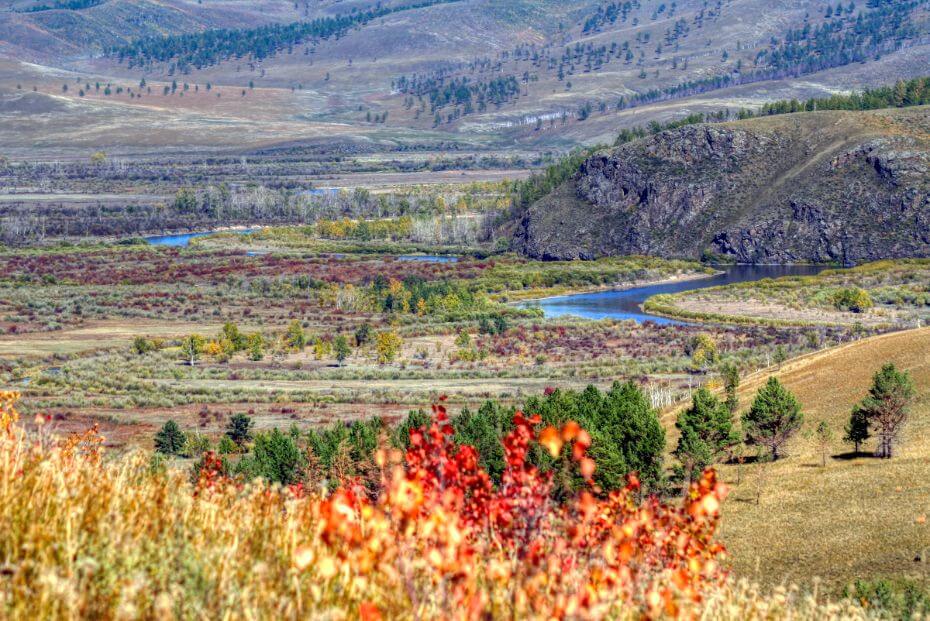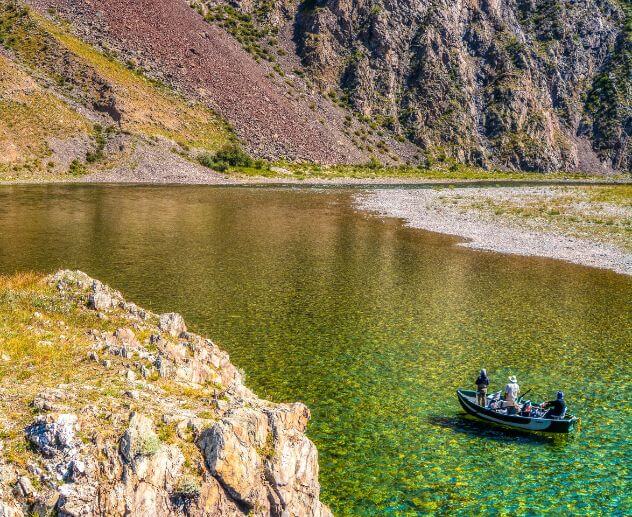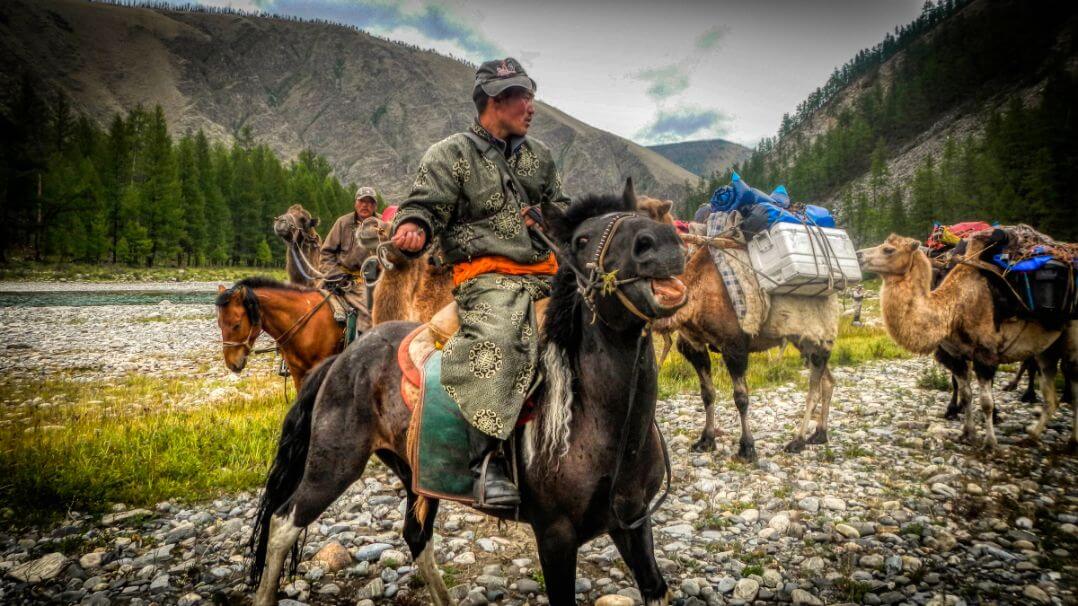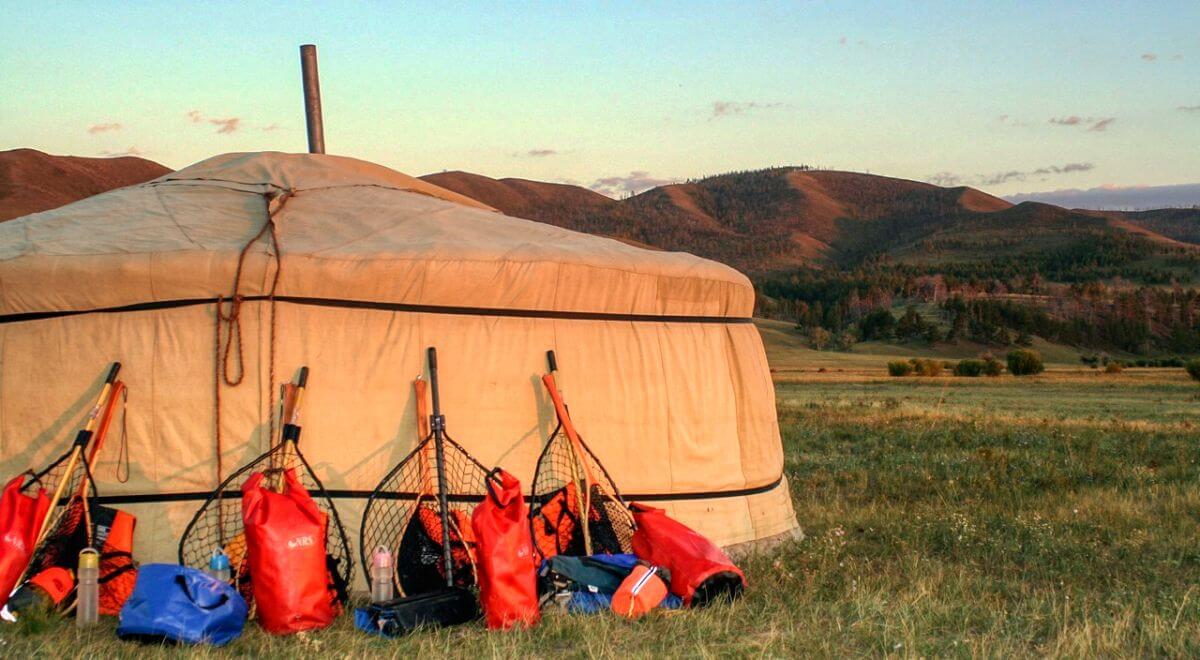 Mongolia River Outfitters
Little was known about fly fishing in Mongolia until the early 90s when word began trickling through gaps in the rapidly deteriorating Iron Curtin about giant Taimen trout that lived in the remote waters of this mysterious Asian country. Mongolia River Outfitters began exploring the area and over the years developed fishing programs for fishing Mongolia unlike any other destination in the world.
When you visit this amazing country you will observe a culture where nomads still roam on horseback, where hardly a fence exists and the trout reach a size found nowhere else. Locals still follow a unique horse riding lifestyle with deep Tibetan Buddhist roots and a serious respect for nature. They place high value on hospitality and are hard working, fun and highly attentive individuals. Just getting to know them will make your trip memorable. 
Diligent stewardship by Mongolian River Outfitters with local communities to conserve the rivers has resulted in the establishment of the world's first Taimen Sanctuary where you will enjoy your best fishing adventure. All fishing is "catch & release" and "fly fishing only.  Commercial forestry is prohibited as are motor boats, construction of permanent tourism infrastructure and the introduction of hatchery fish. More than 400 miles of river are jealously protected for Taimen trout. No international angler may legally access these rivers without a permit secured exclusively through Mongolia River Outfitters or Fish Mongolia.
Mongolia River Outfitters began fly fishing adventures for Taimen, Amur Trout and Lenok back in 1993. Lenok and Amur Trout average 18-22 inches and Taimen that grow up to 50 inches. Anglers often bring to net more than 30 Lenok and Amure Trout in a single day, with many being enticed by flies floating on the surface. 
Learn more about
Mongolia River Outfitters
Click through to get details on the water, seasons, guest accomodations, and rates.
The staff and guides are the best in the business and all speak fluent English. The camps are accessed via three separate bush airstrips. Anglers fish from a fleet of drift boats and fishing is a combination of drift and wade. You will fish a new stretch of river daily, and will float from your camp to fish fresh water each day. By the end of the day you will have moved on the next camp downstream. Your luggage and equipment will have preceded you by boat.

THE WATER
The topography of the rivers here are perfect for fly fishing. They are exceptionally healthy with great water quality that muster through sparsely populated and varied landscapes. The lower river is more rugged, isolated, and holds more water than the upper sections. The upper and lower sections fish equally well though trout fishing is slightly better in the upper section and Taimen fishing is a little better on the lower. No matter what the section, the scenery is equally striking.

THE FISH
Trout & Lenok: Arguably the trout fishing is possibly considered the best in the world. Though that's a boast that probably can't be verified, anglers should expect days where fish counts go deep into the double digits, with 30 fish days not being uncommon. Lenok are found throughout Mongolia and Amur Trout are only found in a few Mongolian streams and both species have a very belligerent attitude. The average size for both trout species is 18-22 inches and some get as large as 25 inches. They are usually willing to take a fly and provide great entertainment between stalks for the more challenging Taimen.

Taimen: Taimen are ferocious top feeding predators who's strike is unmatched by any other freshwater species. Several hundred are caught and released by Mongolian River Outfitters guests each short season. Most caught fish are in the 30 inch range and some go over 40 inches. Occasionally one goes to 50 inches or more. You will surely encounter many of these behemoths during your stay, but your success will depend on your patience, line handling and landing skills. They are very challenging fish but landing a fish as large as these will be an experience that you will never forget.

Boats: Mongolian River Outfitters is the only Mongolian outfitter that operates drift boats. You will fish from ClackaCraft boats or NRS inflatable drift boats, which are very stable fishing platforms. They hold two anglers and the guide, and have comfortable seats, casting pedestals and plenty of storage space. In some cases you will fish from rafts.

Catch & Release Fly Fishing: Catch & Release fly fishing using single barbless hooks is required by law and supported by Mongolian River Outfitters.
We offer 7 separate options.

June - August

Headwaters Expedition: 9 Nights / 6 Days on the River. Camel/Horse Caravan upstream to remote upper river. Wade/Walk downstream for several days between camp. Fish with 2-Day float trip.

Classic Canyon Adventure: 9 Nights / 6 Days on the River. Drift Boats travel downstream though stunning wilderness canyon with overnight stays in Ger Camps.

Combination Trip: 13+ Days on the River. A mix of Headwaters Expedition with Classic Canyon Adventure. Wade/Walk and drift Boat.

September - October

Buryat Headwaters Expedition: 6 Days on the River. Two anglers, one guide, and a small camp staff float the beautiful headwaters. Drift between stream side tent-tipi camps.

Upper River Adventure: 6 Days on the River. Drift boats travel down river between 6 stream side Ger Camps.

Lower River Journey: 8 Days on the River. Drift boats float remote lower stretch of the River. Overnight in deluxe stream side tent-tipi's and Ger Yurts.

Combination Trips: 12, 14 or 20 Days on the River. Combination of Buryat Headwaters Expedition, Upper River Adventure and Lower River Journey. The ultimate experience.
Mongolian River Outfitters operates thirteen private streamside Ger (Yurt) fly fishing camps located in the Taimen Sanctuary. The camps are accessed via three separate primitive airstrips. Each camp is one day float apart from the other along beautiful stretches of river. The upper river camps consist of a compound of Gers about 9 feet high and 18 feet in diameter. Each Ger camp has amenities similar to African safari's. Each camp has simple toilet and shower facility. The shower is private with plenty of space for changing.

Each Ger has ample space for two anglers with linen bedding, wood stove, wash basin, small writing table, camp chairs and sleeping cots. Woolen carpets decorate the floor. Each camp is very comfortable and has a separate Ger for dining. The camp's staff is well versed in providing the ultimate in rustic luxury for our guests.

On the most remote sections of river, mobile tented camps are established, including a combination of traditional Ger camps and more rustic camps outfitted with large, comfortable Tent Tipis. Tent Tipis. Candle light, burning wood of the stoves and the night's stars are your light for the evening. At the end of your week's stay, your body and mind will have been transformed into a realm that you have never imagined.

Meals are generous, created with fresh ingredients combine local flavors along with those that appeal to Western tastes. The local beer and wine are quite good. Among the local specialties is the homemade bread, butter and blueberry jam. Lunches are served streamside. Adjusting to special dietary requirements is no problem. Every morning starts with coffee and tea service in your Ger along with a handful of wood for your stove. Hot lunches are served daily along the river. In the evening snacks are served around the camp fire. All beverages, soda, beer, wine and Mongolian vodka are included in the package.

All guests fly into the capital city of Ulaanbaatar, Mongolia and after spending an evening at a local hotel (included in the package) travel early the next morning via a Cessna Caravan for about 90 minutes to the river. The upper river trips include six days fishing and link floats between our six comfortable ger camps.

The lower river fishes for seven days and links floats between a combination of ger camps and adventure camps. At the end of each river journey, anglers fly back to the capital except anglers on the last trip of the season. These folks drive back to Ulaanbaatar. All guests spend a relaxing evening in the capital city before catching an international flight home.

Korean Air, and Air China are the primary international carriers serving Mongolia. Usually flights connect through Beijing, Seoul, Osaka, Moscow or Berlin. US citizens are not required to have a visa prior to their arrival.
Buryat Headwaters Expedition (6-Days Fishing) (September – October)

2 Guests Maximum

Expedition-Style Fishing

The Buryat Headwaters Expedition is a wilderness float and fishing adventure exploring the most remote reaches of Mongolia's first taimen sanctuary. These trips run with just one guide and two guests. The trip is supported by a small camp team that transfers equipment downstream using gear boats. You'll float and fish through a diverse, mountainous landscape targeting taimen, Amur trout, lenok, and Amur pike.

Limited numbers, remote location, incredible fishing, world-class guides, a unique culture, and outstanding wilderness accommodation all combine to make for a remarkable adventure.

Streamside Camps

Guests are accommodated in very large tent-tipis complete with cots and simple bedrolls. When we arrive at each evening's camp, the professional staff has your bags waiting, beds made, fires lit, and dinner prepared in the spacious dining tent. It's luxury in the wilderness!

$6,950 per person

Upper River Adventure (6 Days Fishing)

Fish the world's first taimen sanctuary. Explore a new stretch of river daily without shuttles. Stay in a well-appointed riverside ger camp each evening. Beautiful landscape, fascinating culture, professional staff, exceptional camps, and world-class fishing.

Ger Camps

The camps on the upper river offer a bit of extra luxury in a remote setting. Each camp has a large dining ger – the traditional round Mongolian structure – where anglers and guides can relax as a group after a wonderful day on the river. The sleeping gers feature comfortable cots, linens, and wood-burning stoves.

$6,950 per person

Lower River Expedition

A trip designed for those of us who don't mind a bit of roughing it… in style.

Eight days fishing the Taimen sanctuary. Experience a new stretch of water daily without shuttles. Stay in a unique combination of tent-tipi and ger camps. Remote location, incredible fishing, world-class guides, unique nomadic culture, and outstanding wilderness accommodation – this trip feel like an absolute privilege.

Ger and Tipi Camps

On the remote lower river trips, all of our gear is transported by a fleet of gear boats every day. The camps are a mix of Tipi Camps and Ger Camps. The first part of the trip in tipi camps, the last few days in ger camps. Each tipi camp has a large wall tent for dining with a wood stove; very comfortable tipi-tents appointed with comfortable cots, blankets, wool carpets and hot showers. The ger camps have a large dining ger. The sleeping gers feature comfortable cots, linens, and wood-burning stoves.

$6,950 per person

Combination Trips

Buryat/Upper/Lower

Maximum 2, 4, 6 or 8 anglers

The ultimate Mongolia fishing experience!

Combine a Buryat Headwaters Expedition and Upper River Adventure; or Upper and Lower River Adventures; or all three incredible voyages for fourteen to twenty-one continuous fishing days exploring a new stretch of amazing water daily. There is no better way to immersions yourself in the Mongolian wilderness!

Ger and Tipi Camps

The combination trips offer a great variety of camps. Depending on your specific itinerary, you'll spend your nights in a mixture of both super-comfortable ger camps and slightly more rustic tipi camps. The Upper River is all ger camps, while on the remote sections of the Buryat and Lower River Expeditions, all of our gear is transported by a fleet of gear boats every day. These camps are a mix of Tipi Camps and Ger Camps.

The ger camps have a large dining ger. The sleeping gers feature comfortable cots, linens, and wood-burning stoves. Each tipi camp has a large wall tent for dining with a wood stove; very comfortable tipi-tents appointed with comfortable cots, blankets, and wool carpets; and, hot showers.

Short Combination Trip (12- 15 Days): $11,950 per person

Long Combination Trip (20 Days): $17,950 per person

Inclusions/Exclusions
Trips begin and end in Mongolia's capital city, Ulaanbaatar, known by both locals and tourists as UB. The price includes two nights hotel in UB, airport transfers, transportation to/from the river, fishing permits, guide services, and all meals, lodging, soft drinks, beer, wine, and classic Mongolian vodka at camp. Price does not include international airfare, meals and drinks in UB, and gratuities. Prices are based upon double occupancy.

Booking
Most trips are booked well in advance. MRO is quite fortunate to have a very high level of returning guests, with many anglers who have fished with us multiple times. We request a 50%, non-refundable advance payment to hold your reservation and payment in full at least 120 days prior to departure. Payments by check, wire transfer, or credit card.

Dates
Trips generally run from June through October; four upper river adventures and three lower river expeditions.

Itinerary
On all MRO trips, you explore a new section of river every day without having to shuttle back to camp. We spend our time fishing the river rather than sitting in a vehicle or motorboat. Step into a drift boat after breakfast, float downstream with your guide, and arrive at the next camp before sunset. The pace is relaxed and your guide can identify promising stretches to walk and wade, if you wish. Each boat accommodates two guests and one guide. Single supplements are available.

Prices are in USD and subject to change prior to booking. Ask for a quote.