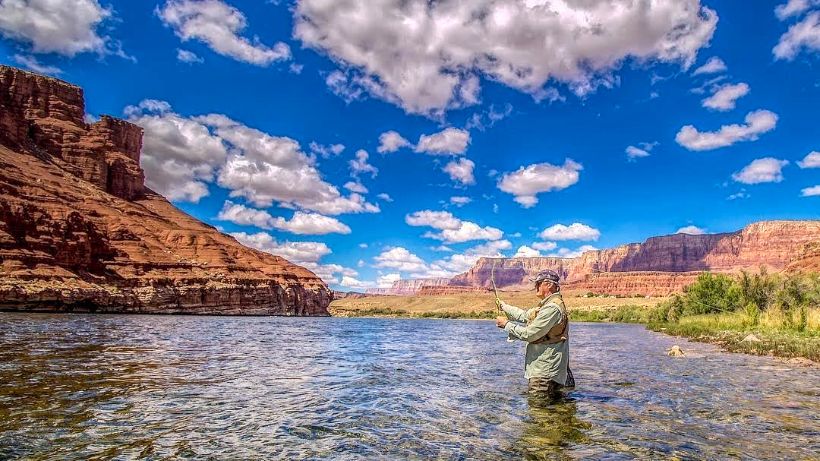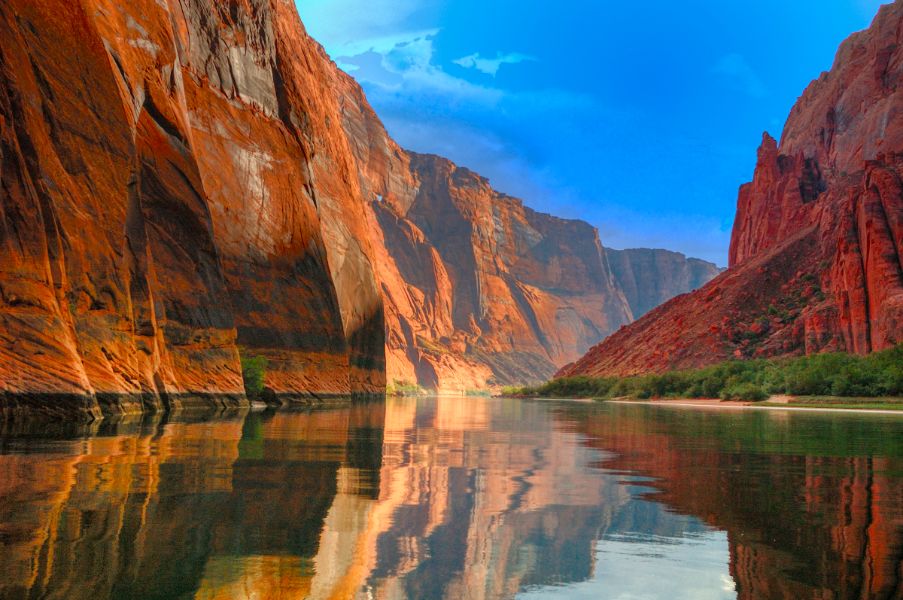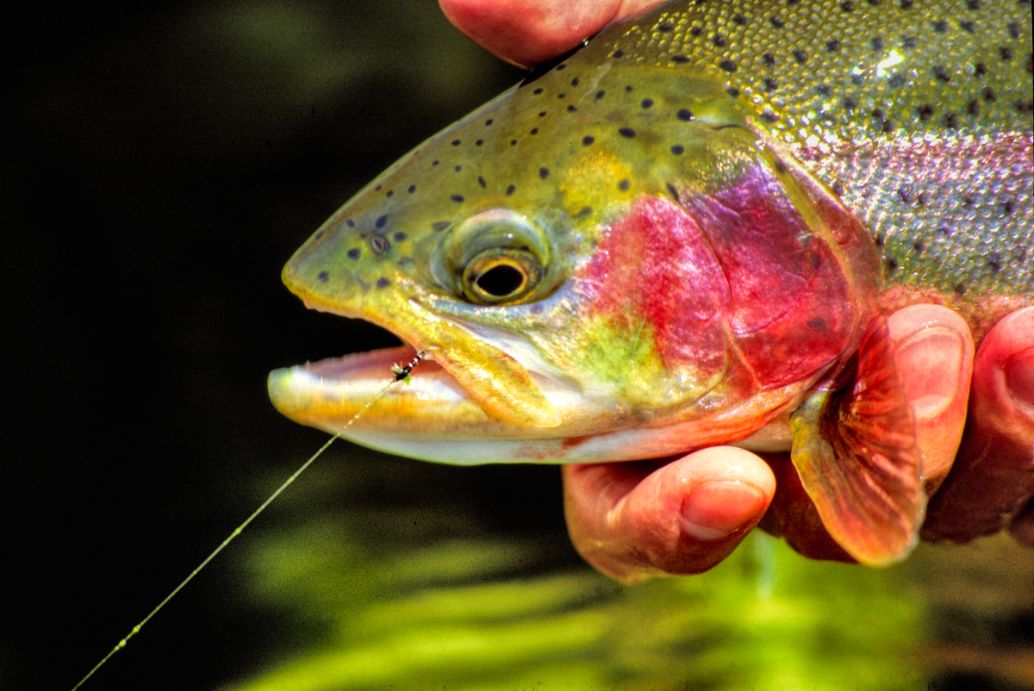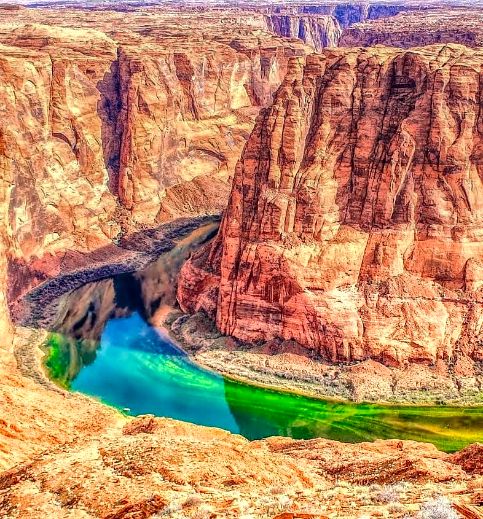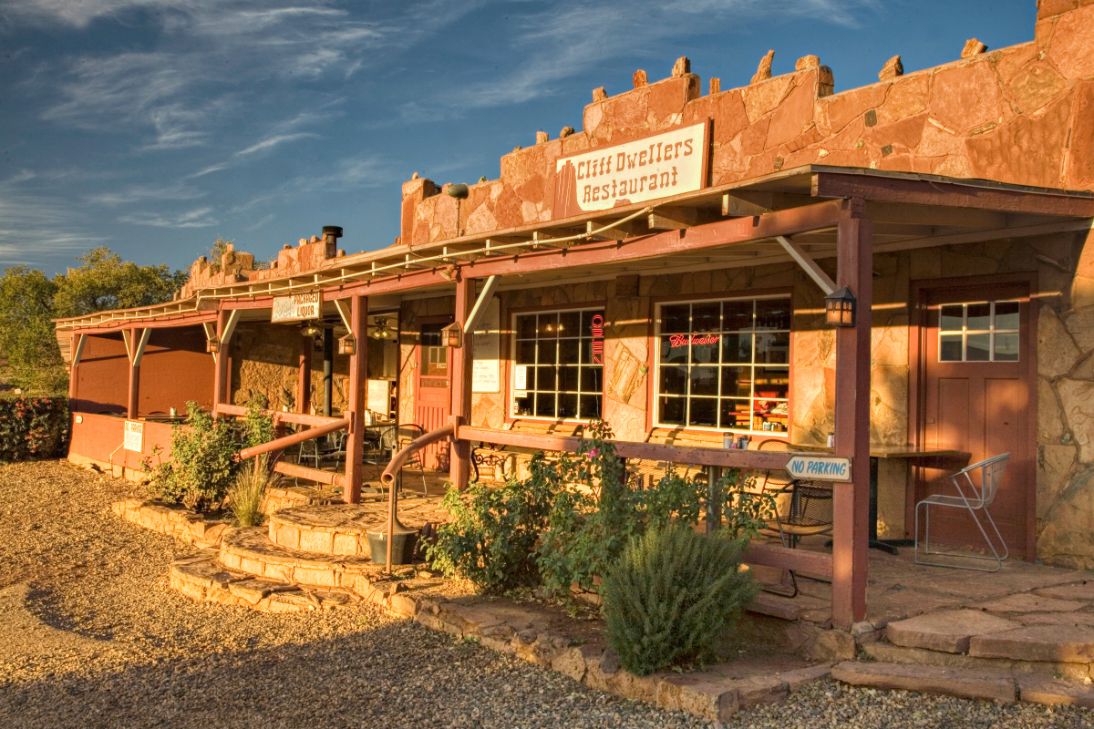 Lee's Ferry Anglers, Arizona
The mighty Colorado River and its tributaries carved an extraordinary red rock landscape, with intricate mazes of canyons, delicate arches and massive rock monoliths. And nowhere is the landscape more extraordinary than around Lees Ferry. The Colorado River sports more than 20,000 wild trout per mile up and down stream of Lees Ferry. The river yields wild rainbow trout from 14 to 22 inches and larger. This stretch of the Colorado River enters the Grand Canyon National Park. This fishery is considered one of the most beautiful places to fish in the world.

Learn more about
Lee's Ferry Anglers, Arizona
Click through to get details on the water, seasons, guest accomodations, and rates.
Notwithstanding the spectacular setting of the surrounding 1,000 foot Vermillion Cliffs, you will encounter some of the most incredibly healthy native rainbow trout found anywhere on the planet. As you wade the gravel beds along the banks in incredibly cold, clear water, you will see the Grand Canyon as Col. John Wesley Powell's nine-man expedition did in 1869. The gravel bars, backwaters, eddies and main river channel offer opportunities to stalk wild rainbow's with dries, nymphs and streamers.

Catch and release guided fly fishing and river boat experience is all inclusive except for tackle, beverages, flies and Arizona fishing license. Hours vary by time of year and river flows. We are typically on the water for 8 - 9 hours a day. Wading and casting from a boat. There is a maximum of 4 anglers per boat.

Groups and Corporate Trips: Lee's Ferry is a prime spot to build business relationship with special customers and valued employees. We can provide bonus incentive trips and team building opportunities. We can accommodate groups up to 30 people on the river and 40 at the lodge.

Wildlife: Most of the wildlife in the area an on the river is nocturnal. Coyotes, badgers, beaver, fox, bobcats, mountain lions, ring tail cats are rarely out during the day. Desert Bighorn Sheep is the only large mammal you may see along the river. There is a healthy population of Bighorn Sheep along the river. If you like birds, the Colorado River is a major flyway and feeding habitat for waterfowl and major migratory songbirds. Bald Eagles, Golden Eagles, Red Tail Hawks and Peregrine Falcons are common. The most recent arrival in the area is the California Condor, America's most endangered bird species. The Condors were released here as part of a project to bolster the wild population. Marble Canyon area has more wild Condors than anywhere else in the world with more than 80 birds. Nothing short of spectacular.
ALL YEAR ROUND

Recommended Gear: A long-billed cap or broad-brim hat with sun protection, rain gear.

Summer: Lightweight, light colors, light jacket.

Spring and Fall: Medium weights, light sweater or sweatshirt, warm morning and evening jacket, wook or polypro hat for riding in the boat.

Winter: Very warm clothes to be layered. Ski-type parka, wool hat, gloves, boots, etc.

We fish in all seasons in all weather.
Cliff Dwellers Lodge: The quintessential west; remote and scenic. Majestic views of the surrounding area. Captivated by the Vermilion Cliffs and endless blue skies, it's no wonder settlers chose to homestead in such an inimitable environment. The Arizona Strip, with its isolation and solitude, offered a unique way of life for travelers seeking the freedom of the American West and a way to cross the swift moving Colorado River by horse drawn ferries. Lees Ferry was the only place on the Colorado that could be crossed for hundreds of miles on either side.

The original homesteaders at Cliff Dwellers was Bill and Blanche Russell. They established a small trading post there in 1920 and their original rock house still stands next to Soap Creek.

Cliff Dwellers Restaurant: (Open every day)

The Cliff Dwellers Restaurant is the choice among locals and anglers in the area. It was named one of the Best Restaurants by Arizona Highway Magazine. Conveniently located in the Lodge you can dine inside or outside on under the fully-covered patio in full view of the Vermillion Cliffs. In the winter you can cozy up next to the Lodge's crackling fire.
Driving: From Las Vegas, it is a 6-hour drive to Marble Canyon, Cliff Dwellers Lodge. The St. George Express from Las Vegas to Marble Canyon is a nice option. They offer daily (12:45 p.m. departure), shuttle service in a Mercedes Benz van with large windows. Very scenic once you reach St. George, Utah. St. George is a 2-hour drive north of Las Vegas. No ground transportation is provided once you arrive. If you are staying at the Lodge you will need to make arrangements to get yourself to the boat launch to meet your guide in the morning and transportation back to the Lodge at the end of the day.

From Page, Arizona, it is a 1 hour, 40-mile drive, to Marble Canyon. U.S.-89 and U.S. 89 A.

Flying Commercial: The largest commercial airport is located in Page, Arizona (KPGA), approximately 40 miles from Marble Canyon where Cliff Dwellers Lodge is located. If you are flying into Page, AZ, you will need a rental car to get to the Lodge.

Flying Private: Marble Canyon (L41) has an airstrip located near the lodge. No ground transportation is provided. If you will be staying at the Lodge you will need to make arrangements to get yourself to the boat launch to meet your guide in the morning and transportation back to the Lodge at the end of the day.
Daily Guided Fishing Rate for 1 Angler $425 plus 5% National Park Service fee.

Daily Guided Fishing Rate for 2 Anglers $525 plus 5% National Park Service fee.

Daily Guided Fishing Rate for 3 Anglers $625 plus 5% National Park Service fee.

Non-Fishing Guest $20 each.

Rooms at the Cliff Dwellers Lodge vary from $90 to $110 per night double occupancy plus 6.9% tax.

Private Boat Rentals without a guide are $300 a day plus fuel and tax.

Prices are in USD and subject to change prior to booking. Ask for a quote.

Lee's Ferry Cancellation Policy: If you cancel the trip inside of 30 days notice, you will be charged $100 per day, per guide. If you cancel inside of seven days or fail to arrive for your trip, you will be charged the full rate. The above fees will not be charged if Lees Ferry Angler is able to rebook the canceled dates.