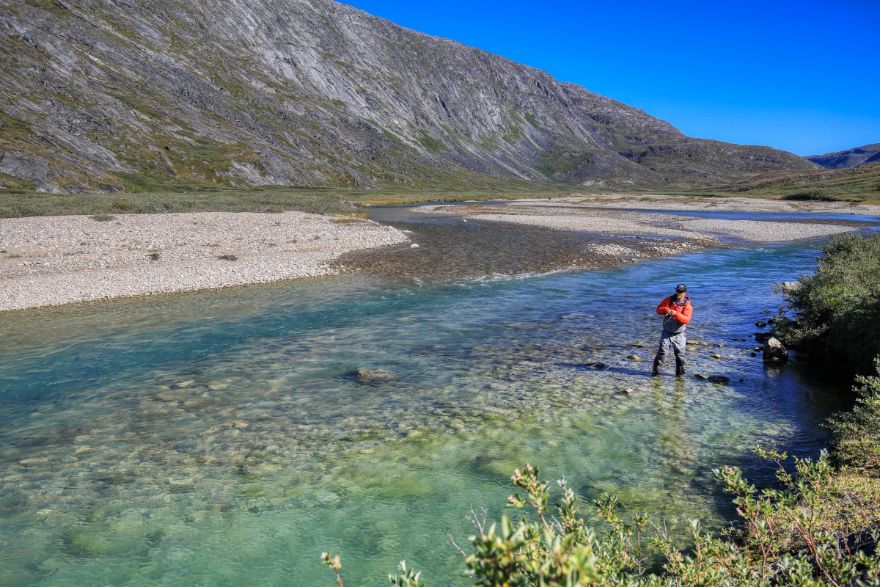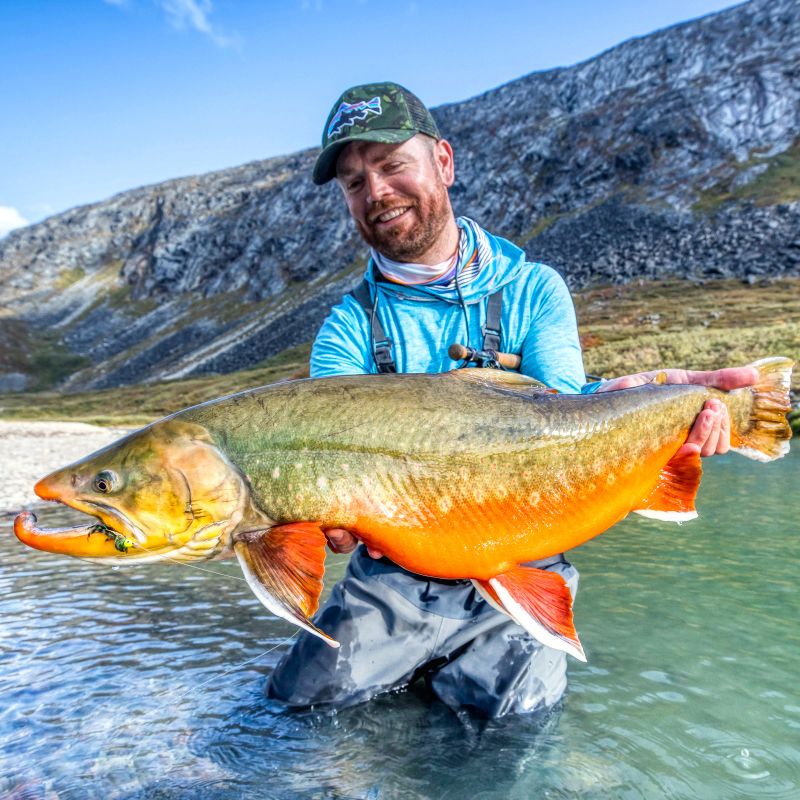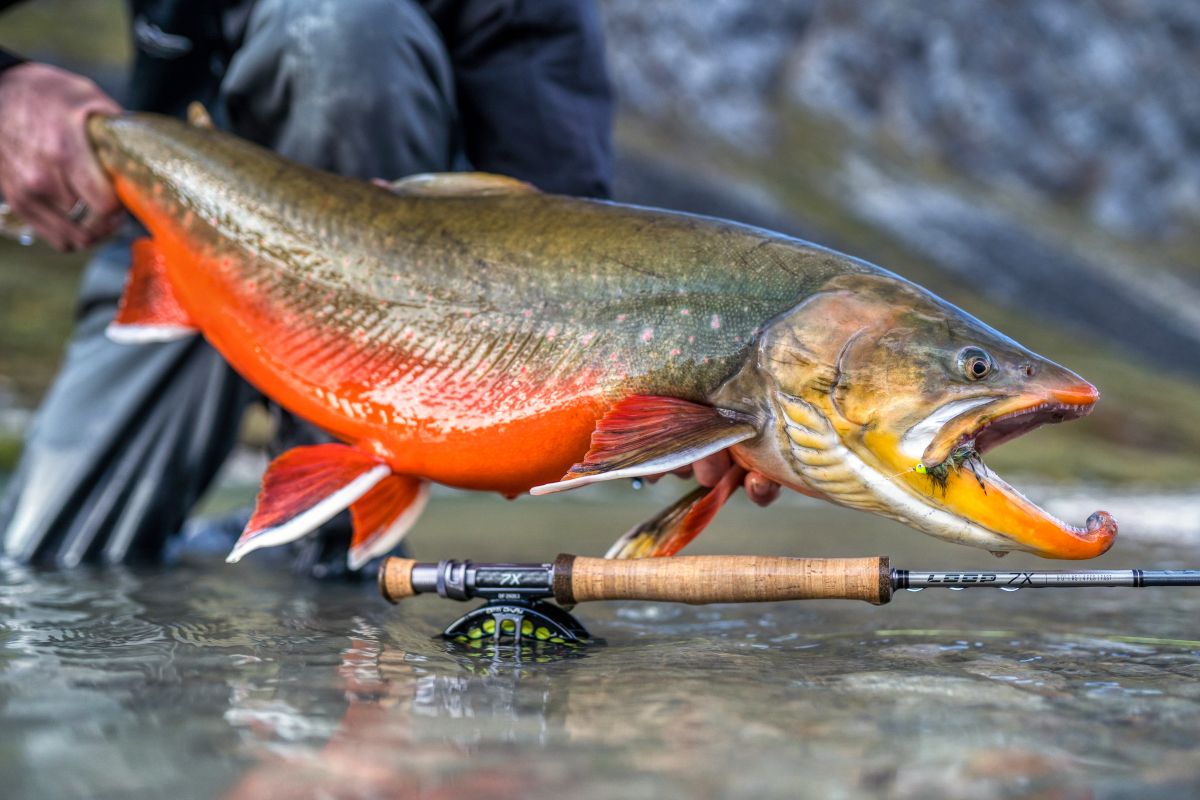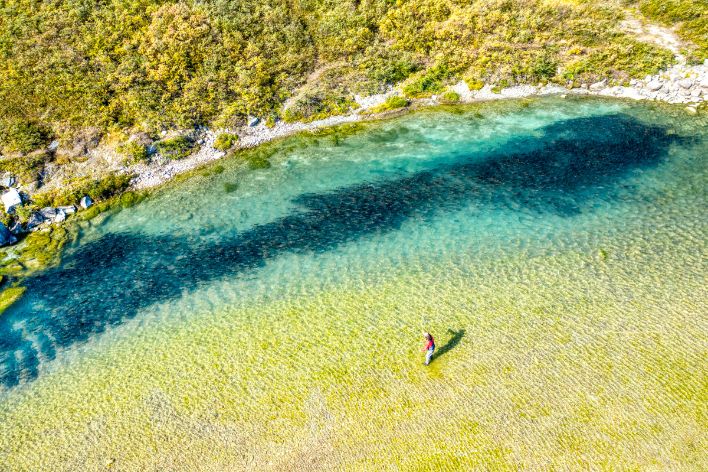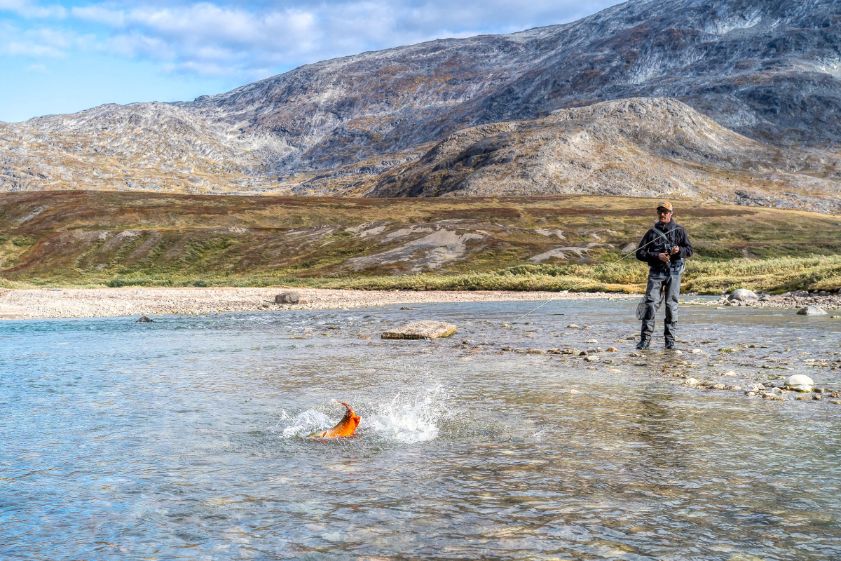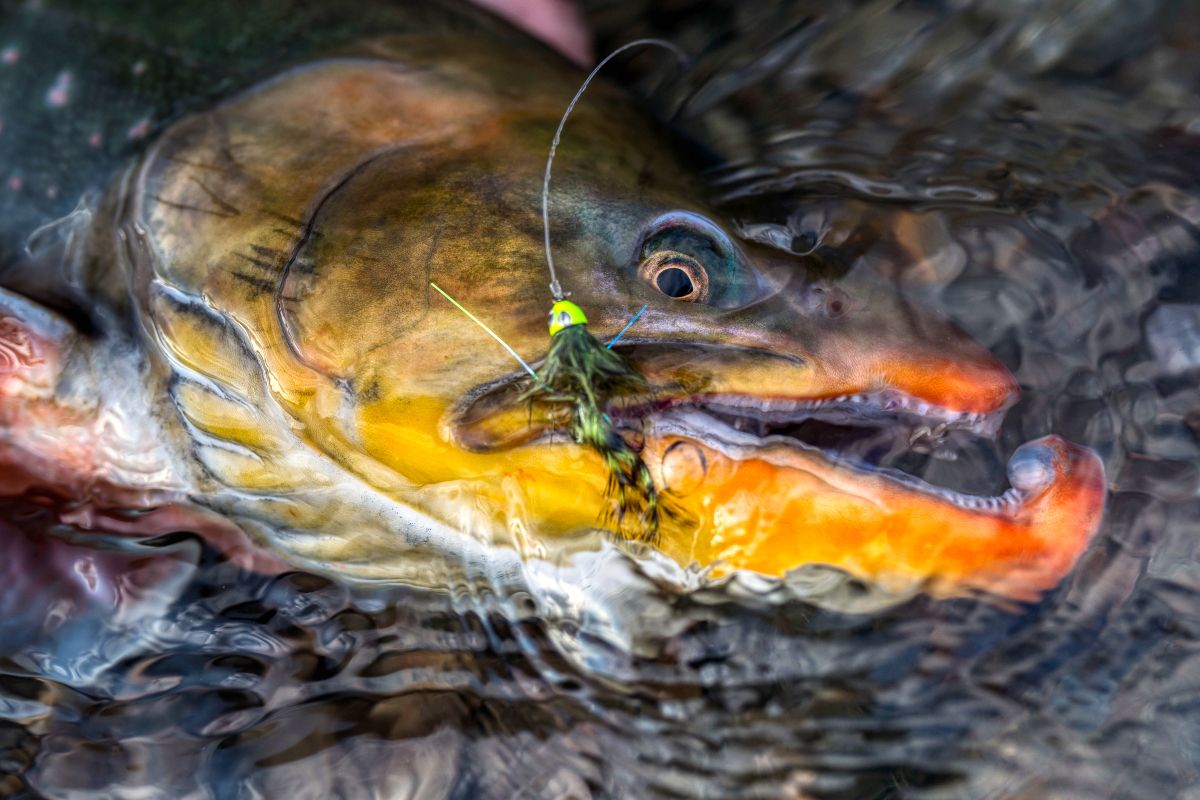 Kangia River Lodge, Greenland
Wild Greenland, home of the Musk Ox and Arctic Char, relics of the Ice Age, invite you to this remote Nordic fishing destination, an island nearly as large as North America or Canada with a total population under 60,000 accented by the endless midnight sun. Savvy anglers know Greenland is becoming one of the premier fly fishing destinations of the world, well known for catching the best, most beautiful bright red searun Arctic Char in glacial gin clear water. Keniga River Lodge adheres to catch-and-release fishing practices and pride themselves on working with local guides and staff who contribute years of expertise and knowledge to their fishing operation.

Learn more about
Kangia River Lodge, Greenland
Click through to get details on the water, seasons, guest accomodations, and rates.
The Kangia River is truly made for fly fishing with its cut-banks, rapids, slow and deep stretches, waterfalls, and pocket-water all the way down to its tidally influenced delta. Located 4.5 miles upstream is a 32 foot high waterfall blocking migrating fish from progressing further up-river. The exceptionally large runs of Arctic Char compact in deep pools and remain in the river. The average weight is 4.5 to 8.5 pounds. The largest reported catch was 14 pounds. Fishing here can be physically demanding but extremely rewarding. Fitness and a passion for roughing it is a necessity for those who want the most productive freshwater angling experience. Anglers should be prepared to walk 5 or more miles a day to access the absolute best fishing.
The short 10-week summer fishing season runs from about mid-July through the end of August spilling into September. By mid-July the river is stacked up with magnificent Arctic Char. In the southern part of the country and the innermost parts of the long fjords, the temperatures can rise to more than 68 degrees F during the summer months of June, July and August and due to the fine air quality and low levels of moisture in the air, the visibility is exceptional most of the time.
Located on the remote south-western coast of Greenland the modest but ever efficient Kangia River Lodge is anchored in a perfect wild setting on top of a high bluff overlooking a pristine river valley. The lodge will accommodate up to 12 anglers. Sleeping quarters consist of a total of six rooms, each contains one bunk bed that sleeps two anglers. The main lodge has two toilets, two showers, a fully equipped kitchen, a brand new bar and lounge area, and a spacious dining area overlooking the river. The veranda at the front of the lodge with its view of the river mouth and valley below, is the perfect place to enjoy an after-fish drink and share some tall fish stories with your friends.
Commercial airlines are the only way for travelers to get to Greenland, served by airports in Denmark and Iceland unless you arrive on a cruise ship. From the United States international flight via Copenhagen, Denmark to Kangerlussuag International Airport (SFL) in Greenland with a connecting flight from Kangerlussuag to Manitsog Airport (JSU). From Maniitsog we will travel by boat to the Lodge.

USA passport holders do not require a Visa for a stay of less than 90 days.

Common Itinerary

The itinerary usually requires arriving on an international flight no later than Thursday into Kangerlussuag with a connecting flight to Maniitsog to the Lodge by boat.

Friday - Thursday: Spectacular fishing on the Kaniga River.

Thursday afternoon - Leave the Lodge by boat for a return trip to Maniitsoq. The exact time depends on the tide. A high tide is required for boats to be able to pick us up. Arrive at Hotel Maniitsog with full-service restaurant and bar. We recommend the local speciality, Greedland coffee, a version of an Irish coffee with a bit more flavor.

Friday: Morning flight to Kangerlussuaq. You will be picked up at the hotel and taken to the airport a short 5-minutes drive.
Single Room 4,990 Euro per person. Max 5 Single Rooms available per week.

Double Room with a bunk bed 4,490 per person. Min. 2 rooms per week.

Maximum 10 rods per week plus Host.

Prices are subject to change prior to booking. Ask for a quote.

Included - Boat transfer from Maniitsoq to the Lodge and back, all lodging, all meals, beer, limited supply of Whisky and Gin, local transfers in Maniitsoq.
as possible.
Not included – Other alcohol, phone calls (we have satellite rescue phones in the lodge), travel insurance, flights and hotel during travel. Hotel in Maniitsog is not included in the cost. When you book your trip a hotel room in Maniitsog will be reserved in your name. Angler is responsible for payment in addition to Kangia River Lodge pricing.
Recommended Tip: Minimum US $300 - $400 per person per week.