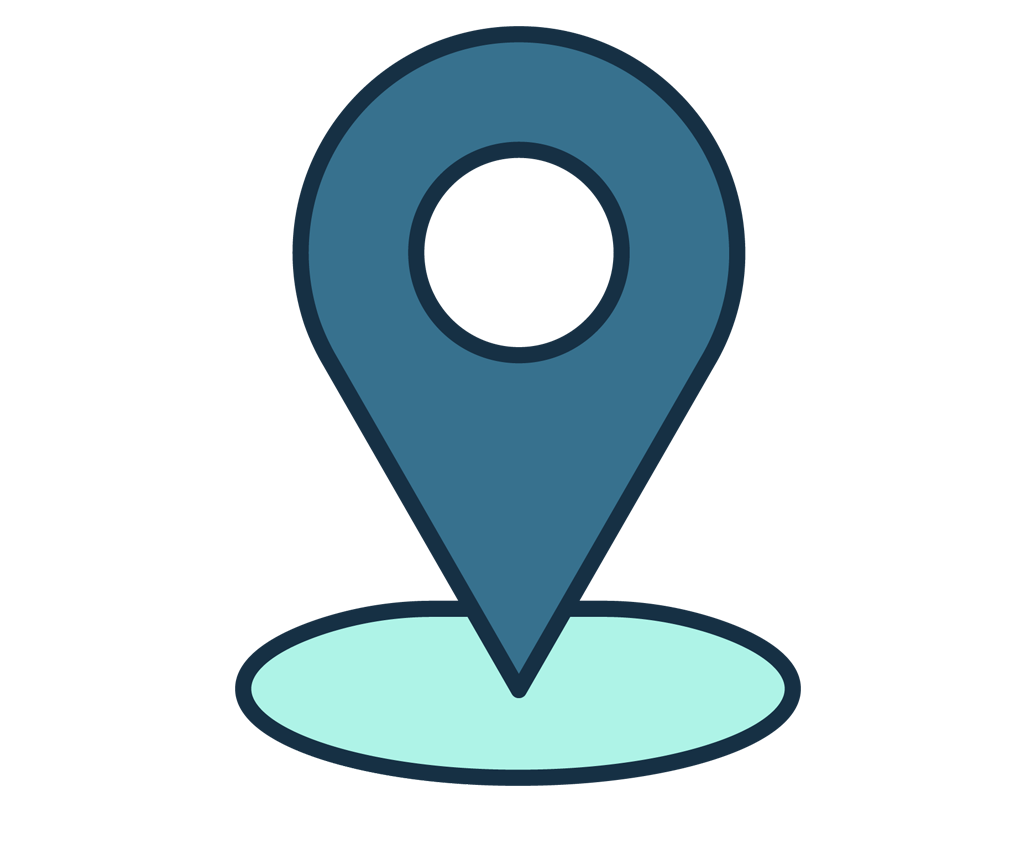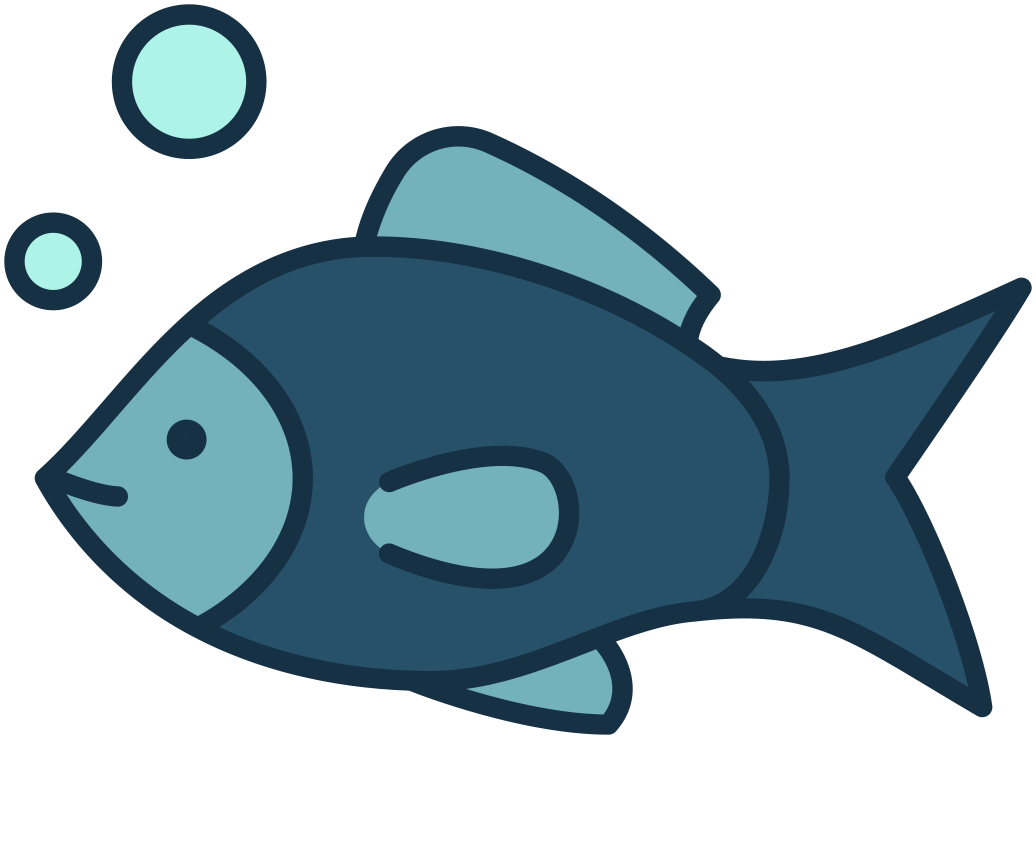 Fishing Style
Drift Boat and Wading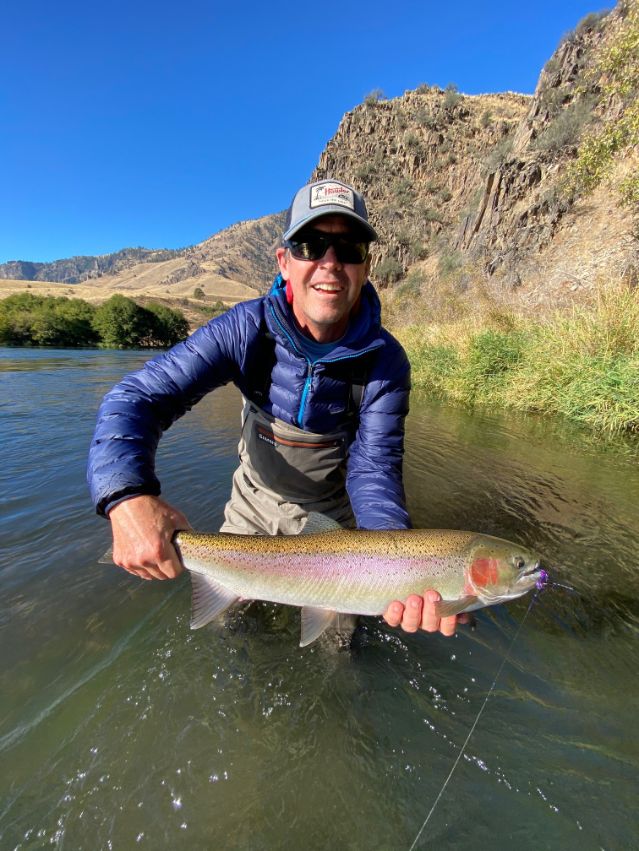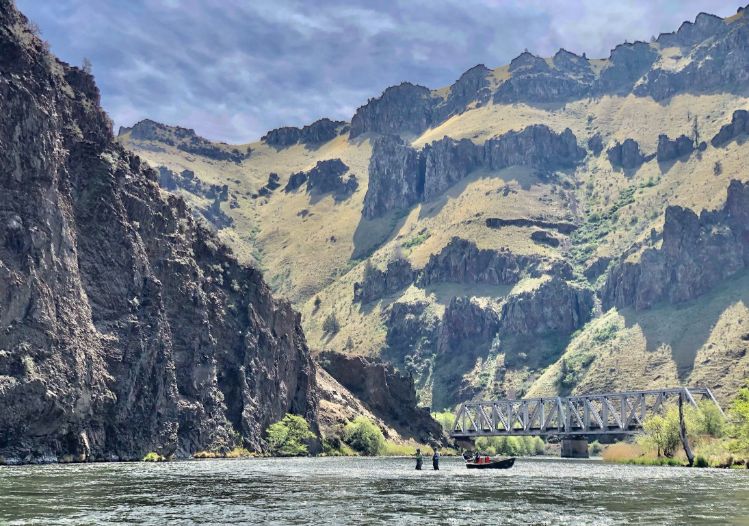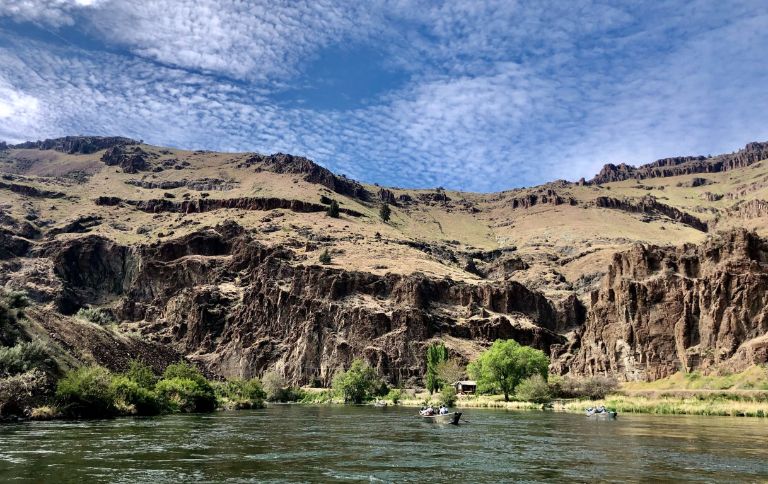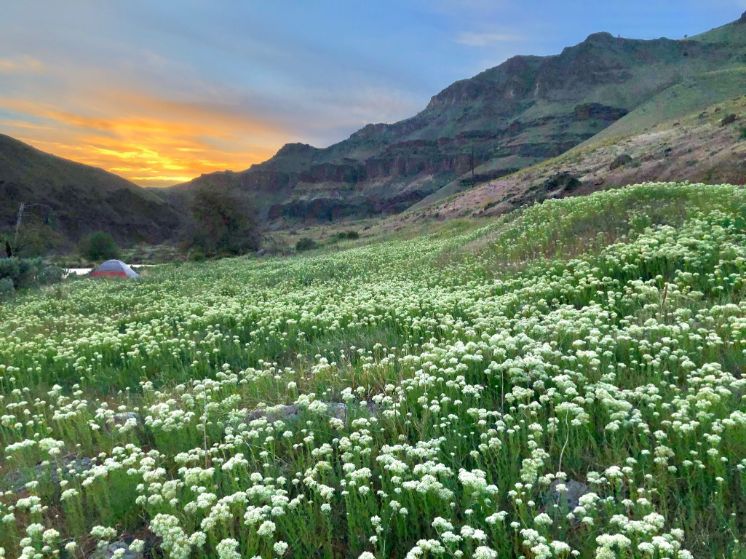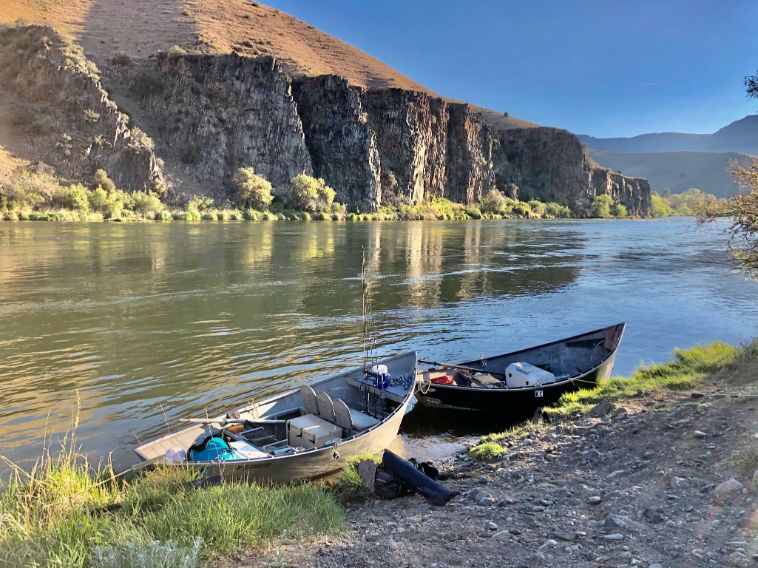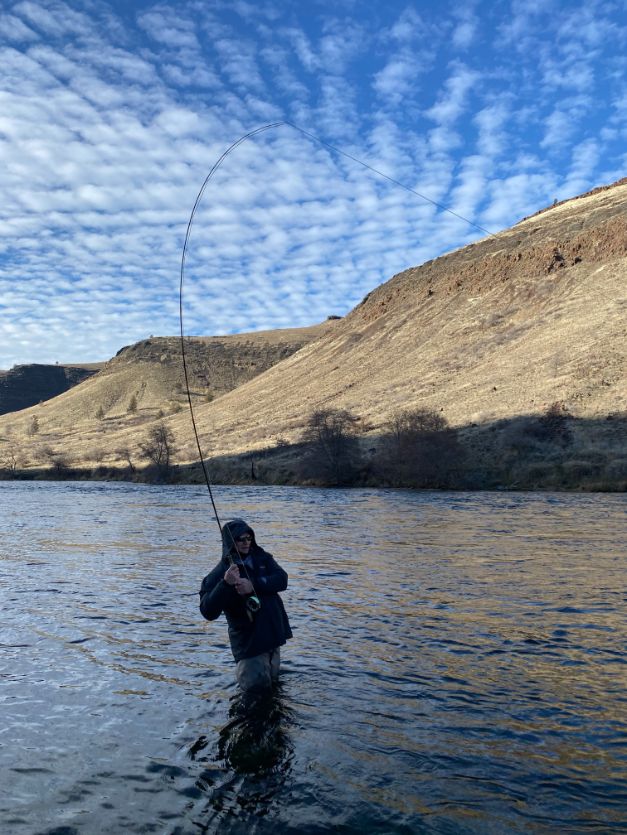 Deschutes River, Oregon
Time on the water is worth a thousand fish. Our guides have spent over 40 years finding them, and we're eager to show you what we've learned. Come enjoy a Deschutes River Fly Fishing adventure. The Lower Deschutes stretches 100 miles exactly, and with our experience we can show you how to fish every inch of it. One of the great things about the Deschutes is its remoteness framed with lava and basalt mesa's with white alders lining the shoreline. You will feel like Lewis and Clark drifting downstream during their first journey across this wilderness area in 1804. Grand views, wild horses, Osprey, deer and plenty of wild trout. There is no cell phone service on the River.

Learn more about
Deschutes River, Oregon
Click through to get details on the water, seasons, guest accomodations, and rates.
The river flows straight north through the high desert from Pelton Dam – which creates a classic tailwater fishery. The Deschutes runs hard and cold all year long, and this creates a multitude of insect life for its native trout to feed on. The most famous of all Deschutes Hatches is the famed Salmon fly hatch. These big bugs can top 2 inches in length and the biggest lunkers in the river are all looking up when the big bugs are on the water. Felt soles and wading stick are a must. Rubber soles will guarantee you will slip and falls in the water while navigating the current. Each day includes 8 plus hours of fishing from around 8:30 a.m. until 6 or 7 p.m. No pressure, just a relaxing time stalking the largest Rainbows and Steelhead.

During Fall, winter and early spring, Blue Winged Olives are numerous in the afternoons. Look for trout sipping small mayflies in back-eddies and pockets during these times. With warmer temperatures and spring rains – March Browns and Skwala Stones become the insect of choice on the Deschutes. After Salmon fly season, Caddis are the ticket. There are hundreds of types of Caddis on the Deschutes, and the Trout love them all. It is not uncommon to have 1000 or so Caddis flies swarming the lantern on a summer evening, the morning after can provide amazing trout fishing when the females lay their eggs after a night of procreation. Then to close out the season the big bugs are back. Though not quite the size of Salmon flies, October Caddis are big bugs by any standard, and the fish look up with just as much ferocity as the early season hatch.

The Deschutes River is undoubtedly one of the finest Steelhead Fly Fishing Destinations on Planet earth. Tens of thousands of Native Steelhead return to the high-desert canyon each year and those wild fish are supplemented by robust numbers of hatchery-introduced fish. What makes the Deschutes special is the willingness of its steelhead to rise to the swung fly. There is no need for indicator fishing here. Cast your traditional hairwing pattern 45 degrees downstream and let it swing. There is no mistaking the grab of a Deschutes steelhead that just moved 10 feet to slam your Max Canyon and is now headed back to the ocean screaming line of your real. People like to say "The Tug is the Drug"

The Owyhee

Tucked away in Eastern Oregon twisting it's away along red rock cliffs and pinnacles is a small tailwater fishery that is a big brown trout playground. This river, that comes alive in the alpenglow light on the canyon walls is an oasis amongst the sage.

Off the beaten path, it is a great, easily managed walk and wade fishery. Low gradient, with lots of riffles, runs and channels to explore along a dense riparian zone that quickly gives way to the high desert that is Eastern Oregon. There are prolific hatches and the alligator jawed browns that call it home are willing and prolific targets. Prime time hatches include late winter/ early spring blue wing olives and the Skwala Stonefly hatch. The Skwala hatch is one to hit. Big dries and slurping browns. Summertime will bring PMD,s, midges, large trico hatches will be your wake up call. Pods of smudging trout to work over is the norm. With the lush willows and grasses late summer brings hucking hopper and terrestrial patterns along the banks.

The average fish is a solid 15" to 18" inch fish with fish to 24" around for sure. It is a big brown trout grip and grin bonanza. The Owyhee is just good old fishing fun, large fish, a variety of fishing styles, consistent dry fly action, opportunity for good numbers of fish and all in a manageable sized package.

It is a remote section of the state, but close enough to amenities. Boise, ID is a bout an hour or so away and the best place to fly in to. There are two options as far as accommodations. Option one it to stay in a motel and eat at restaurants. These are small towns and there are not tons of hotel and restaurant options. If a more diverse selection is more your style, then the extra drive time being based from Boise, might be the best option. It's not a long drive from these small towns to the river.
All Year. No matter what time of year you are looking to fish the Deschutes, there are bugs hatching and native Oregon Trout to catch.
Overnight float trips on the Deschutes is a glamping experience. We provide camp gear except sleeping bags, pillows and toiletries. Outhouse restrooms along the river are well kept. Bring your own bottle of wine and other beverages. There is plenty of room each day on the drift boat to keep camera's out of the sun and water. Great Food, great guides and fabulous host. A "must do" fishing experience.

The Deschutes River is the only river in Oregon that does not permit fishing from the boat. You will fish from gravel bars and along the river banks that require getting in and out of the drift boat during your float. A wading stick is as important as your fly rod for this adventure.
Your best bet is to fly into Redmond, Oregon then spend the night in Madras. You will meet your guide in Madras early morning on your first day and follow him in your car to the River. Your car will be shuttled down stream to the take-out point on your last day and waiting for you when you arrive.
One Day Float

$550 for 1 or 2 Anglers

$675 for 3 Anglers

Overnight Trips

Three Days

$1,700 per person with 2 people minimum

$1,500 per person, 3 or more people

Four Days

$1,850 per person 3 or more people

$2,050 per person, 2 people

Five Days

$2,450 per person, 2 people

$2,250 per person, 3 or more people

Prices listed above are per person, double occupancy and are subject to change and may be modified or withdrawn without notice.