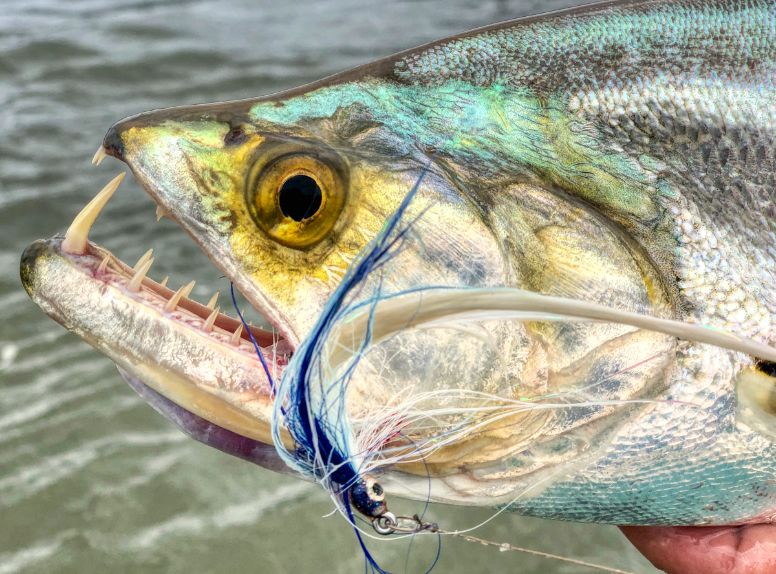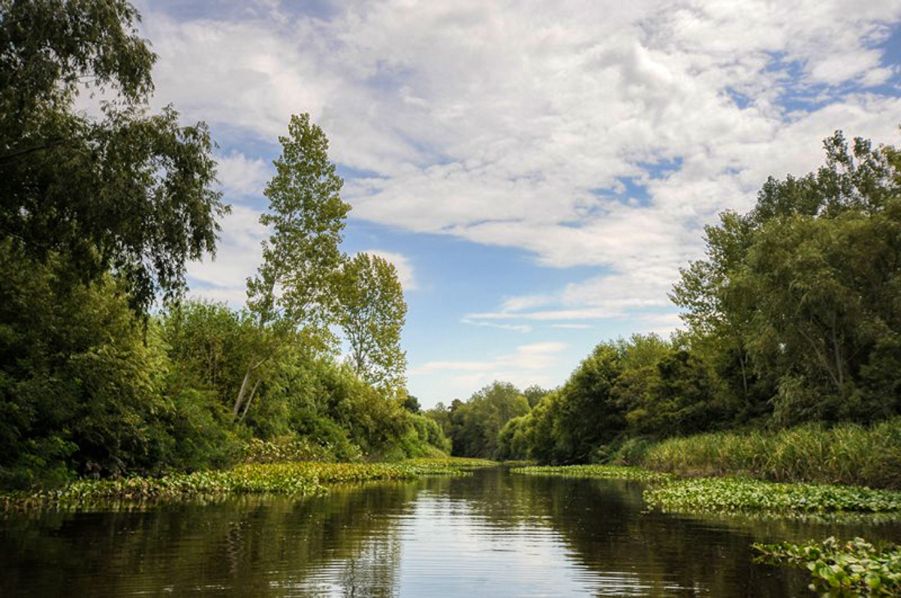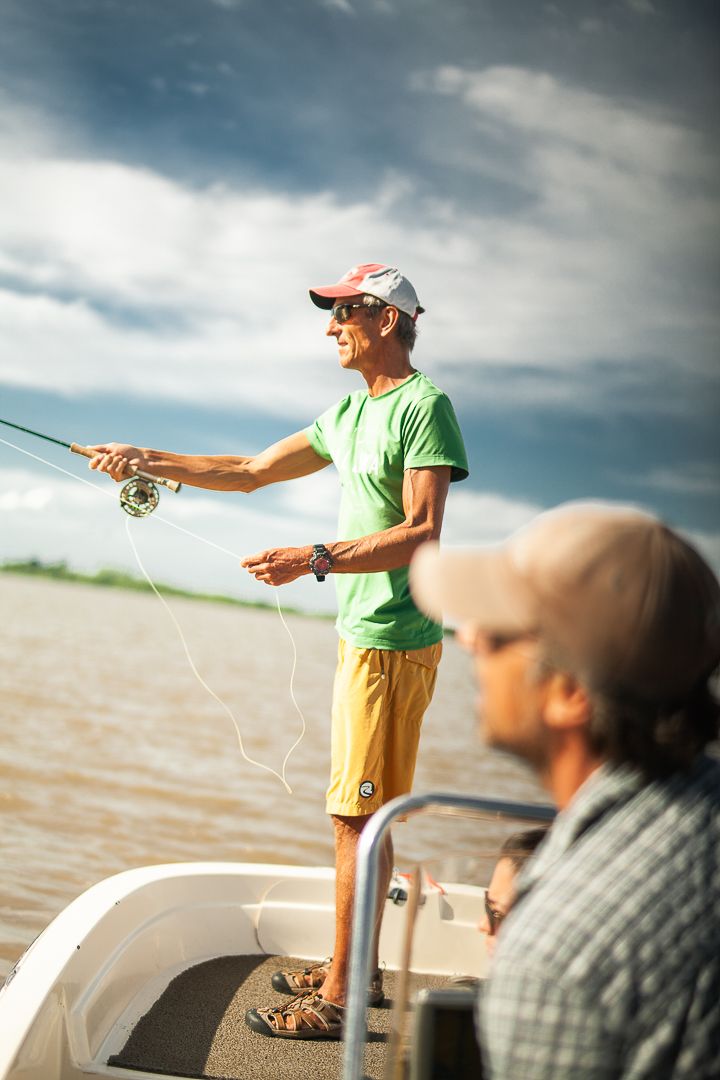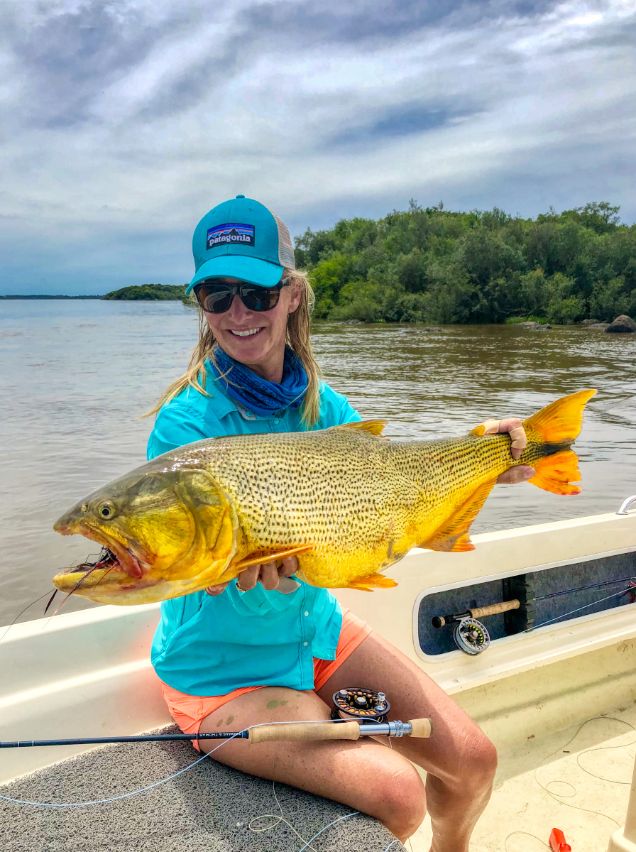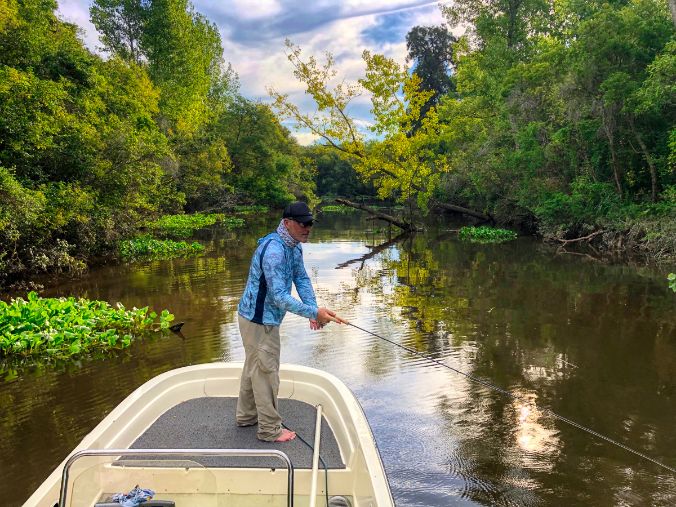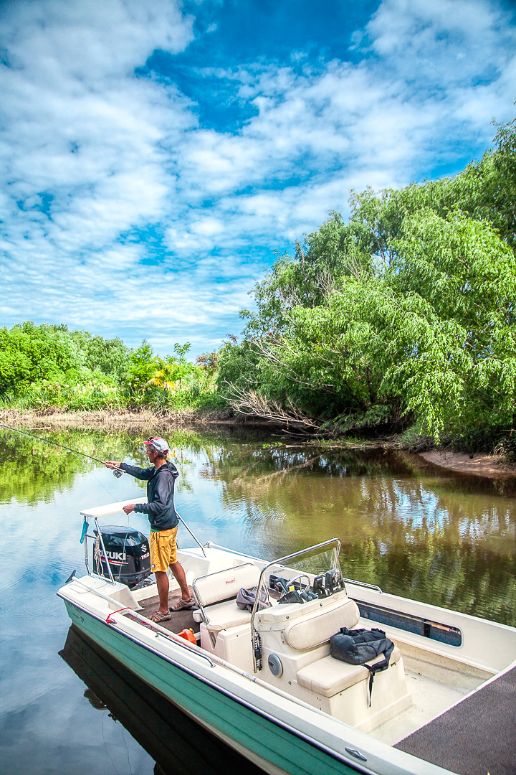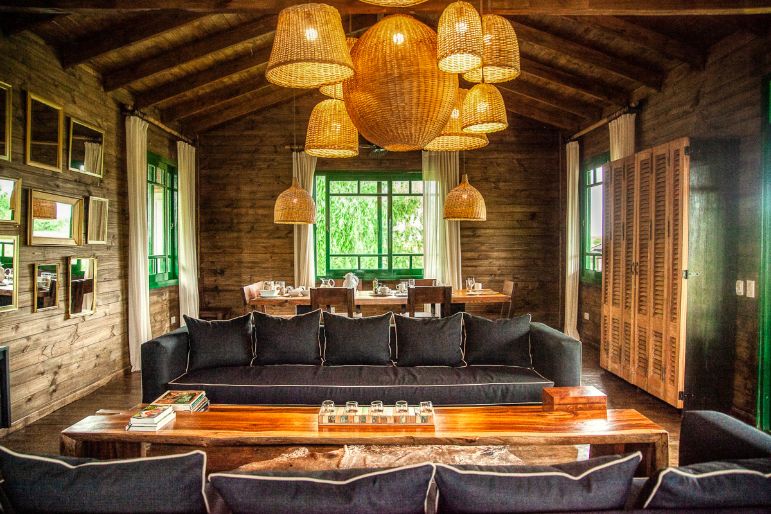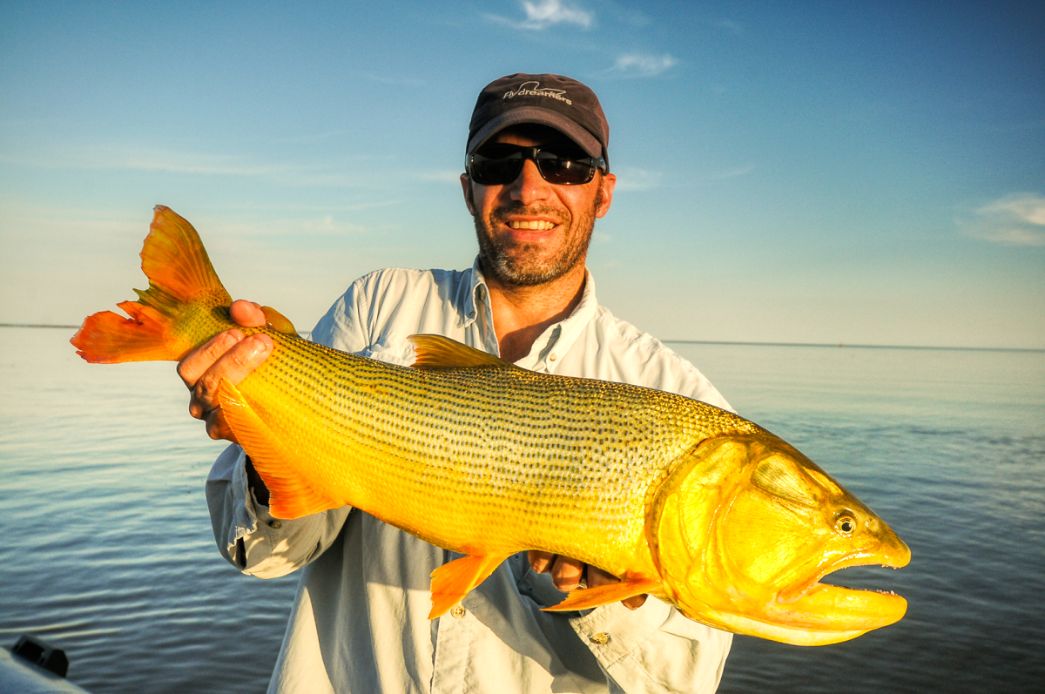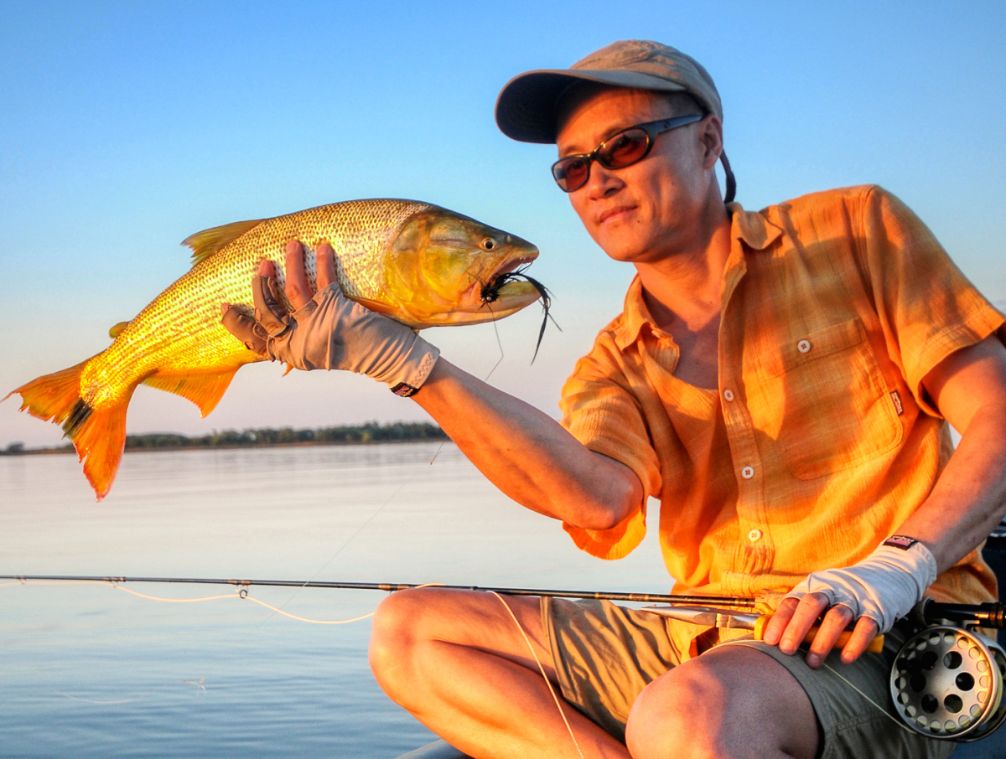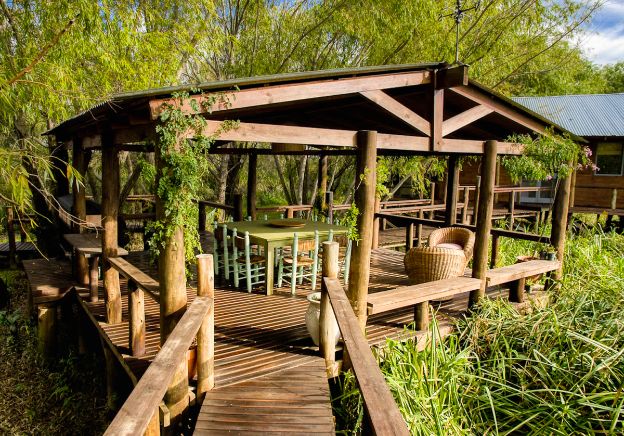 Delta Lodge, Argentina
The Delta Fishing Trip is a new program located near Buenos Aires that will please serious anglers and business travelers alike. Delta Lodge is deeply submerged in nature but only minutes away from the city—offering the kinds of high-quality fishing, guiding, lodging and dining experiences only our host can provide. The Paraná River, one of the most remarkable watersheds in South America, develops into an incredible ecosystem at the end of its run into the Rio de la Plata, just outside of greater Buenos Aires. Known as the Delta, this endless labyrinth of streams, braids, side channels, bays, and islands brims with wildlife and beautiful dorado waters. This UNESCO designated "Biosphere Reserve" is also a bird watcher's paradise. Here you'll find the Delta Fishing Lodge, where our guided fly fishing programs take place. The Lodge offers two options in this unique area. For those who must stay in Buenos Aires for a day/night before heading to a fishing lodge elsewhere in the country, there is the day trip program. A private car will pick you up at your hotel and in just 35 minutes you'll be on board custom made skiff—ready to go after dorado and tarariras with fly tackle. And for those willing to spend 1 or 2 more days, we've developed an exciting new lodge in the secluded islands surround Lodged by almost unexplored wild life.

Delta Fishing Lodge offers wonderful cuisine consisting of local meats, fresh fruit and vegetables, and delicious desserts.
Learn more about
Delta Lodge, Argentina
Click through to get details on the water, seasons, guest accomodations, and rates.
Your Delta Day Trip will begin after breakfast, with a prearranged transfer from your hotel to the marina.

After a morning fishing session and depending on where the fishing took place, lunch will be held either at the lodge or full meals can be prepared in advance and taken onboard. All drinks, alcoholic and nonalcoholic, are included for lunch.

The afternoon fishing session ends at 6 pm. Scheduled transfers return guests to hotels after fishing.

Lodge options are also available for those interested in an overnighter coupled with great dorado fishing.

Delta Fishing Trips & Lodge

For those staying overnight, appetizers and dinner are served at 8:30 p.m. and breakfast time on the following morning is pre-arranged with guests, followed by some more great dorado and tararira fishing. Fishing hours will change slightly depending on the time of year.

Canoeing around the lodge area is a pleasant side activity. Bird watching is fantastic as well. Other activities include exploring the cultural life at the Delta, visiting museums, ecological reservoirs, and restaurants, among others.

Dorado
Noel Pollak—manager, guide, and co-owner of the operation—is considered Argentina's preeminent dorado expert. Although the dorado is one of the most exciting game fish to catch, there is very little written about fly fishing for dorado in this area. Its complex feeding regime and migratory nature ensure challenging and rewarding fishing opportunities for both expert and entry-level anglers.

Dorado is strong and acrobatic—and their pursuit is often more about quality experiences than a numbers game. Our dorado range from 5 to 7 pounds, but guests have caught 15+ pounders.

Tararira
Another of the species we target, the tararira, is an aggressive prehistoric looking fish that take poppers and surface flies like few others. Sight-fishing for them is our specialty. They are similar in size to local dorado. The biggest caught by our guests so far was 11.5 pounds.
A true wilderness experience, surprisingly close to Buenos Aires. From the city center it's a 45-minute drive to the marina, where you'll be picked up and shuttled by boat another 45 minutes to our Paraná Delta location.

Exclusive post-and-beam villa on a private island surrounded by nature.

Fly or spin-fishing for Dorado and Trarira across a variety of water types ranging from small creeks and lagoons to larger rivers.

Perfect escape for those traveling to Argentina and passing through Buenos Aires. Spend 1 or 2 nights, or join us for a day trip. We'll pick you up at your hotel in Buenos Aires and ensure your timely return. Sightseeing opportunities abound. Ideal for couples. In addition to fishing, bird watching and kayaking itineraries are available.

Inspired dining experience, featuring indigenous and international cuisine paired with the region's best wines. Your guide and host, co-owner Noel Pollak, is one of the world's top dorado experts. 5-star service and scrupulous attention to every detail.

Superb fishing gear—from our custom skiffs to industry-leading fishing equipment available at no extra cost.

THE LODGE
The lodge was constructed in the "Delta" style, a traditional wood construction built on stilts. The maximum capacity is 8 guests and 6 anglers which ensures intimacy and personalized attention. Each room has two beds and a private bathroom. Single rooms are a possibility and available under request. If you would like one, please make the request prior to your trip.

Food and Drink

Delta's kitchen comes to life through the use of fresh and regionally representative meats and produce. By combining these elements, we create delicious flavors and varied textures that harbor hidden stories and package traditions on each plate. A top-notch team of experienced national and international chefs, trained in both classic and avant-garde culinary techniques, execute our food. With an artisan's touch, chefs prepare every dish by scratch to be served at a minute's notice.

The inspired lunch and dinner menus are paired with some of Argentina's—and the world's—best wines, Bodega Catena Zapata.

In addition to their focus on fresh food with organic origins, the Lodge celebrates its Argentine heritage with a wine partnership that brings truly world class wines to the table. The Lodge believes the food and wine it serves should and does mirror the sporting opportunities offered by your Host; only the very best available. Boasting many accolades from the wine community at large, a Bodega Catena Zapata wine recently received a "number four in the world" icon ranking from Wine Advocate. These are truly great wines that compete on the world stage. The Lodge's food and selection of great wines will have you asking for more. Both hold a special place in the Argentine culture and the Lodge is proud to serve them to you. A traditional asado (BBQ) will be held once during your stay, and you can sample different cuts of meat and wonderful salads. Breakfast is served al fresco during part of the season, and full cooked breakfast is also available, together with fresh fruit, yogurts, home baked bread and jams and a selection of cereals.
The lodge is located less than an hour away from downtown Buenos Aires, on the second section of the Lower Parana Delta in northeastern Buenos Aires province. Few cosmopolitan cities have such an amazing abundance of wilderness right at their doorsteps. Due to the unique nature of this zone, UNESCO designated it a "Biosphere Reserve" back in 2000. This is where the legendary Parana River Basin, the second largest of its kind in South America, ends its journey and flows into the Rio de la Plata. Thousands of creeks, streams, channels, islands, and rivers of all sizes make up this extensive 90,000 ha ecosystem. In addition to great fishing, the area is home to incredible birdlife, so it's a must for birders.


SEASON 2023-24 PRICE PER PERSON (DOUBLE OCCUPANCY AND SHARED GUIDE)

Full day fishing with overnight stay $ 997.50
Day trip (p/boat, up to 2 fishermen) $ 895.00
Half day trip (p/boat, up to 2 fishermen) $ 700.00
Overnight per person $550.00
3rd fisherman $150.00


Prices are in USD and may be subject to change prior to booking. Call for a quote.

Included: Professional guides service, meals and soft drinks and alcohol beverages for lunch & loaner fishing equipment (Rods, reels, Lines and flies).

Not included: Transfer to the marina ($275 round trip for up to 3 passengers) and gratuities.