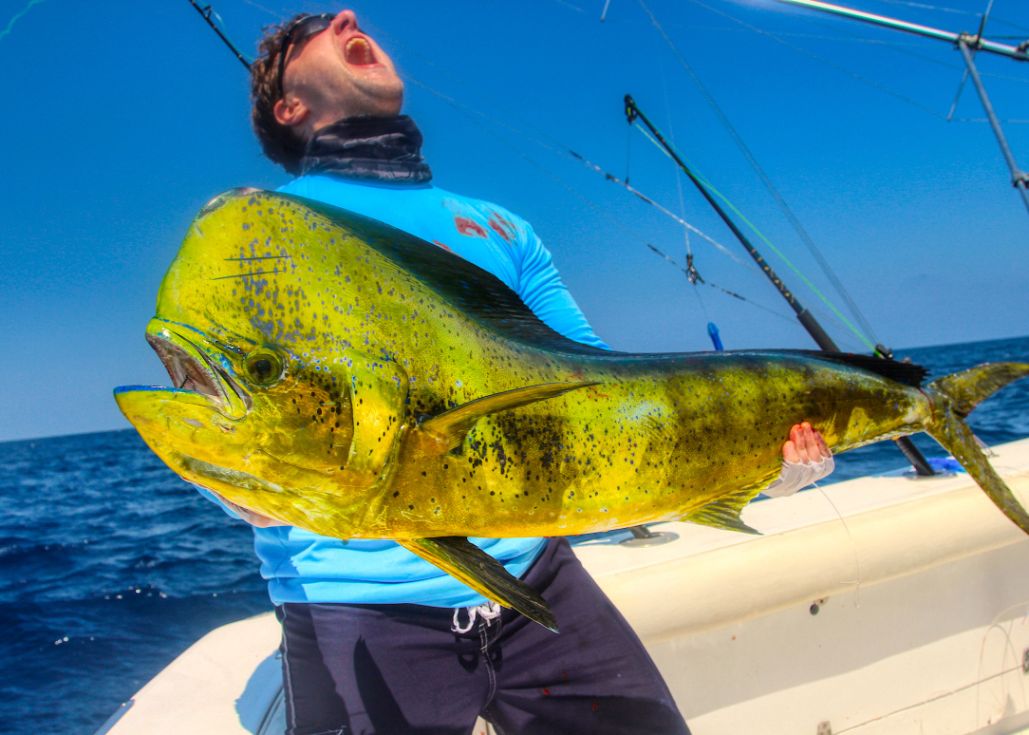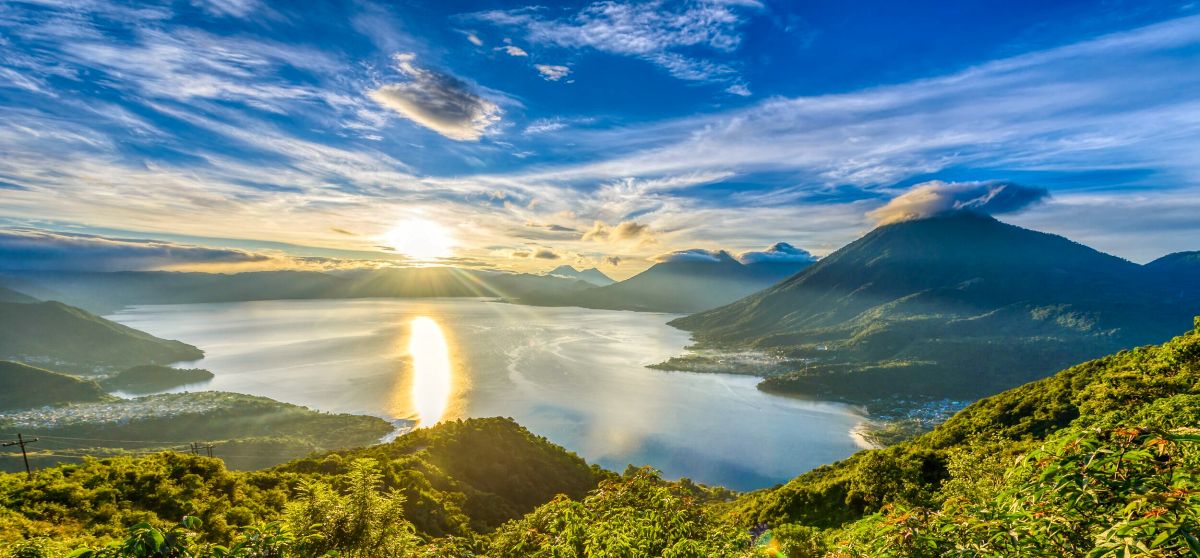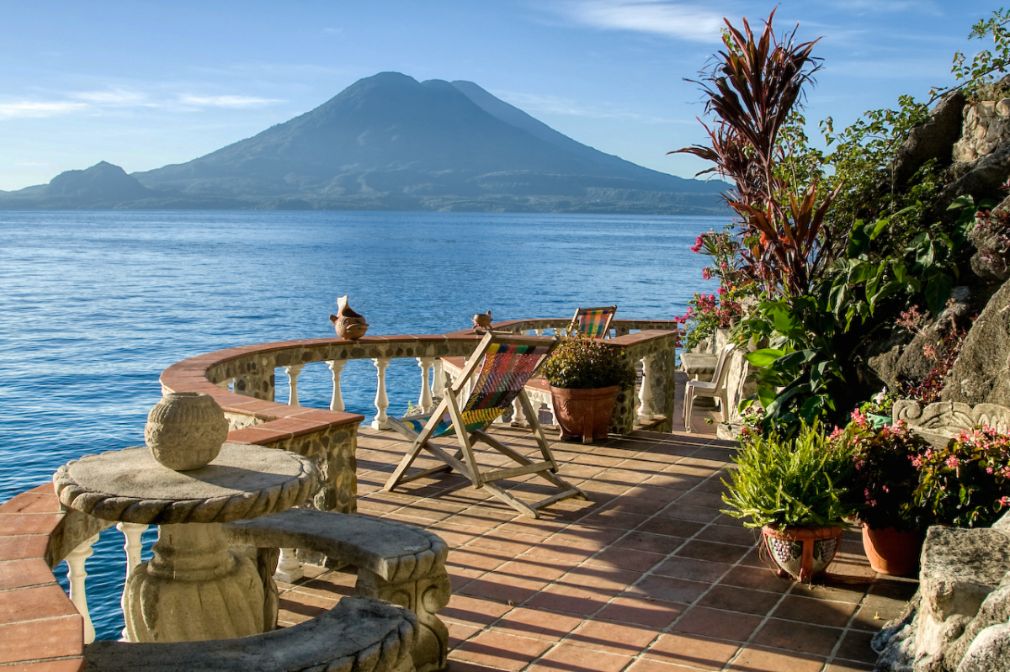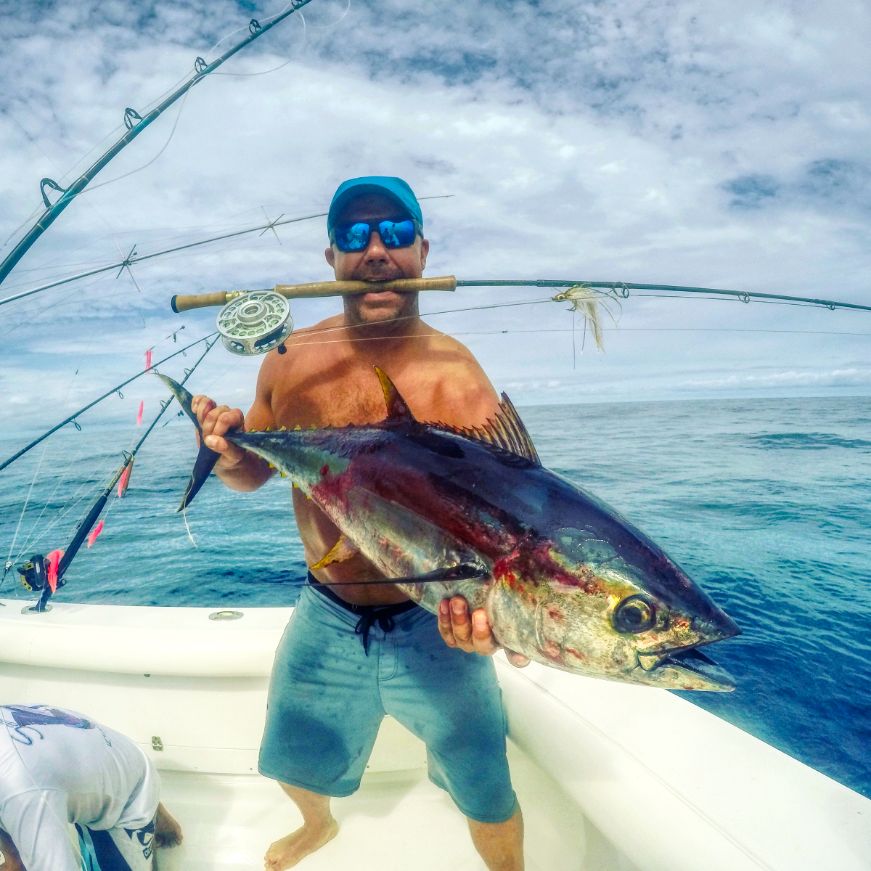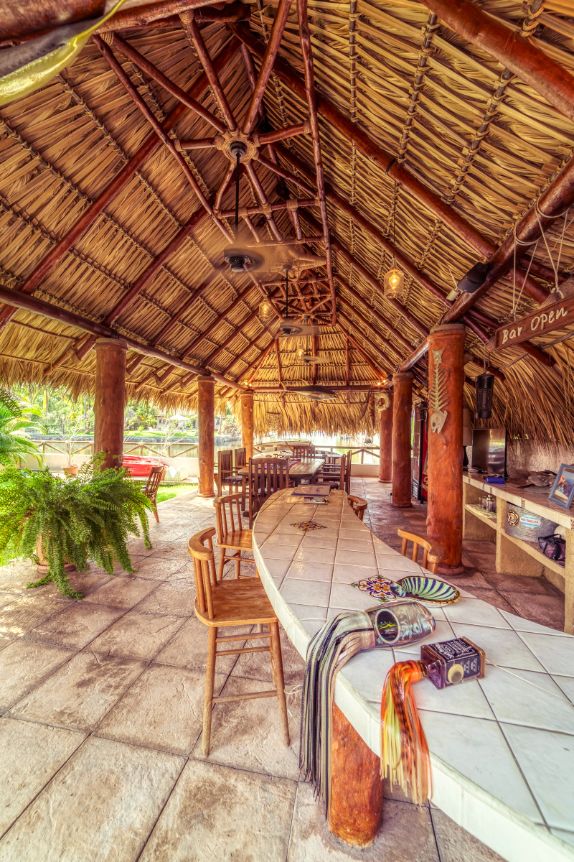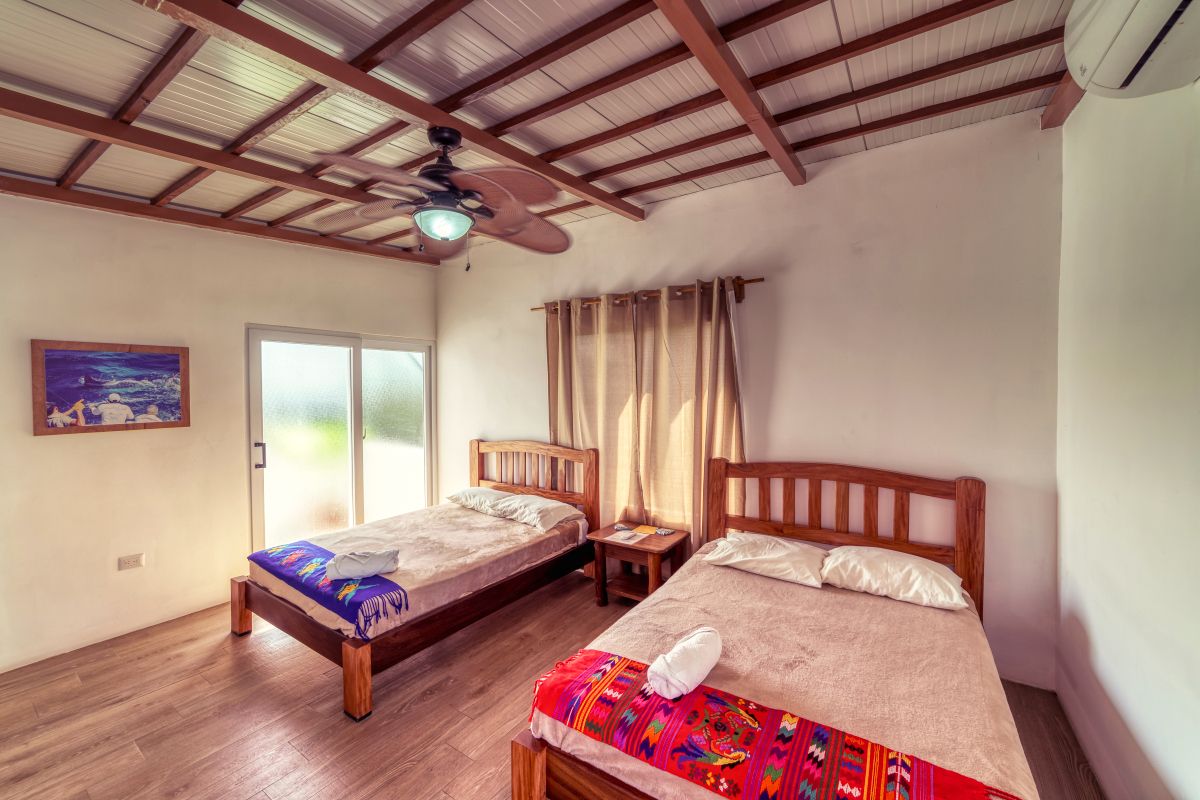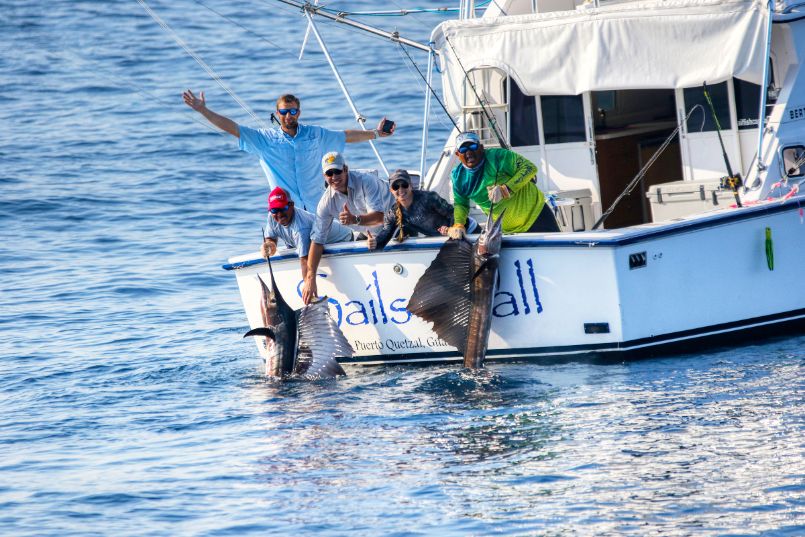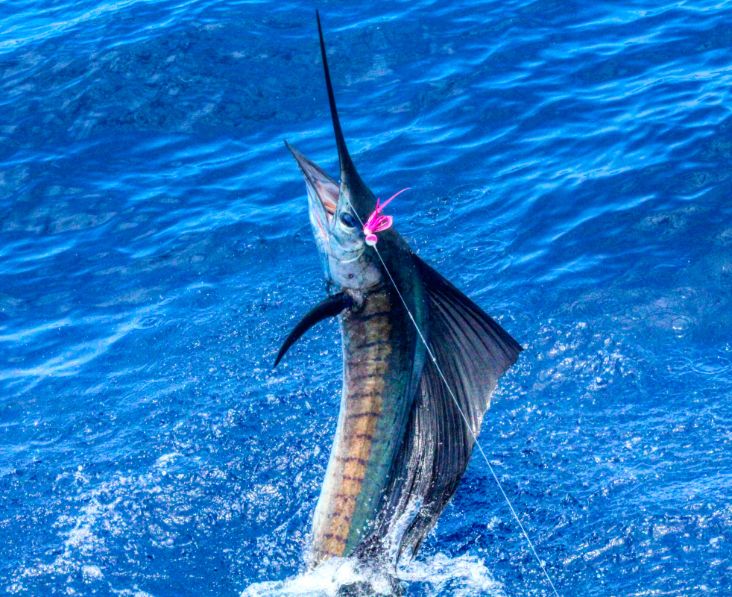 Blue Bayou Lodge, Guatemala
Guatemala continues to prove to be the Billfish capital of the world. No slow years here with its insane averages and release numbers. 125 sail fish released in a single day with 57 on the fly. The Equatorial Counter Current creates a type of bill fish highway which gathers most of the bill fish off the Guatemala's coast known as the "pocket." Located in the heart of the ancient Mayan world is the American owned and USCG captained Blue Bayou Sport Fishing Lodge. The lodge is nestled in the bill fish renowned coast line of Iztapa, Guatemala. The IGFA certified Blue Bayou Fishing Charters cater to eager fly fisherman for sailfish on the fly, experienced lite tackle anglers and top notch in shore fishing trips for Roosters, Jacks, Spainsh Macks, Snapper and Snook.


Learn more about
Blue Bayou Lodge, Guatemala
Click through to get details on the water, seasons, guest accomodations, and rates.
Sailfish - All year round. Peak months are Late October to early June. Averages can be 20 sailfish releases to 80 plus on a ''great'' day. Add a hand full of Dorado, a Marlin or two, and you will have an untouchable day.

People tend to assume that the winter is the best time for sailfish in Guatemala. The reason why we are so productive is the currents in which hold bait in front of our port. In addition, the current is pretty much perfect year-round. Unlike Costa Rica that seems to have better fishing in one spot vs another, we have constant action year-round in Guatemala. In July we have even caught 50 plus sailfish. Ask your Capt. and he will advise prime times. Summer months mean short runs and calm ocean!

Blue, Black & Stripe - All year round potentially. Late spring to December seems to be the best months. Stripe marlin show up in October and stick around until December/January. August has been a great month for blues lately throughout the region. Summer months in general BIG blues.

All year round. June to Oct, they are thick promoting a good Marlin diet. Oct until May Dorado can be 30 to 50 pounds!

The bite can be close at 20 miles, but usually 30 plus miles are the great numbers. 30-80 plus pounds and fearless. August until December holds a good tuna bite. However, year-round Tuna fishing is possible. Find the cool temps and get off the ledge and you will likely find a school!

When the water clarity is clear and the tide is up, the Rooster fishing can be GREAT! Along with Snapper, and late-night Snook fishing just outside of the lodge doors in the channel. Spanish Mack's and Jacks around shrimp boats are great fun as well.

All of our clients will be VERY involved in the bait and switch practices of bill fishing. By your third day, the mates will only be instructed to assist you with the bait rigging and teasing of the fish. You are on your own to hook the fish and free spool on a big hungry sail.

Where We Go & Why

Part of being successful in this fishery is exploring the limits, and starting trends, not following them. Each day currents change and the fishery changes with it. While some local guides will follow the crowd, we break free and use advancements in technology to our advantage. Systems such as Terrafin & Hiltons, allows us to see satellite imagery for current flow, temperature breaks, and most importantly Chlorophyll charts. These fish thrive in blue water. We don't leave the dock until the Captains involved in your charter talk about the information needed to get you on fish.

The team consists of an experienced crew with university degrees from the US and many hours on the Pacific of Guatemala, as well as Atlantic bill fishing in the great Cape Hatteras North Carolina, and Charleston, South Carolina. Our Captains & mates are local Guatemalans with more than 10 years' experience bill fishing. All members of our fishing crew have impressive resumes with countless catches under their belt in many parts of the world.
The Blue Bayou Lodge is located 5-minutes from the Pez Vela Marina. The area is a 24/7 secure residential complex located on a series of water channels leading out to the Pacific Ocean. The lodge accommodates up to 15 guests with plenty of privacy. Each room has super cooled air conditioning with private baths. The lodge includes a beautiful swimming pool, incredible food with local flavors, a pool-side bar with the worlds finest dark rum, sub-zero beer mugs, maid and laundry service, entertainment room, internet (fast WiFi with boosters throughout the property), Skype direct line for unlimited internet phone calls and conferencing, lots of shade and exotic plant life surrounding the property. The Lodge also offers bird watching, Iguana hunts, duck hunting, private beach days, surfing lessons and day trips into Antigua. The Lodge makes daily runs for those who want to enjoy a night out in La Antigua where the bar scene is youthful and fun, shopping is unique and the restaurants are 5-Star overlooking a volcano ridge with active volcanos.
Guatemala is located in Central America with Mexico to the north, Belize to the east and El Salvador to the south. The Lodge provides ground transportation from the airport to the lodge along along with a cold beer. Guatemala can be reached in about three hours from Houston, Miami, Atlanta and Los Angeles.

Packages for All Budgets: 30' to 50' Boat Options

All Packages are Per Person.

2 Days Fishing/3 Nights Lodging Extra Day Per Person

Party of 2 $2,928 $1,463

Party of 3 $2,130 $1,062

Party of 4 $1,729 $864

Party of 5 $1,488 $744

3 Days Fishing/4 Nights Lodging Extra Day Per Person

Party of 2 $4,147 $1,463

Party of 3 $2,998 $1,062

Party of 4 $2,425 $864

Party of 5 $2,081 $744

4 Days Fishing/5 Nights Lodging Extra Day Per Person

Party of 2 $5,364 $1,463

Party of 3 $3,870 $1,062

Party of 4 $3,124 $864

Party of 5 $2,675 $744

Catch Em Up Packages – 28 Caroline Classic, 31 Gamefishermen, 31 Bertram, 30 Rampage

All Packages are Per Person.

2 Days Fishing/3 Nights Lodging Extra Day Per Person

Solo Angler $3,811 $1,905

Party of 2 $2,291 $1,018

Party of 3 $1,784 $840

Party of 4 $1,531 $644

3 Days Fishing/4 Nights Lodging Extra Day Per Person

Solo Angler $5,459 $1,905

Party of 2 $3,244 $1,018

Party of 3 $2,505 $840

Party of 4 $2,138 $644

4 Days Fishing/5 Nights Lodging Extra Day Per Person

Solo Angler $7,107 $1,905

Party of 2 $4,197 $1,018

Party of 3 $3,226 $840

Party of 4 $2,742 $644

Our All Inclusive Package Includes:

Captain & 2 deckhands

All fishing tackle and natural bait, either for conventional and/or fly fishing

Beer, rum/vodka, sodas, and bottled water

Fresh fruit and snacks

Hot lunch prepared fresh on board by our mates

Fishing from 7 am to 4:00 pm (we tend to pull out at 6:30am before other fleets- EARLY BIRD-Vamos!)

Lodging & transportation:

Transportation in a Luxury Van with an English-speaking driver to and from the airport

Full breakfasts

Local influenced meals & appetizers with an international menu for your culinary delight (We can tailor any meal for dietary needs).

Included: Beer & rum drinks! Not Included: Top shelf spirits, cigars & wine for purchase.

Laundry service daily

Wi-Fi Internet service throughout the lodge.

Digital cable with English Programming- NFL Sundays, College Football!

Flat Screen TV's

RATES DO NOT INCLUDE:

Airfare to/from Guatemala City, meals or beverages while in Guatemala City, items of a personal nature or gratuities for the lodge staff and captain/mates. Certain top shelf bar upgrades as well.

Transportation Break Down:

From Airport to Hotel / Lodge

From Hotel / Lodge to Airport

From Hotel / Lodge to Marina

From Marina to Hotel / Lodge

All Rates are in USD and are subject to change prior to booking.