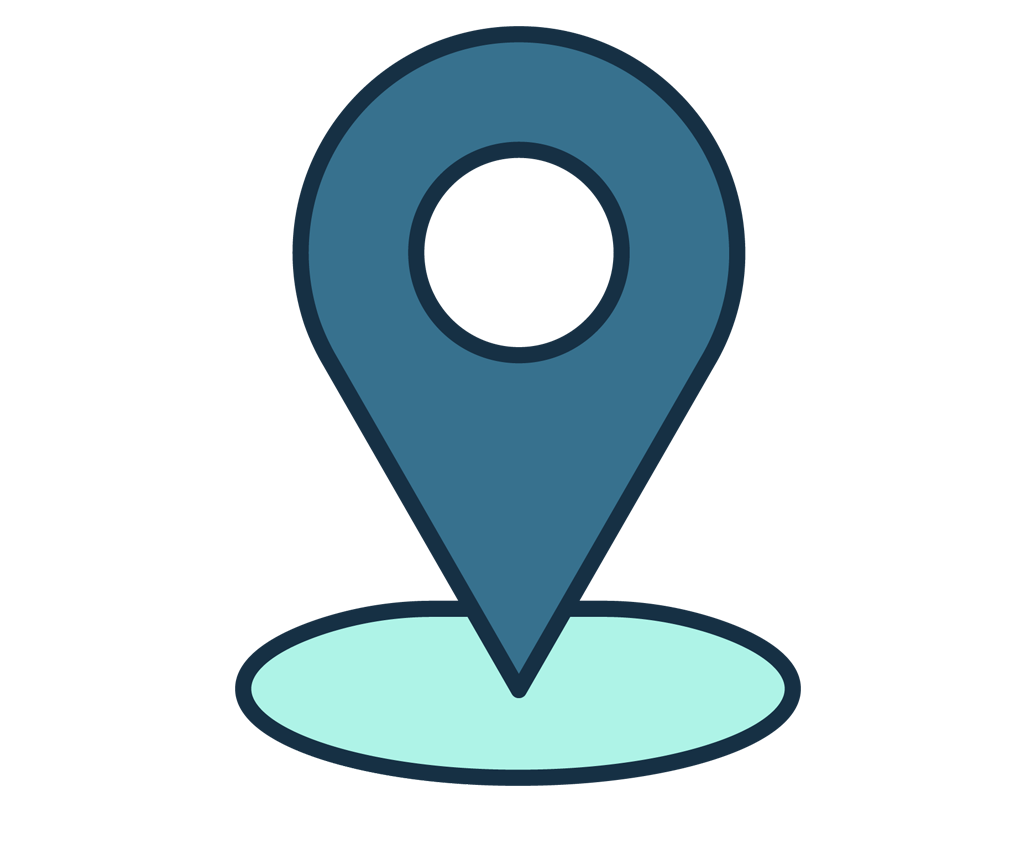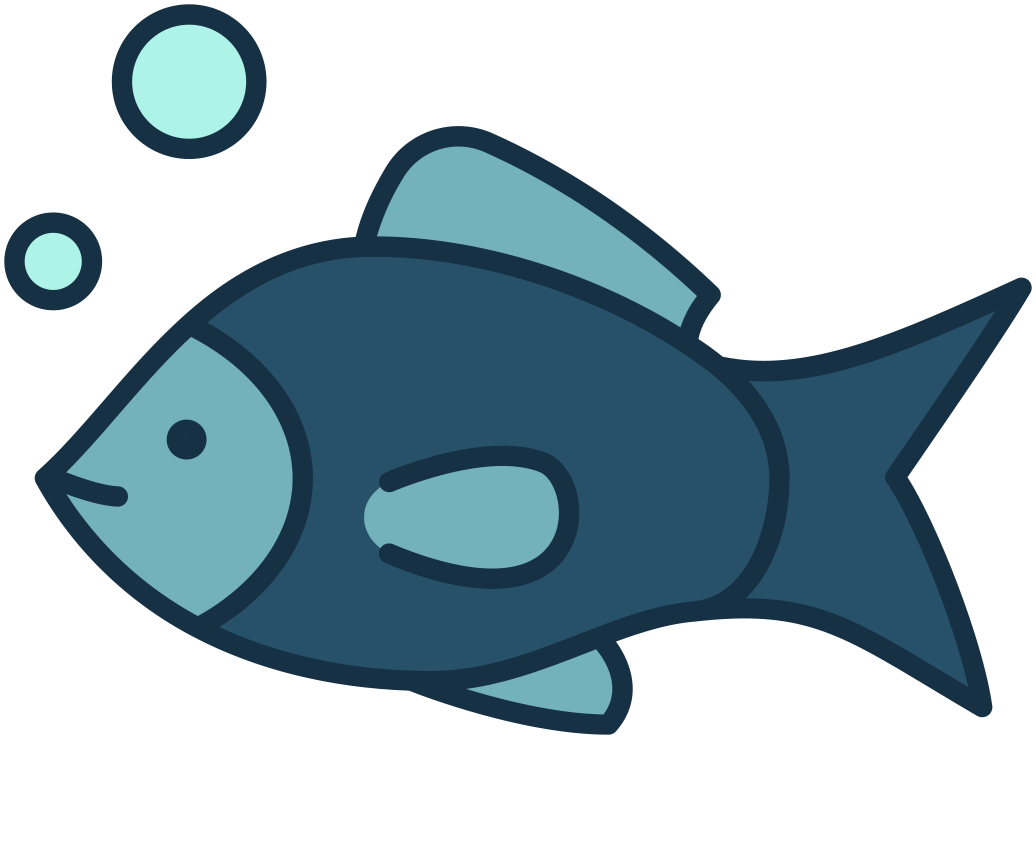 Fishing Style
Sightfishing, Skiff, and Wading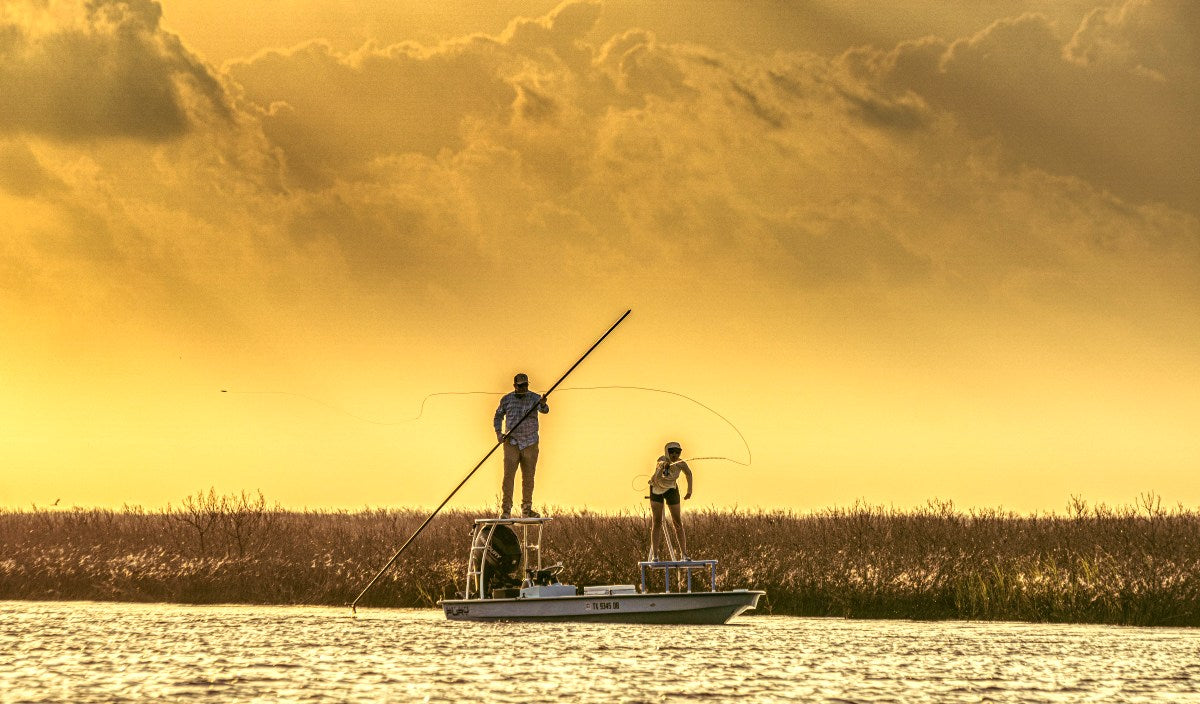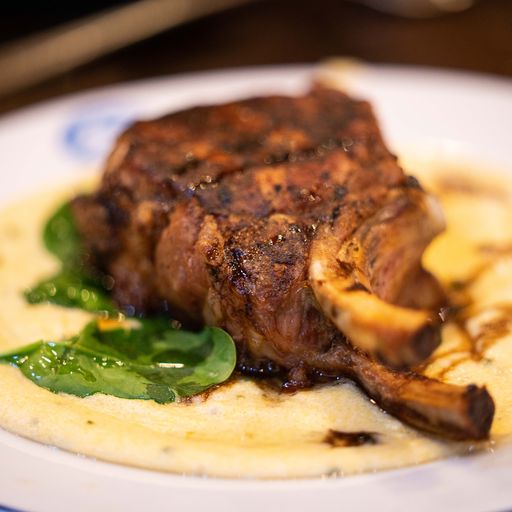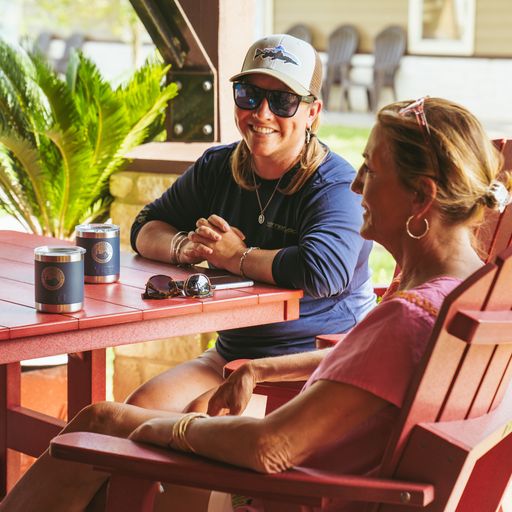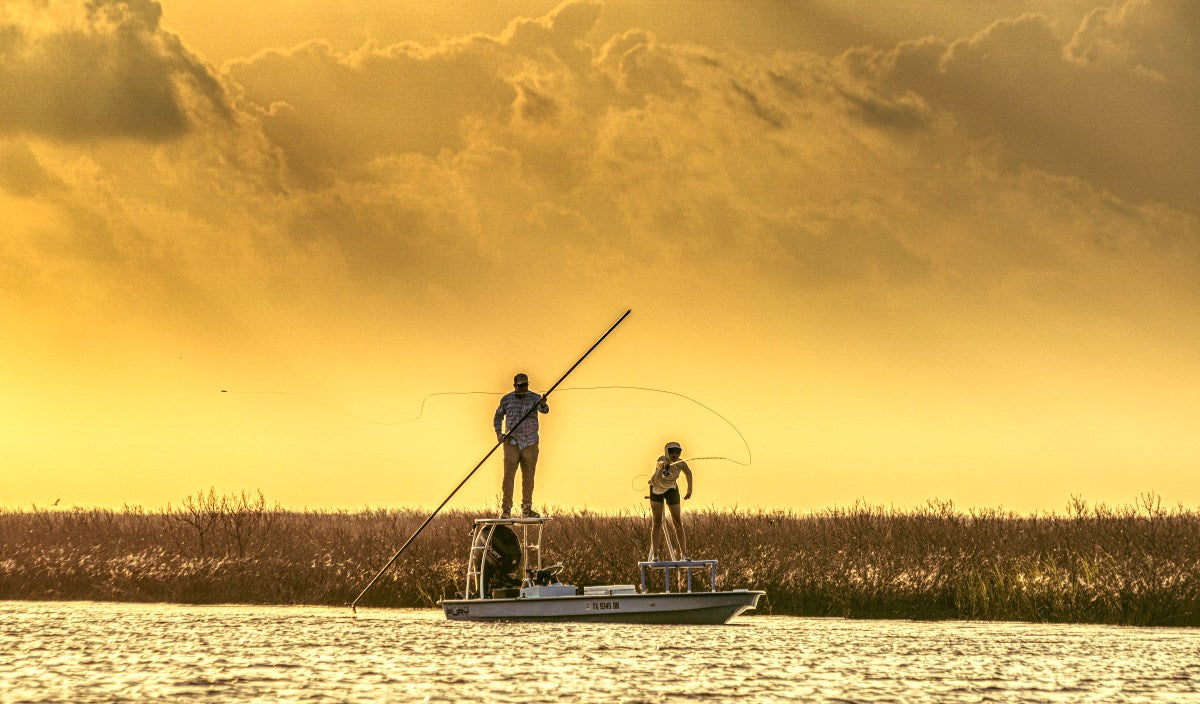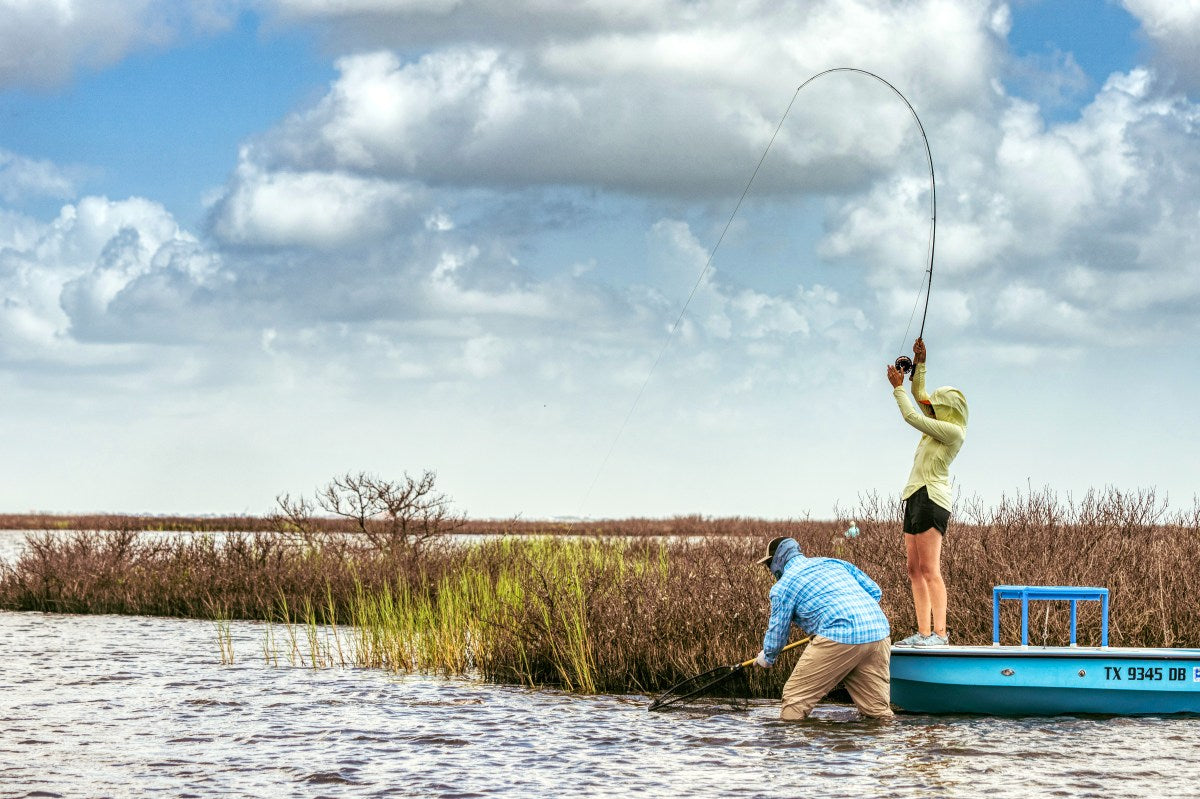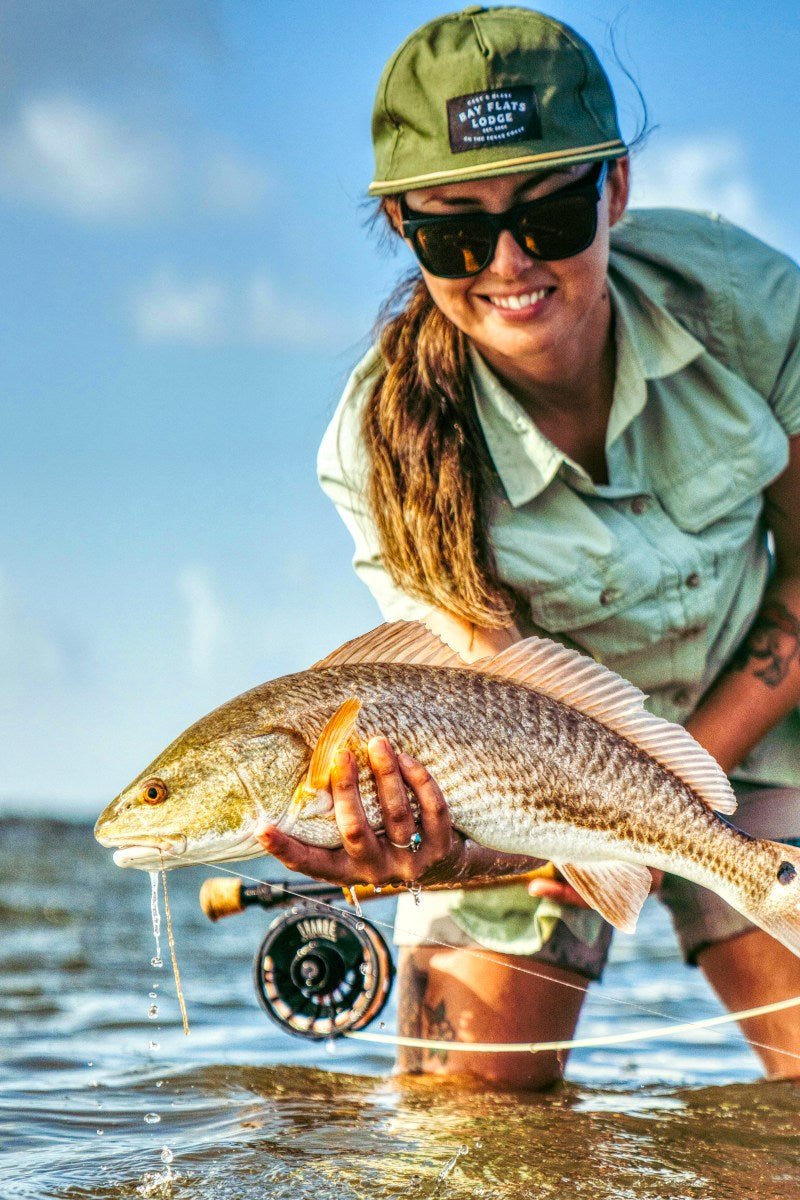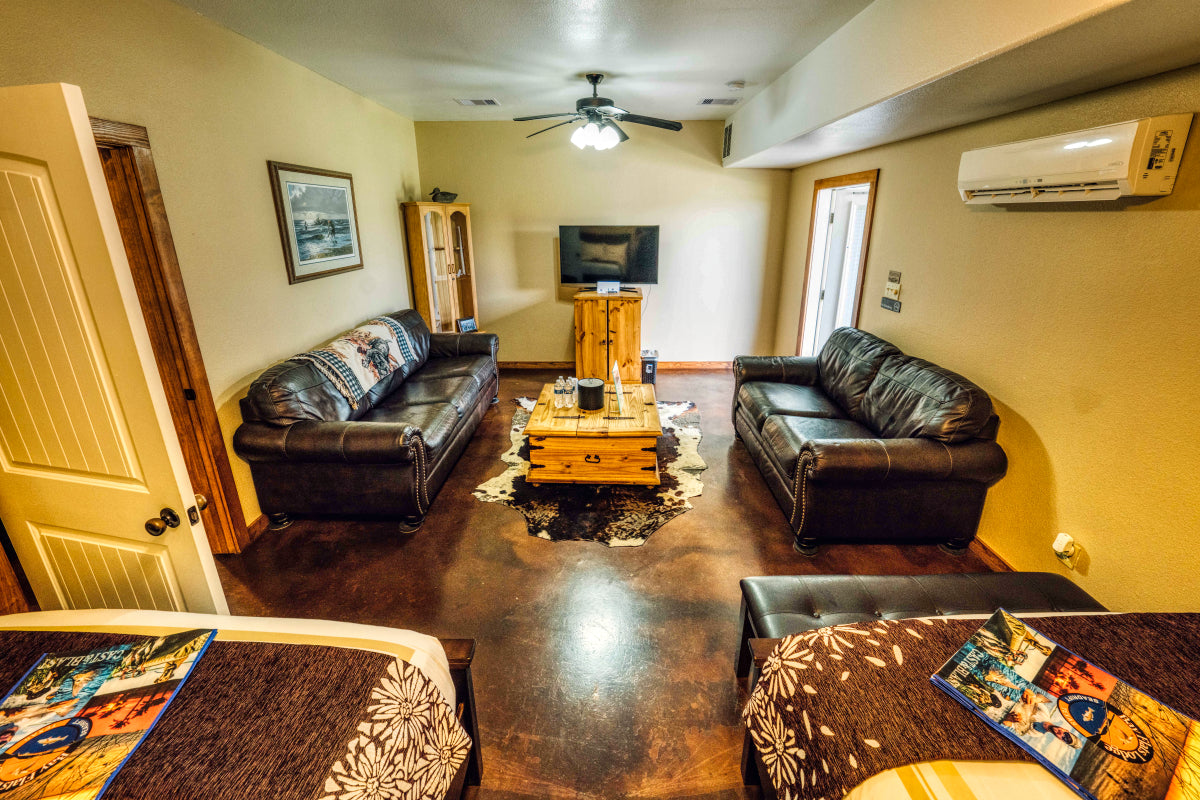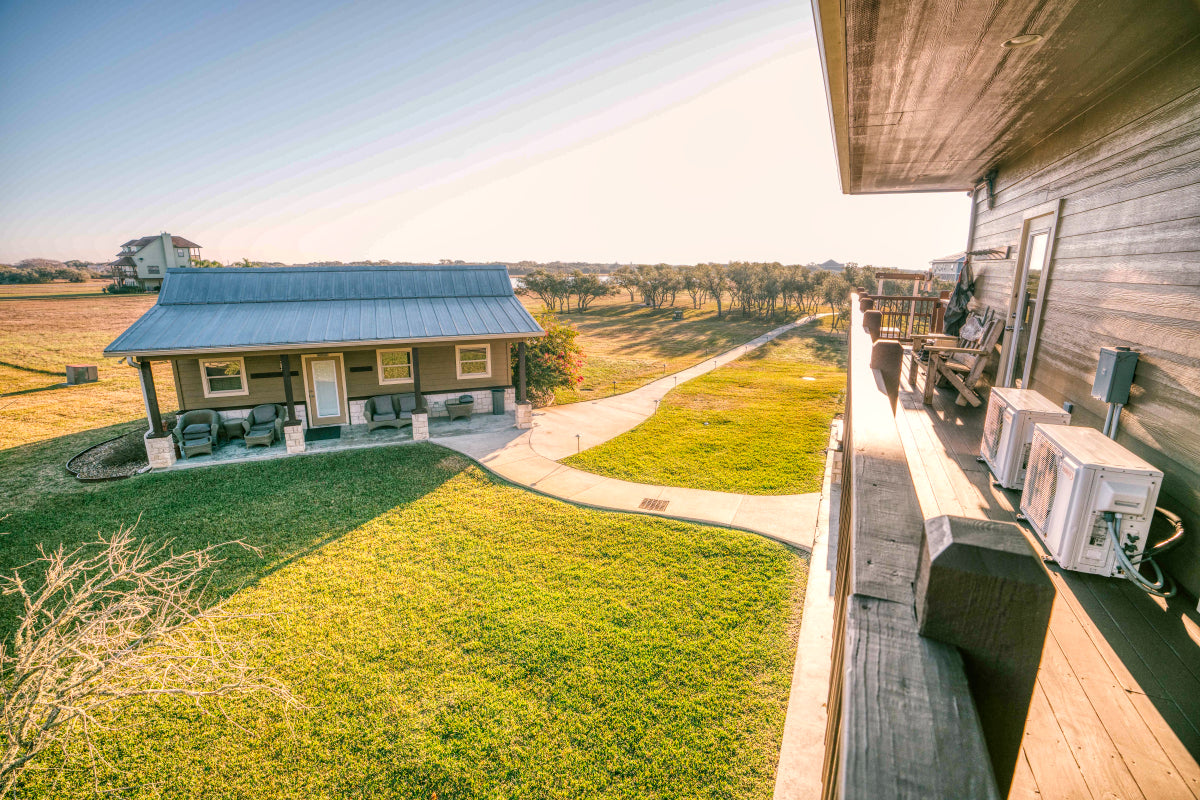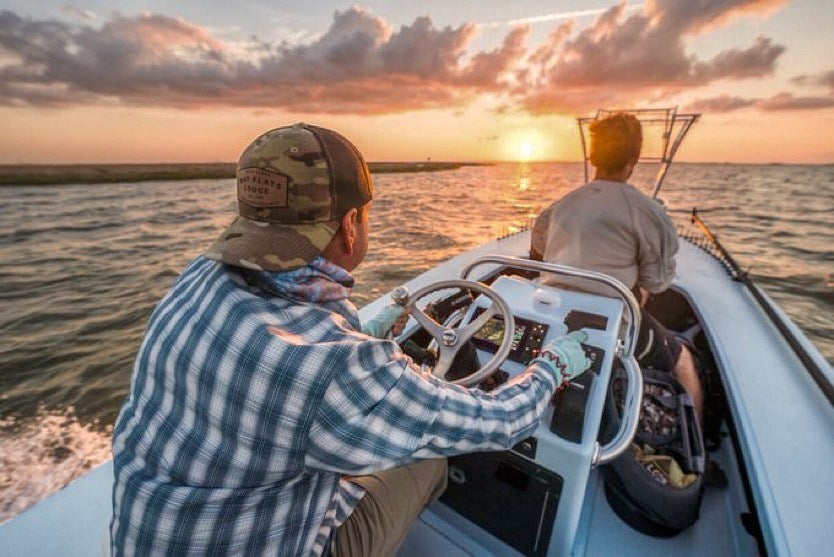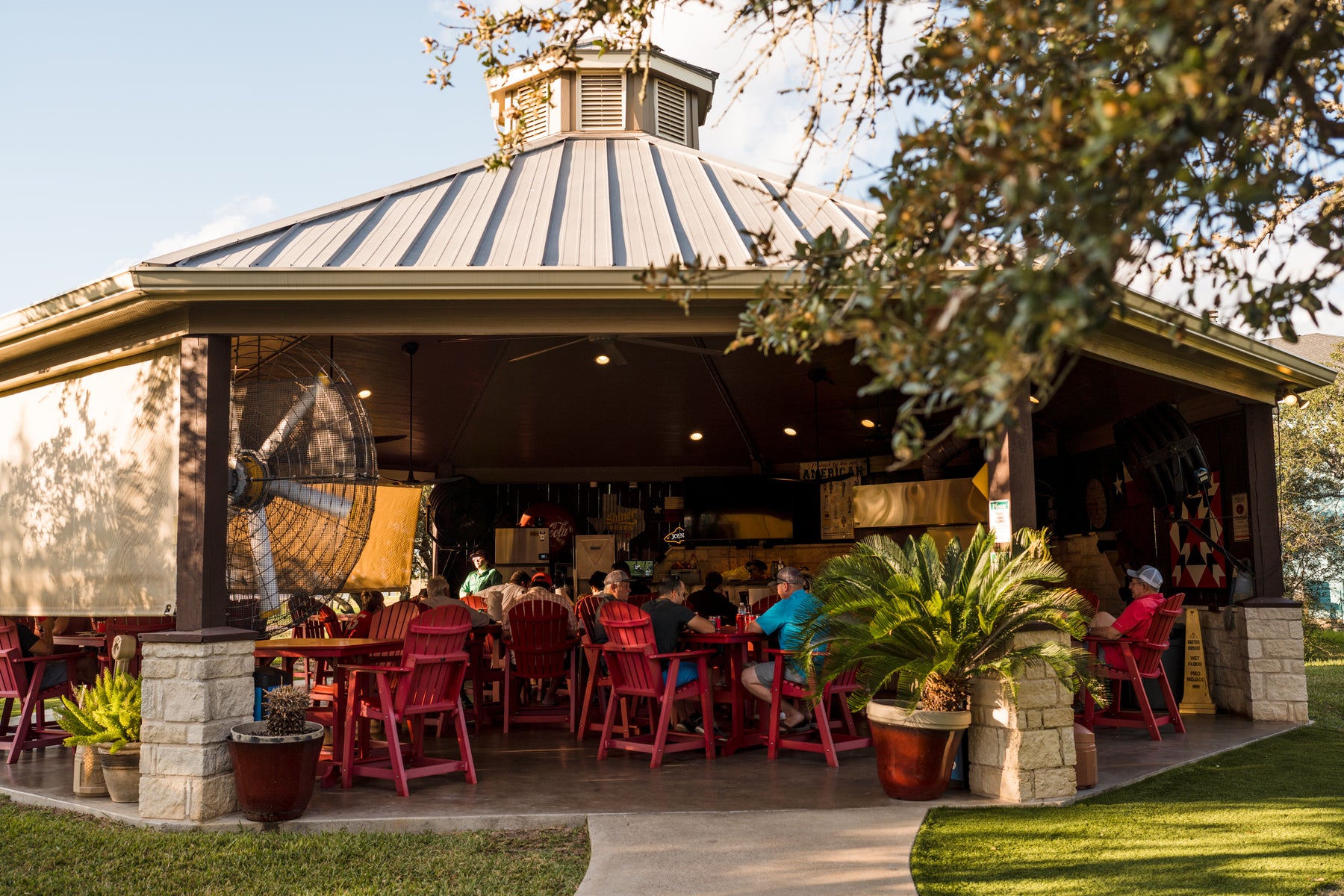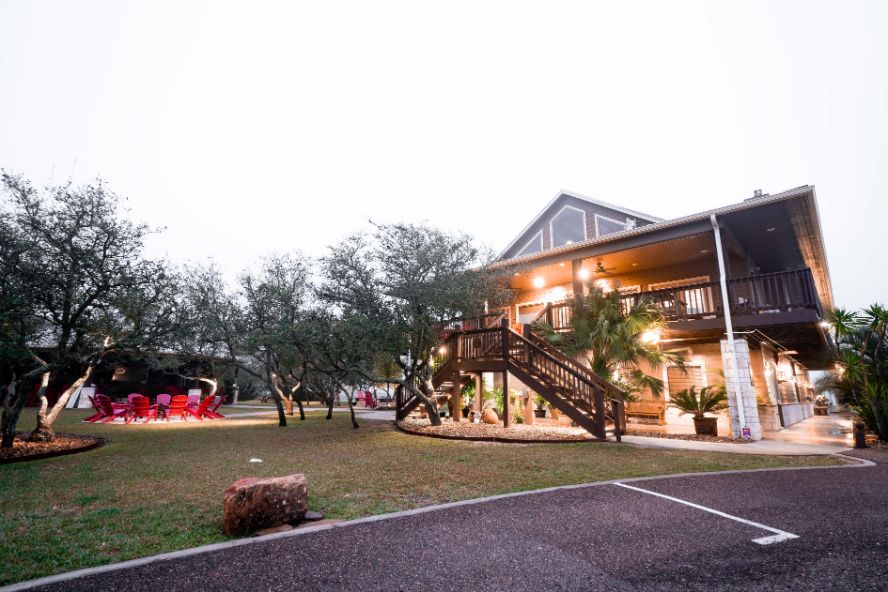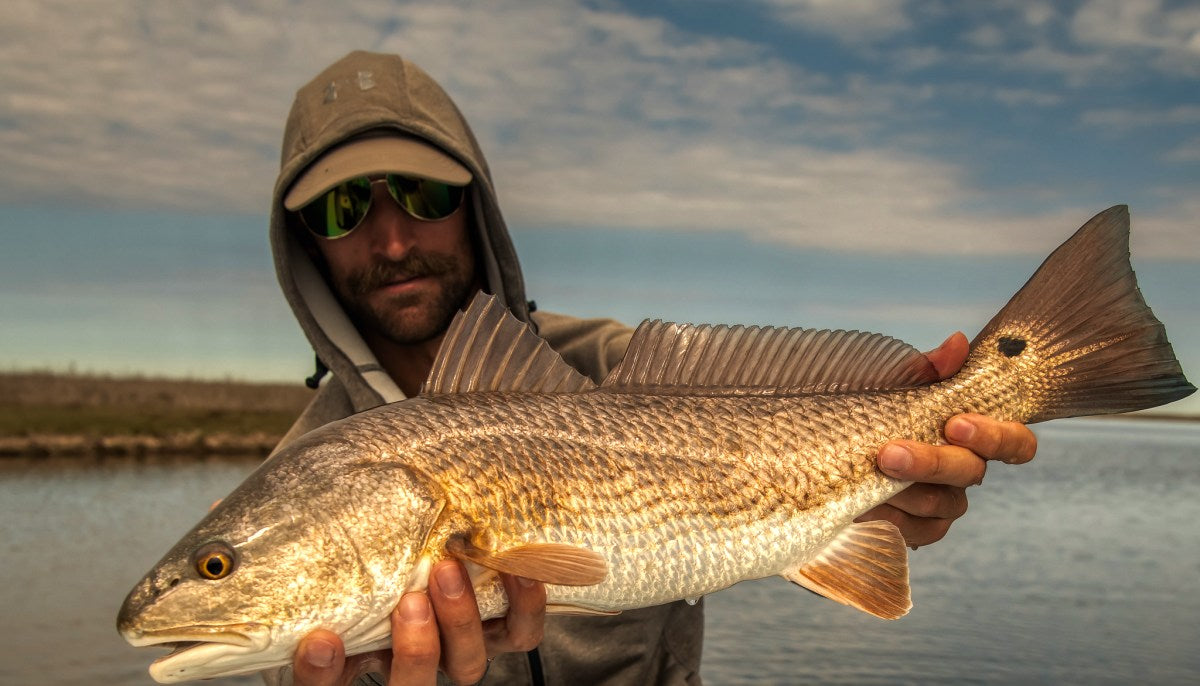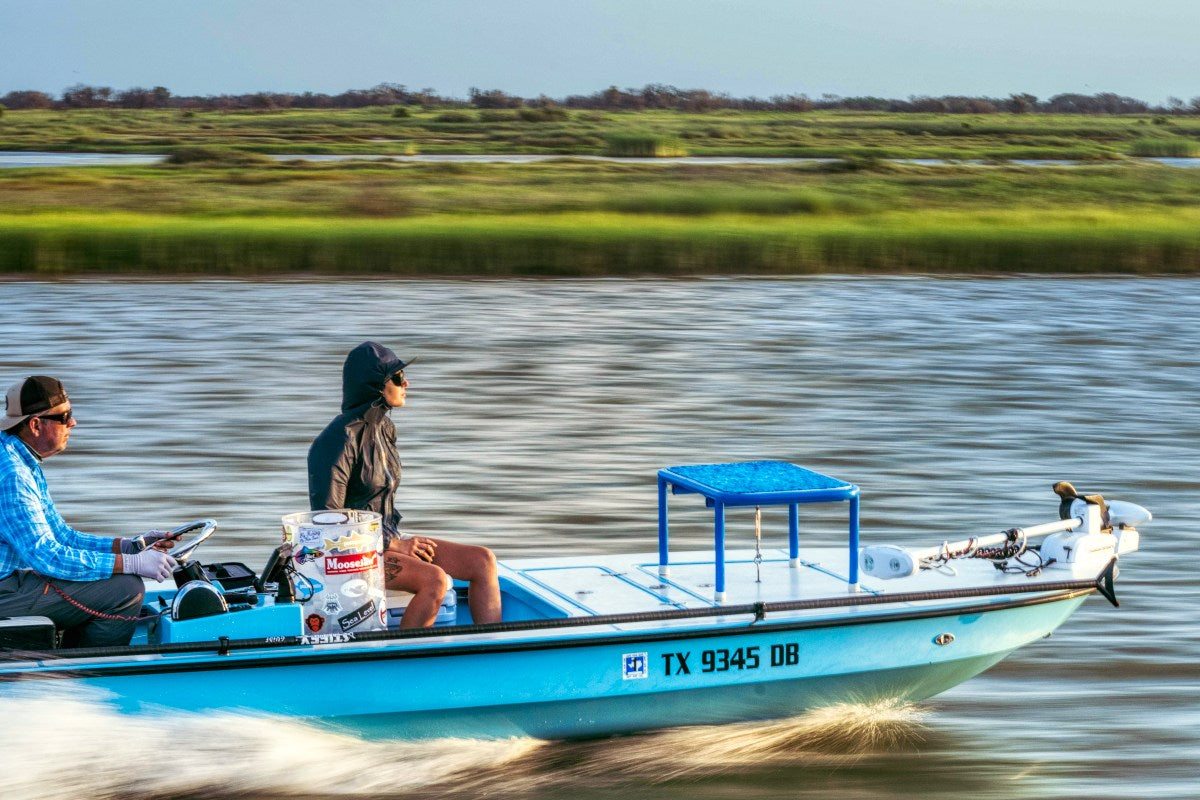 Bay Flats Lodge, Texas
WELCOME TO FLY ANGLER'S PARADISE
Since 1996, Chris and Deb Martin have been entertaining fishing and duck hunting guests. They've built the finest lodge on the Texas coast with world-class fishing and waterfowling and over 20,000 square feet of comfort to enjoy. 
Speed out to super remote creeks and salt flats in our state-of-the-art, ultra-light poling skiffs that quietly float in shallow water. Our guides push you silently along while you're on the lookout for tailing redfish and tell-tale wakes in clear shallow water.
The beauty of sight fishing is about the hunt.
When the fish takes your fly, you're watching it all go down. Then it's go time. Nothing will make your heart race more. When you fight that fish and get it into the boat, the feeling of accomplishment is palpable. There's no better feeling than that fish sliding back out of your hand, released back into the wild bringing the whole experience full circle.
Learn more about
Bay Flats Lodge, Texas
Click through to get details on the water, seasons, guest accomodations, and rates.
What are the top reasons to fly-fish at Bay Flats Lodge?

• Experience world-class accommodations and cuisine.
• Sight cast to schools of tailing redfish in ankle-deep, gin-clear water.
• Travel pristine Matagorda Island as you stalk redfish along 38 miles of uninhabited shorelines teaming with hundreds of species of birds, alligators, deer, and various other wildlife.
• Cast from the bow of deluxe technical poling skiffs, eyes peeled for the tell-tale sign of a feeding redfish.
• Discover a uniquely diverse fishery located along the middle coast of Texas.

Where will I fish?

To our southeast is Matagorda Island, presenting mile upon mile of shorelines, back lakes, and slough areas offering some of the most unique sight casting opportunities anywhere along the Gulf Coast. To our northeast is the Guadalupe River Delta, consisting of marshland lakes and grassy shorelines unlike anything you may have ever swum a fly.

Who is best suited for our fly-fishing experience?

Fly-fishing anglers with average to expert levels of experience will be right at home at Bay Flats Lodge. Winds can blow 15-20 mph on any given day, so those fly-fishing anglers who can single-haul and/or double-haul accurately while using a 7, 8, or 9 weight fly-rod will be most comfortable in this environment.

What is a typical day like?

A typical day is 8 hours, which includes travel to and from the fishing grounds. Typically, in the heat of summer, there is a mid-morning and mid-afternoon break to rehydrate, and an approximate 30-minute break for lunch. A couple of the guides may even provide music while you enjoy your lunch.


Fishing is good year-round, with spring (March, April, May, June), late summer and fall having more consistent weather patterns. In the fall (October and November), fish are actively feeding on shrimp and other bait as they fatten up for winter. During wintertime, the uncertainty of predicting cold fronts pushing through the middle coast of Texas is undoubtedly the biggest challenge. When frontal passages do occur, lower tides tend to concentrate the redfish, and fishing can be on fire.
We have over 20,000 square feet of indoor and outdoor space to enjoy after an awesome hunt or epic fishing day. Gather around the fire pits, our huge outdoor kitchen, the cornhole courts, or relax at our smaller common areas. We also have meeting and conference rooms available for corporate groups.

Double occupancy rooms include two queen beds

• Marriott Luxury Hotel Bedding and Linens—this is as comfy as it gets
• Pillow-top mattresses
• Full bathroom with shower in every room
• Towels provided
• Widescreen HD TV with Directv
• Free WiFi

Bay Flats Lodge is located in the middle portion of the Texas coast along the shores of San Antonio Bay just outside the small fishing town of Seadrift, TX. Our address is 391 Bayside Dr., Seadrift, TX, 77983.

If you're traveling from outside of Texas, or even from far west Texas or the Texas panhandle, you will need to fly to Houston, Austin, San Antonio, or to Corpus Christi. Houston offers both the George Bush Intercontinental Airport and the William P. Hobby Airport, both of which require an additional 3-hour drive to the Lodge. Austin and San Antonio offer the Austin-Bergstrom International Airport and the San Antonio International Airport, respectively. And, again, each will require an additional 3-hour drive to the Lodge. CCIA – Corpus Christi International Airport is a closer option, which only requires an additional 1.5-hour drive to the Lodge.

FLY FISHING & WADE FISHING RATES

INCLUDES LODGING, 3 MEALS PER DAY, PRE - DINNER APPETIZERS, GUIDED FLY-FISHING,TACKLE AND TAXES.

One Angler
One Full-Day/Night – $1,070 per person
Two Full-Days/Nights – $2,140 per person
Three Full-Days/Nights – $3,210 per person
Four Full-Days/Nights – $4,280 per person
Five Full-Day/Nights – $5,350 per person
Six Full-Days/Nights – $6,420 per person
An Extra Night of Lodging & 2 Meals – $236 per person

Two Anglers
One Full-Day/Night – $690 per person
Two Full-Days/Nights – $1,380 per person
Three Full-Days/Nights – $2,070 per person
Four Full-Days/Nights – $2,760 per person
Five Full-Day/Nights – $3,450 per person
Six Full-Days/Nights – $4,140 per person
An Extra Night of Lodging & 2 Meals – $236 per person

DRIVE -IN FLY-FISHING, LODGING AND MEALS NOT INCLUDED

One or Two Anglers
Full-Day or Half-Day – $800 per boat


EQUIPMENT RENTALS

Simms Chest-Waders and Simms Wading Boots Rental - $35/day
Simms Wading Boots Only Rental - $20/day
We supply rod and reels when fishing from the boat
If you plan to wade fish, we encourage you to bring your own rod and reel
You can also rent a rod and reel from your guide if wade fishing - $30/day

CAST & BLAST RATES - INCLUDES LODGING, MEALS, HUNTING, FISHING, BAIT, FISH AND DUCK CLEANING, AND TAXES.

Half-Day Duck Hunt & Half-Day Bay or Wade Fishing 4 per boat - $775/person
Half-Day Duck Hunt & Half-Day Bay or Wade Fishing 3 per boat - $900/person
Half-Day Duck Hunt & Half-Day Bay or Wade Fishing 2 per boat - $1,035/person
An Extra Night of Lodging & 2 Meals - $236/person